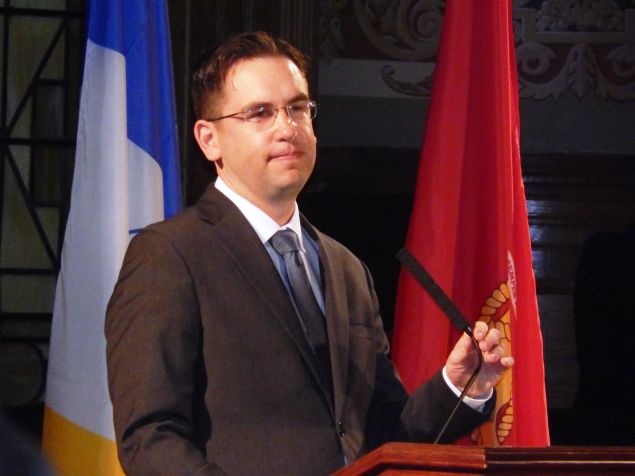 Preliminary attacks continue to roll in as candidates prepare for New Jersey's gubernatorial election next year. Republican State Assemblyman Jack Ciattarelli, an early favorite for his party's nomination in the race that will decide Governor Chris Christie's successor, is taking a jab at his potential Democratic rival.
Jersey City Mayor Steve Fulop announced last week that he would be raising taxes in his city to create a new open space fund — a plan that would cost residents an average of $20 more annually and pay for expansion of its green spaces. Ciattarelli is questioning the timing of the decision given the fact that Jersey City has still not put forward a plan for adjusting what critics have a called its outsize share of state school funding.
"Open space preservation is critically important, but how is it that Jersey City requires statewide help to pay for its schools when it has the capacity to 'create millions of dollars per year' to buy open space?
"Fulop's announcement is another powerful example of how terribly flawed and blatantly unfair the school funding formula is.  It's also an example of how local elected officials can exploit the state subsidy and unfairly low school property taxes to bloat municipal government."
School funding has become politicized in recent months following Governor Chris Christie's proposal to offer flat funding across the state. Jersey City, which has seen a major economic upturn since the last time the state revised its funding formula in 2008, received $18,491 per pupil from the state last year. Neighboring Secaucus received just $2,133.
Fulop, for his part, called the plan a sound fiscal decision.
"For the last several years, Jersey City has been committed like no other to preserving our parks and open space," Fulop said of his open space plan last week. "For a nominal $20 a year, enjoyment of the park space in Jersey City and enjoyment of newly renovated, expanded parks is a smart investment and commitment I think most are willing to make."
While Ciattarelli will be competing for the Republican nomination against potential gubernatorial candidates like Lieutenant Governor Kim Guadagno and Assembly Minority Leader Jon Bramnick, Fulop will face a deeper bench: State Senate President Steve Sweeney, Senator John Wisniewski and Senator Ray Lesniak are also weighing their own runs. Former U.S. Ambassador to Germany Phil Murphy, also a Democrat, has already announced his campaign.