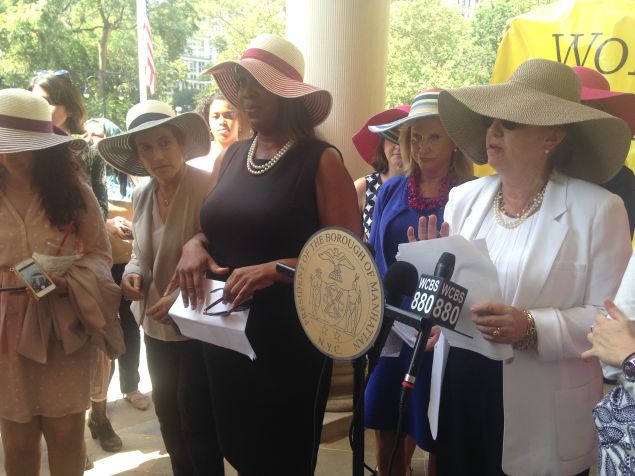 The party Gov. Andrew Cuomo says he established to tackle women's issues isn't actually doing anything to help women, Manhattan Borough President Gale Brewer declared bluntly at an Equality Day rally this morning. 
In 2014, Cuomo created the Women's Equality Party with help from former City Council Speaker Christine Quinn and Lieutenant Governor Kathy Hochul as he was running for reelection. While he used the party as a way to highlight women's issues and prove his campaign's socially liberal positions—and even got Hillary Clinton to join him in touting it—critics dismissed the party as an effort to siphon votes from the labor-backed Working Families Party.
"I am not a big supporter of the Women's Equality Party. I think that the Working Families Party is terrific," said Brewer, who was sporting the wide-brimmed hat worn by the late feminist Congresswoman Bella Abzug at the rally on the steps of City Hall. "Because I think we already have enough parties," enjoying laughter from her fellow speakers, who were donning the same attire.
When asked by the Observer if the party has had any impact in advancing women's causes, Brewer abruptly snapped, "No."  
After the press conference, Brewer, who came to politics through the women's movement, told the Observer that there are already multiple parties with which most women already align.
"We have the Democrat, Republican, Liberal, Working Families Party and most of the women are going to be either Republicans and Democrats or they could be Independent," Brewer continued.
On the question of whether Cuomo created the party to undermine WFP, she simply maintained that the party has not accomplished much.
"I know that it hasn't had any traction," she added.
Some of the elected officials present at the Equality Day rally—Public Advocate Letitia James and State Senator Liz Krueger—have been vocal in their support of the Working Families Party, though neither chimed in when Brewer expressed her feelings on the Women's Equality Party.
Senate Democratic Leader Andrea Stewart-Cousins has previously said the Democratic Party is the best platform to address women's issues.
Congresswoman Carolyn Maloney; Councilwoman Elizabeth Crowley; Liz Abzug, Bella Abzug's daughter; and Assemblywomen Linda Rosenthal, Rebecca Seawright, Annette Robinson and Nily Rozic also spoke at the press conference celebrating the anniversary of the 19th Amendment to the Constitution granting women the right to vote in 1920.
At an event commemorating the anniversary last year, Hochul and Quinn said the party was committed to the passage of the 10-point Women's Equality Agenda.
Hochul was scheduled to launch the New York State Women's Suffrage 100th Anniversary Commission and celebrate Equality Day this afternoon in New York City. 
Attempts to reach a spokesperson for the Women's Equality Party were not successful.