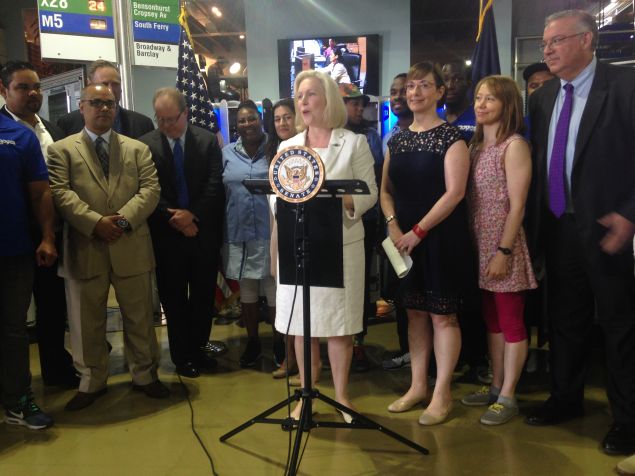 The junior senator from New York who is currently holding Democratic presidential nominee Hillary Clinton's former U.S. Senate seat says she has no interest in a cabinet post under a Clinton administration.
Sen. Kirsten Gillibrand, one of Clinton's leading surrogates who is considered as a possible contender for the presidency in the future, said she hopes to remain in her current position—saying it would be more "more useful and impactful" for her to pass legislation furthering Clinton's agenda, including a national paid leave program, equal pay, affordable daycare, universal pre-K, medical marijuana and legislation addressing sexual assault.
"Well I would prefer to stay where I am in the U.S. Senate because I think I could be more helpful there," Gillibrand said at an unrelated press conference in Long Island City, where she unveiled bipartisan legislation seeking to grow the manufacturing industry and create jobs in Queens. "I think there's, Hillary Clinton and I have a lot of shared values and shared goals so my job would be to pass legislation that we both care about for her to sign."
The senator, who spoke at the opening night of the Democratic National Convention last month, said she could list at least 20 New Yorkers who could qualify for a position in a Clinton cabinet, but said it is up to Clinton to decide who she wants in her inner circle. (Politico recently floated former City Council Speaker and Women in Need CEO Christine Quinn—who has been a frequent surrogate for Clinton on television and with whom Gillibrand will appear this afternoon—as a potential candidate for the Housing and Urban Development Secretary position.)
"There's so many, honestly, we have so much talent in our state," she said. "I couldn't name them but there's a lot and she knows them."
Gillibrand was named as part of Clinton's New York "Leadership Council," unveiled in October 2015, that includes elected officials, activists and donors in the state who endorsed her for president. Today, she said Clinton's campaign was starting to gain traction. The Democratic nominee has enjoyed strong post-convention bump in the polls.
"I think Hillary Clinton's campaign has turned a corner and is actually very strong, talking about her vision for growth, for economic opportunity, education, for investing in infrastructure," she said, "really trying to address this concern that voters have that the system's written against them, that they don't have the opportunities that they felt their children needed and that they felt they needed to reach their full potential."
She would not say the same for Republican presidential nominee Donald Trump, whose campaign she said has taken on a darker tone, referring to his nomination acceptance speech at the Republican National Convention.
"Donald Trump's campaign isn't talking about ideas, it's really just talking about divisiveness and negativity and a much darker campaign not based on ideas, not based on hope, not based on opportunities," she added.
Disclosure: Donald Trump is the father-in-law of Jared Kushner, the publisher of Observer Media.