DEMOCRATS
Steve Sweeney
The Senate President with circus strongman presence hails from South Jersey, the most well-organized political machine in the state. An ironworker by trade, Democrat Sweeney additionally has strong Building Trades ties, and a friendly relationship with Essex County Executive Joe DiVincenzo. Many fellow senators like him, citing his strong work ethic and facility for herding cats. He has a story to tell, about creating government services for children with disabilities, and his own daughter is one of those children. But Sweeney also has very clear cut encumbrances. Tasked with working alongside unpopular Republican Governor Chris Christie, the senate president inevitably carries the baggage of having had to stand on innumerable public stages with the combustible Christie, with whom he notably partnered to produce his signature piece of legislation – public pensions and benefits reform. However bipartisan it looked at the time, Christie's later reversal on making the pension payment back-splashed on Sweeney, who now must weather the further challenge of having ticked off the leadership of the New Jersey Education Association. Atlantic City going all but belly up on Christie's watch also doesn't help Sweeney. On the plus side, the senate president spear-headed marriage equality in New Jersey. Although he has his own base – particularly enhanced by the Building Trades – Sweeney's path to victory hinges in no small part on the affections of powerful South Jersey Democratic Party Pooh-bah George Norcross III. Sources say that while Norcross adores Sweeney – as a friend – he won't put his entire statewide empire at risk of suffering a humiliating defeat if he at any point believes Sweeney is not a strong enough swimmer to convincingly navigate the entire state. The senate president has managed to make good use of Christie's long absences to play the role of adult in New Jersey's statewide room, but on multiple fronts – including up-in-the-air pensions and Transportation Trust Fund (TTF) funding the state continues to list – and the boss is watching.
Joe DiVincenzo
If Sweeney stumbles for whatever reason, or the polls consistently reveal him to be too unsafe a bet, the Essex County Executive has positioned himself as that reliable tag team wrestler ready to take the hand slap and climb into the ring for the so-called Democratic Party establishment. "Joe D" comes to the dance with a longstanding history of loyalty to Norcross. He is, in fact, North Jersey's most stout lieutenant for the South Jersey boss and insurance broker, going back to when he won his first countywide election in 2002 with Uncle George's financial and organizational support. Insiders wonder how different he would be from Sweeney. Both are classic establishment types who have been around for years. But DiVincenzo has real reach in his own county, home to more Democrats than anywhere else in New Jersey. The fan base is so real, it even almost covers up that part of the DiVincenzo narrative his allies wish they could forget: the exec's 2013 endorsement of Republican Governor Chris Christie. It looked like a good – if overly enthusiastic – idea at the time. Now Christie's at 26%. Trusting in the strength of the party patronage machine, insiders say it won't matter. DiVincenzo could back Trump this year, and, with a dutifully activated Democratic Party line, still mop up in 2017. But others have their doubts, and persist with the argument that a politically mortally wounded DiVincenzo would be more dangerous to the cause than Sweeney.
Cory Booker
Okay. It's not going to happen. The U.S. Senator continues to jet around the country in service to a political ambition pointed directly at the 2024 White House. But Norcross and DiVincenzo allies will probably have that one last Saladworks sit-down with Booker to make the case for why the bald-headed vegan needs to save the party and run for governor. Sources close to the Democratic senator routinely say he's having too much fun out there in places like Los Angeles and Vegas to come back to Trenton to babysit a bunch of unknown pols in a dirty river town. Oh, yeah, the state's in financial crisis, too. So he'd have to work, or at least attempt to radiate executive accountability – in the worst of circumstances. He did that in Newark already – and got out. Still, if the polling shows Sweeney encumbered and DiVincenzo DOA, the Norcross-led establishment will throw every conceivable amenity at Booker to get him to come back to New Jersey. Short of Steven Spielberg sitting in on the interview and making the promise of a Dreamworks production big budget film of Booker's life to unfold in real time as he's living it, the junior senator will keep being the junior senator.  But a boss can always dream!
Steven Fulop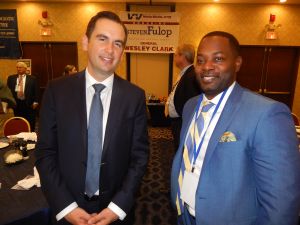 Running a gubernatorial candidacy founded in part on an anti-Norcross message, the Mayor of Jersey City will try to harness South Jersey-fatigue by securing coveted North Jersey Democratic Party lines in his home county of Hudson, in addition to Bergen and Passaic. The Democrat's also hopeful off suburban support in Republican counties and pockets of urban love, most notably in Newark, where he has the backing of Mayor Ras Baraka, and Plainfield, where a motivated Mayor Adrian Mapp has his back. The northern counties are critical, a situation that complicates Fulop's position on North Jersey casinos. Committed, or so it seems, to "Anybody but Fulop," the Norcross/Sweeney/DiVincenzo wing of the party seethe over what they cite as Fulop's political hypocrisy. He backed charters schools when he was a councilman, then supported the ultimate anti-charter school 2014 Newark mayoral candidacy of Baraka in Newark.  He was a reformer when cast alongside his predecessor, Mayor Jerry Healy, but in City Hall played hardball politics with the installation of numerous politically connected players in public jobs. But Fulop has a story . He grew up helping his parents in the family deli in Newark worked at Goldman Sachs, then put on a Marine Corps uniform and went to Afghanistan after 911. No mayor of Jersey City has ever become governor of New Jersey, and the question now is whether just three years on the job have exposed a sufficient number of vulnerable spots for his especially energized political enemies to take advantage.
Phil Murphy
A great retail politician who has put a strong team of organizers on the ground, the former Goldman Sachs executive (and former U.S. Ambassador to Germany) has aggressively chewed up the rubber chicken circuit to endear himself to numerous Democratic Party insiders. Multiple insiders see frantic Habitrail scampering, however. Armed with the bully pulpits and organizational tools of their respective offices, Sweeney and Fulop appear to have a big edge on Murphy in terms of key organizational ties. But several county chairs who lean Fulop also appear to like Murphy. If Sweeney derails, DiVincenzo proves a non-starter, and Booker refuses to step up to the plate, might Norcross and DiVincenzo turn to Murphy? If they preserve the core of what they have with Sweeney, might they be able to pull the likes of Bergen County Democratic Chairman Lou Stellato and Passaic County Democratic Chairman John Currie and short circuit Fulop? Maybe. But sources say Norcross and DiVincenzo aren't thrilled at the prospect of getting bailed out by Murphy. He's affable, but he wasn't molded by politics and government, and probably lacks those malleable characteristics one associates with politicians who also hold public jobs, or at least that might explain the bosses' resistance.
John Wisniewski
The Middlesex Assemblyman has a strong record in government, including chairmanship of the Assembly Transportation Committee and legislative oversight of the Bridgegate investigation. He's jumped through all the right hoops one might associate with building those critical relationships in New Jersey politics – like pulling a stint as chairman of the Democratic State Committee. But in a state defined by barstool backslapping, wiseguy antics and plodding patronage organizations, Wisniewski's patrician bearing and substantive approach to issues leave many bewildered insiders waiting for the punchline. Apparently getting set to retire after over 20 years in the Legislature, Wiz will try to use his latest political venture – serving as the state director for the Bernie Sanders campaign – to try to make the case to county party chairs that he can pull progressives in a primary. He'll be motivated by Sweeney's (and DiVincenzo's troubles with that wing of the party). But Bernie didn't have much success in New Jersey, absorbing a dispiriting 36.7% to 63.3%  butt-kicking at the hands of Hillary Clinton. Wisniewski seems boxed in.
Shavonda Sumter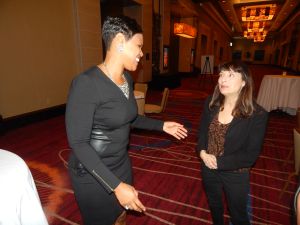 The Assemblywoman from Paterson appears to be the person best positioned right now to succeed Kim Guadagno as lieutenant governor. The goddaughter of Democratic State Party (and Passaic County Democratic) Chairman John Currie, she has a strong Passaic County pedigree. It's possible that she will run for governor first in order to up her name ID and discuss issues important to her – starting with education and education funding.  Christie's budgets chopped large chunks out of the Silk City School System, and Sumter wants to reverse that course if she secures a statewide office.
Ray Lesniak
The Union County Democratic Senator has lined up a slew of causes
in an attempt to project as a lovable, avuncular liberal as he prepares – presumably -for retirement. His district looks like it's at the edge of a civil war, if Sheriff Joe Cryan jumps in with Fulop and Union County Democratic Chairman Jerry Green lines up behind Sweeney in a Dem Primary, and it's hard to picture Lesniak burrowed into one of those bunkers at this point taking heavy shelling.
Tom Byrne
The son of former Governor Brendan Byrne with a strong financial background, the Democrat continues to float through the atmosphere as a possible number two choice if Sweeney cracks up, Booker fails to hear the Norcross siren song, Joe D. fails to answer the bell, Murphy's record as a man who can stand on his own two feet makes the establishment jittery, and Wiz convinces no one with Bernie bluster. Might Byrne end up as the establishment's consensus choice, much the same way his father did in 1973? It doesn't seem likely. The elder Byrne was from Essex and had a compelling story as the untouchable Essex County Prosecutor.  Byrne is from Mercer and doesn't have the political heft at his fingertips like others on this list.
REPUBLICANS
Kim Guadagno
The pinewood derby circuit stalwart arrives at the starting gate of a Republican gubernatorial primary with the albatross of the Christie years around her neck. She's the Lieutenant Governor, after all, and however persistent the whispers of division between her and Christie, she's in the administration and will have to answer for the missteps and account for what has largely been a record of muzzled subservience to Christie's (long-fizzled, at least according to the polls) alpha male mystique. Most insiders don't give her much of a shot in 2017, figuring the pendulum will swing back to a Democrat after the Christie era. She's best positioned to win a Republican Primary, at least on paper, but most of those classic Republican Party county organizations lack the reach and influence they once had.
Jack Ciattarelli
The son of working class parents from Raritan, the Somerset County Republican Assemblyman will formally launch a campaign for governor next month and use the remainder of the year to size up his chances. The CEO of his own publishing company will have his own money to spend – not Corzine money but respectable. Smart with strong communications skills, Ciattarelli has positioned himself as a moderate critical of both Christie and Republican presidential nominee Donald Trump. A good general election candidate, he will have a difficult path getting through both Guadagno and any strong contender running from the right.
Joe Rullo
Running a grassroots campaign, the Ocean County businessman who has never held elected office wants to "eliminate the estate death tax, inheritance tax, veto gas or any other new tax proposed by the [Democrats]." The Republican has a strong and vocal Internet following.