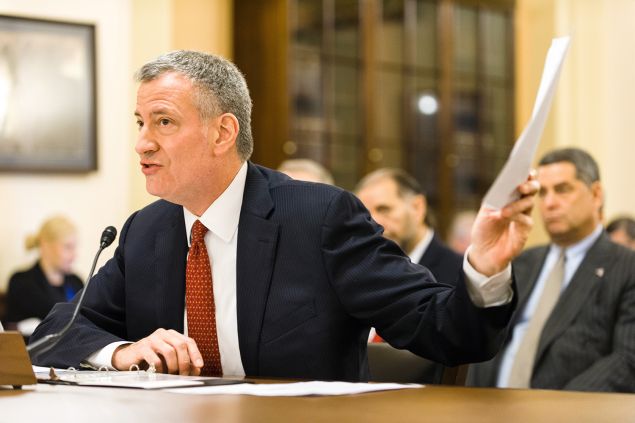 As Mayor Bill de Blasio embarks on his second vacation in a little more than a month for family engagements in New England—which he announced abruptly yesterday evening—political experts say it's no big deal, though one concedes the mayor must balance choosing family time and the potential political consequences of leaving the city.
Early Sunday evening, the mayor's office announced that de Blasio, first lady Chirlane McCray and their children Chiara and Dante were leaving for family engagements in Vermont, Massachusetts, Rhode Island and Connecticut today and said he would return August 28.
Just last month, the mayor and McCray went to Italy for a family vacation for a week—a country he has visited each summer since taking office, which has raised plenty of eyebrows. Last year, he spoke at a Vatican conference, and in 2014 he traveled there with his family for nine days. He ended up briefly postponing the 2014 trip in light of the death of Eric Garner, who died after police wrestled him to the ground in a chokehold for allegedly selling loose cigarettes on Staten Island.
For a mayor who was chronically late at the start of his administration, the vacations led to furthering questions in the press and from his critics about his work ethic. But de Blasio is not the only mayor who has received flak over vacations. Former Mayor Michael Bloomberg, who traveled frequently to Bermuda, was taken to task in 2011 when his private plane was found in Bermuda ahead of a blizzard in the city. Former Mayor David Dinkins was criticized when he was on a trade mission to Japan as the World Trade Center was attacked in 1993. Late former Mayor Ed Koch set a record with his trip to Poland and Hungary—nine days—until de Blasio announced his Italy vacation.
Koch's press secretary, George Arzt, president of George Arzt Communications, said, "There's always going to be something," recalling a time when Koch was forced to cancel a vacation to Brazil in the middle of a crisis in his last term.
But he thinks the hype is overblown—he says he "can't argue with him (de Blasio) on vacations," noting that the mayor can use the time to recharge ahead of his 2017 re-election bid, "which is going to be very intense for the next year."
"This is a slow time, and September is beginning of the school year, and he's gotta be back for that," Arzt said. "So taking off a week here or a weekend in Italy after the budget was done is not a big deal and…he does have a family who he has to tend to, and so I don't think it's significant."
But Arzt said de Blasio's travels throughout the country to promote his positions on national issues—something that drew headlines late last year—was a bit preliminary, calling such behavior during a first-term rarity.
"If he was part of the governor's U.S. Conference of Mayors, that's more understandable," he added. "John Lindsay used to do that often, to go to the U.S. Conference of Mayors, outline his positions, that's acceptable. Going to Iowa on progressive issues and debates, you had Bernie Sanders out there already and Elizabeth Warren."
Political experts echoed those sentiments. Christina Greer, associate professor of political science at Fordham University, described herself as a "firm believer in vacations," saying she respects the fact that the mayor is trying to get some rest before "he gears up again for what will be a long Democratic fall." She also pointed that Bloomberg spent a lot of time out of the city as well.
"I have a lot more respect for a leader who says, 'I have a really hard job. I need to spend some time with my family to rest'…If you work 365 days, you're not giving 100 percent," Greer said.
She also remarked that former Mayor Rudolph Giuliani probably could have benefited from more vacations—he took few while in office—as she believes these days, Giuliani, "clearly has not had a lot of time to really reflect on who he has been."
"I think Rudy Giuliani has shown he is susceptible to say and do really insane things," Greer continued.
Ken Sherrill, a professor emeritus of political science at Hunter College, said all of de Blasio's predecessors took vacations because the job is demanding—noting, for example, that Koch took the press with him on vacations "because he loved the press" and that Bloomberg, who left his Bermuda jaunts off his public schedule, "wouldn't even tell you when he was going out of town."
He also said de Blasio leaving the city has no impact on the investigations swirling around him, as the investigators also take vacations and that he is not the only person they need to interview.
"Any time any public official takes a vacation, that person's opponents carry on that it's terrible that the person is taking a vacation," Sherrill said. "It's never resonated politically. The administration of the city goes on. If there's an emergency, as Bloomberg used to say with modern communications, he can be reached immediately."
Eric Phillips, a spokesman for the mayor's office, said the mayor does not accrue leave or vacation time and that the first deputy mayor (Tony Shorris) has the legal power of the mayorship when the mayor is out of town.
"On the rare occasion the mayor takes a day or two to spend time with his family or take his son back to college, he remains in constant contact with the office and can always return on a moment's notice," Phillips said in an emailed statement.
Still, Bill Cunningham, who served as communications director for Bloomberg, argues that while there's no harm in the mayor choosing to spend time with family (and on the flip side, he argued, some may praise him for devoting time to his family), the mayor knows very well that once time's gone, it's gone.
"This is the summer before his re-election summer. Every day that he is away, every day that he is not doing something is a day that he can never recapture," Cunningham said. "It's some neighborhood or some street that he cannot visit. It's a group or constituency that he doesn't touch base with. Now in the scheme of things, maybe he won't have a tough re-election. Maybe he will."
But despite all the media frenzy any time the mayor takes a vacation, Cunningham insists that this time it really is just that: a vacation with no political undertones. He says that if de Blasio took this vacation a year and a half ago, "you'd wonder why he's spending so much time in New England, because it's so close to New Hampshire."
"Unless you see him walking around Portsmouth, New Hampshire, looking for an ice cream or shaking hands then, yeah, I think it's just a vacation," he said.
This story has been updated to include a comment from the mayor's office about de Blasio's trip.