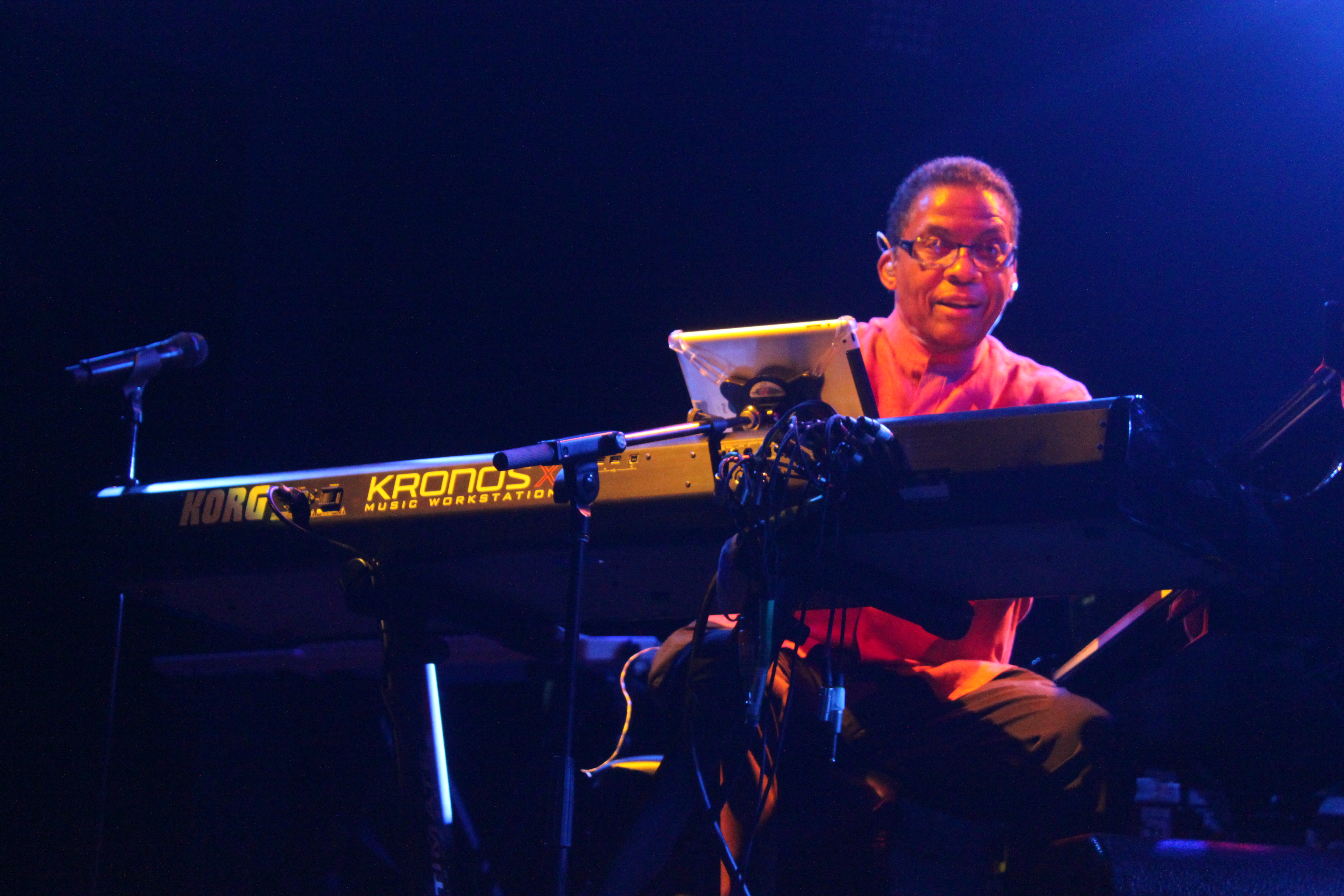 There are tons of reasons why a musical legend might perform with younger players, and most of them aren't flattering. A younger band will often doing the heavy lifting, leaving the elder-statesman to maybe hit a few notes and generally stand onstage looking badass. Then there's the decision to play with younger names as grasp for modernity, for timely relevance.
But Herbie Hancock, hard-bop forefather, fusion progenitor and undisputed jazz royalty needs no other players around to help him stay fresh.
Hancock's 50-plus years of recording, from the time Miles Davis took him on as a young prodigy to join the Second Great Quartet in '63 until now, are defined not only by his tireless innovation as a composer and his shifting stylistic periods, but by a jubilant willingness to mess with the jazz gentry in pursuit of new sounds.
Last night's Brooklyn concert, the final benefit performance for BRIC Celebrate Brooklyn!s fantastic 38th season, was no less innovative. Hancock worked through the classics from his hard-bop, avant-garde and fusion years, but the adhesive bonding modes and themes together was all freshly applied, baby.
"When you really understand struggle, you don't even think about musical people with opinions. Cuz you're doing music to heal your art. I do it to live."
That's the work of guitarist Lionel Lourecke riding sidecar, Hancock's go-to guitarist for 10 years who he first discovered when Lourecke was auditioning for the Thelonious Monk Institute of Jazz at USC.
That's also the work of Trevor Lawrence Jr. on the ones and twos, a younger player who's played with everyone from Dr. Dre to Maria Carey and been nominated for Grammys basically every year since 2010.
And you can't forget James Genus, the storied jazz session player and iconic bassist on Saturday Night Live, keeping the low end popping with  finger-blurring, dexterous extremes.
But there's a third reason a legend like Hancock plays with younger musicians, and that's to serve in the role as mentor. Rounding out the band was Terrace Martin on alto sax, samplers and background vocals. Martin's been a session man for G-funk rappers like Snoop Dogg for years, but when he brought the jazz to Kendrick Lamar's To Pimp a Butterfly last year everything changed. He brought childhood friends Thundercat and Kamasi Washington with him on Pimp, and newer friends like Robert Glasper, too. (More on Glasper, who's breathtaking Robert Glasper Experiment opened the evening, in a minute.)
Since releasing his wonderfully realized Velvet Portraits earlier this year, Martin's been working the jazz circuit, playing festivals and bridging the gap between rap and funk that has, for him, always been a natural blending since first learning to cut at Kamasi Washington's house as a kid. Which explains why the third reason that a megastar like Herbie would want to play with a rising star like Martin is twofold—he's taking Martin under his wing, going toe to toe with him on his classic melodic fusion runs, but also recording a sonically daring new album that Martin will produce.
Hancock plays with Martin not as the elder-statesman siphoning youth, but a tireless innovator willing to still try new things at 76.
"Herbie told me personally, 'When I first heard Pimp a Butterfly I tried listening to it but it was saying…' he's an older black man, so for our parents the word 'nigger' is rough, and he said it was hard," recalled Martin when I caught up with him in June at Montreal Jazz Fest. "He wouldn't listen to it. But he said when he finally listened to it and took the wool off, just listened to what we were talking about, it changed his life. And that is why I'm with him right now. A jazz police can't tell me shit when Herbie Hancock accepted us."
That idea of "jazz police," a term we used to describe the codifying gentry that exists not only in jazz but every genre of music where an institution develops around the history and study of the art form, was rendered irrelevant during Hancock's blisteringly funky Brooklyn set.
By the end of Hancock's time playing with Miles Davis, he had started doubling up on the keys, playing the Fender Rhodes alongside his other electric piano and switching it up when the song called for it. That Rhodes breathed life into Davis' under-appreciated fusion masterpiece, '69's In a Silent Way, and Hancock never looked back.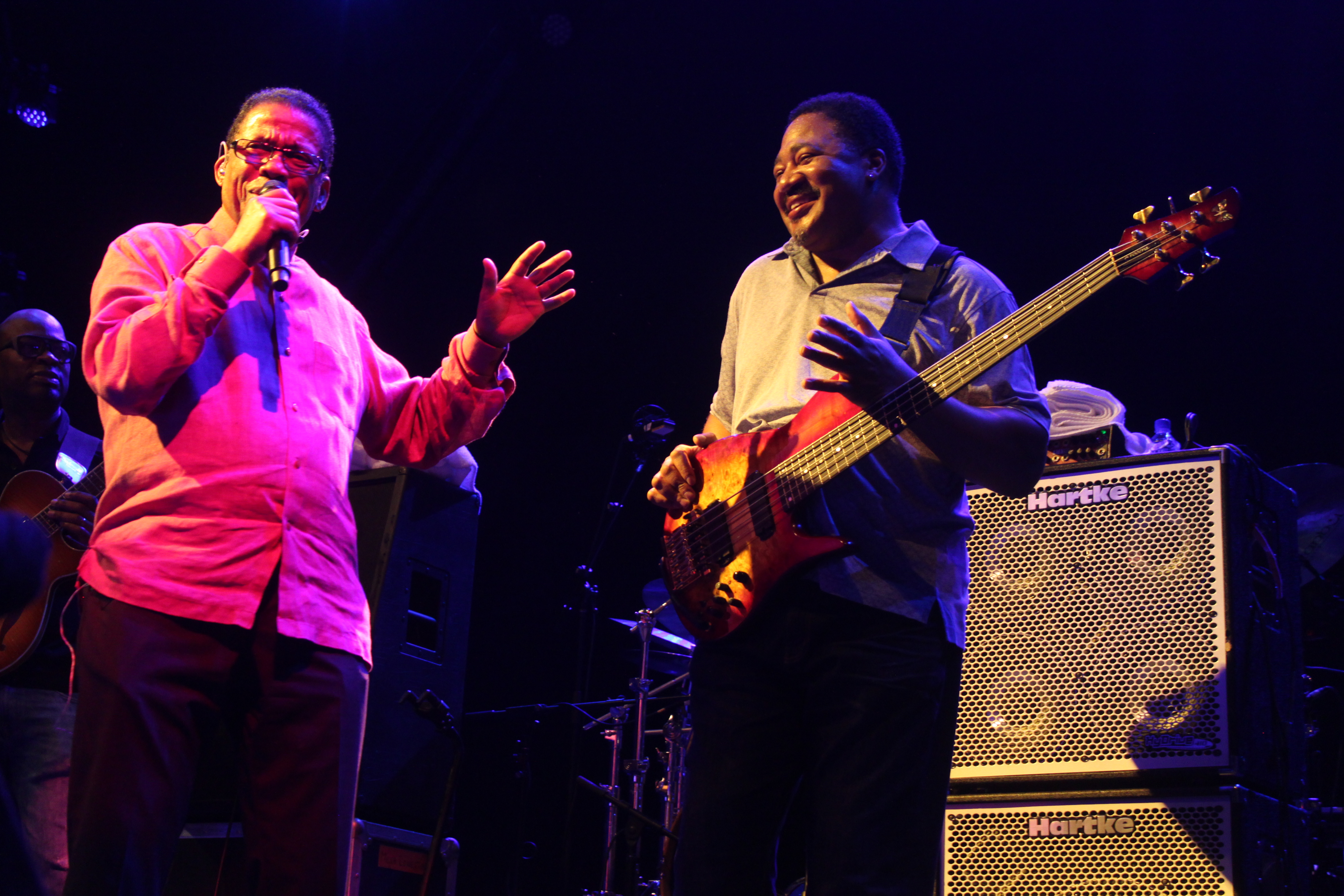 Hancock's use of experimental synth leads as melody during his Mwandishi period, including the ARP synths on Sextant, meanwhile paved the way for the crossover funk-fusion he would originate with Head Hunters and the eponymous band he spawned in '73, but by then he was having too much fun to care if the critics couldn't keep up.
By then the keytar he donned for the Brooklyn show's rapturous closing rendition of "Chameleon" was a main staple, and Hancock rocked the thing like an electric guitar, liberating the instrument from any prior surface associations with novelty or kitsch. Children danced in the aisles as Hancock stood with Martin, who channeled Bennie Maupin, blaring that righteously booty-shaking horn riff.
The other big Head Hunters hit, "Watermelon Man", emerged from the thick of a riff-off with bassist James Genus, when the mood slowed and the groove became communal. Hancock's OG hard-bop version of "Watermelon Man" surfaced at another point in the set, too, the first song on his first LP, '63's Takin' Off. If hard-bop is instrumentally defined as two horns and the rhythm section, Martin's alto sax and samples more than carried their weight.
They're themes he knows well from his youth, and Hancock's summoning of them onstage, a special moment when this current band that he calls a "rogues gallery" has emerged from the studio where they're recording Hancock's 54th release.
That fluidity to shift between styles and sounds, periods of time and spheres of space, shows that Hancock's ability to mess with his own work in the interest of facilitating experience is still intact. As the ambient electronic washes that come with a medley of some new themes they're working on merge seamlessly into stapes from Hancock's repertoire, his search for new sounds vibrantly soldiered on. You can still hear that fearlessness on "Tesla", Hancock's collaboration with Thundercat on producer Flying Lotus' 2014 DMT opus, You're Dead!.
[youtube https://www.youtube.com/watch?v=4bjPlBC4h_8]
That's more than Hancock just being spry, though—he's lucid. When you've got so many records under your belt woven from different fabrics, lucidity requires an effortlessness of memory, too, recalling not just what those sounds did to your ears when you invented them but what effect they have on your whole body of work as it stands in the present. Hancock's memories of Brooklyn remained intact, too, and stories of his playing with old legends informed the new story he was writing onstage.
"First time I played in Brooklyn was with Jackie McLean," he remembered to the crowd. "Actually played with a lot of people in Brooklyn, but first time I played with Jackie and the great drummer Tony Williams was…yeah! Jackie Mclean, man, I got to the stage and Jackie kicked off the tune, Tony played the intro, and my mouth was open."
Opening for Hancock was Brooklyn's own Robert Glasper, an effortlessly virtuosic pianist for whom Hancock also served as mentor. I had the privilege of catching him in Montreal last June at Jazz Fest with the Blue Note 75 band, working through the standards on a grand piano with his wry, noodling style that knocks you on your ass when he finally gets cooking. Last night in Brooklyn he played with The Robert Glasper Experiment, his unapologetically modern quartet featuring the awesome Casey Benjamin on sax, synth and vox, live hip-hop veteran Derrick Hodge on bass, Mark Colenburg on drums and Jahi Sundance on turntables.
Though Glasper's set was cut short due to an earlier rain delay, the experiment pulled no punches with their Glasper's infinitely complex fusion R&B sounds. For the closer, neo-soul great and New York City son Bilal came onstage for a gorgeous tribute to the late, great J Dilla. Two minutes in, the great Common came on in his place for a four-minute freestyle about Chicago, Brooklyn, Herbie and Donald Drumpf. Both artists are featured on The Robert Glasper Experiment's Black Radio albums. Preorders for their next joint, ArtScience, began at midnight.
Glasper doubled up on his keyboards just like his mentor Hancock, squeezing celestial warmth from his good old Fender Rhodes and bridging a sonic space-time continuum in the process. Like Hancock, Glasper remains jubilantly ambivalent to the last hold-outs of a crusty, old jazz gentry, and the experiment exists as a house band for a rotating cast of passionate black artists who tap into the legacy of jazz through Glasper's love of the music.
It's a legacy Glasper understands thoroughly on this year's Everything's Beautiful, his contribution to Don Cheadle's Miles Davis biopic that saw him sampling themes and runs from old Davis recordings, then repurposing them into modern R&B grooves with the likes of Bilal, Erykah Badu, Stevie Wonder and KING.
"I was prepared for the jazz police because Robert's my big brother," Martin told me. "He already told me what they was gonna say because they said it about him. I said, 'How did you deal with it?' [He said,] 'Oh, I just went to the bank, cashed my check, went out the next day and wrote an R&B song.' When you really understand struggle, you don't even think about musical people with opinions. Cuz you're doing music to heal your art. I do it to live. So my children can have a hero, feel me? That's the main shit."