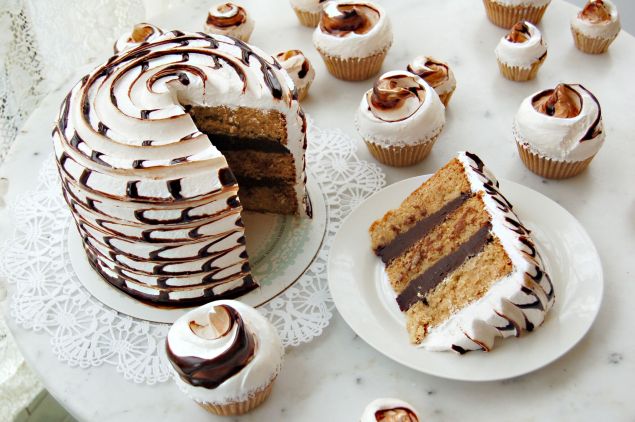 With August now upon us, it's time to say farewell to National Ice Cream Month. We know it's a difficult time for many, but the sweets sanctuary known as Magnolia Bakery is doing something special to help cheer us all up. Especially those of us with a particular fondness for a certain campfire classic.
Though National S'mores Day isn't officially until August 10th, Magnolia Bakery is offering scrumptious confections honoring s'mores throughout the entirety of August. Yes, it might still be bathing suit season, but this delectable treat is worth way more than that bikini Instagram.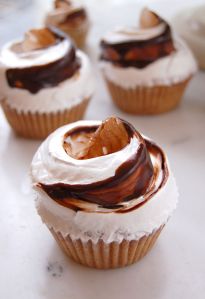 There is, of course, a S'mores Cupcake, comprised of a honey graham cake filled with chocolate and topped with meringue icing, which one can purchase for $3.75. For those who prefer more bite-sized treats, there's also a $1.50 mini cupcake.
If there are people out there who aren't quite as cupcake-obsessed as others (though we can't really imagine such a concept), perhaps consider the S'mores cake—it's also made up of honey graham cake filled with chocolate (and meringue icing, of course), but you can get it by the slice ($6.50).
If anyone has a celebration coming up (or if they just really like cake, which we can definitely understand), you can purchase a 6" or 9" cake—sure, it'll put a little more of a dent in your wallet (the cakes go for $40 and $60, respectively), but can you really put a price on such pure happiness as a mouthful of s'mores? We think not.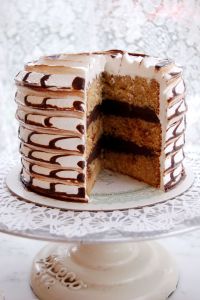 And sure, the entirety of August might be considered National Sandwich Month, but what are s'mores other than a delicious graham cracker, chocolate, and marshmallow dessert sandwich?! Really.
The seasonal creation is now available at Magnolia Bakery outposts throughout the city, so run to your nearest location to grab one. You can also order them online, if you must, but we recommend heading to the Bleecker Street locale, mostly so that you can recreate the Sex and the City scene with Carrie and Miranda munching on cupcakes with candy-colored frosting–if you're so inclined, anyway.