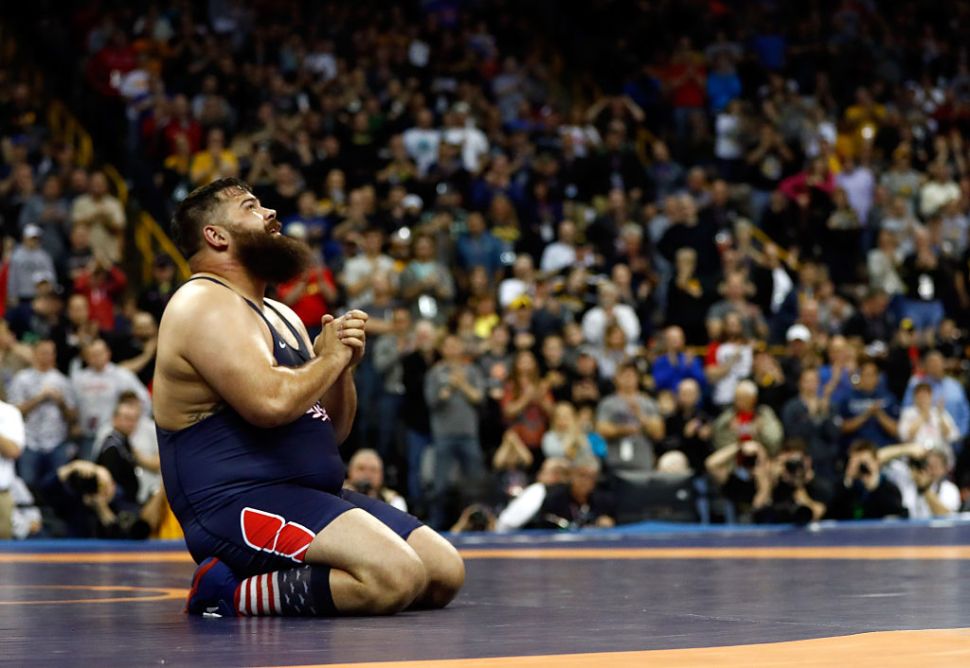 When we spoke to Team USA heavyweight Greco-Roman wrestler, Robert Smith, he'd just come out of practice and told us that he had three bags of ice on different parts of his body. Smith takes his recovery seriously. The 286-pound wrestler works hard to make sure he gets himself into a resting mode when he needs it.
"I have a heavy heart rate," he told the Observer in a phone call. "Say my heart rate is at 120 when I think it's at 90. When I think I'm recovering, I'm not recovering. My body's still working." As he gets ready to head to the Rio Olympics, he doesn't have a lot of time to rest, so he wants to maximize every minute. One tool that has helped him over most of the last year of training has been Brain.FM, the artificial intelligence powered music service that generates electronic beats in order to help people achieve certain mental states.
As we previously reported, Brain.FM streams music written by artificial intelligence to help people focus, relax and sleep. Smith uses its first two modes nearly every day. "When I'm really wound up from my practice," Smith said, "where I need to let my body recover, I use the relaxation for that."
His sister and brother-in-law teach kundalini yoga in Hawaii, and they showed him how important focusing on his breath can be. After a hard practice, he puts Brain.FM into its relaxation mode and concentrates on his heart rate and his breathing as he listens to the calming, machine-generated music, so he can get the recovery he needs.
"When you don't breathe right, your whole body is messed up," he said. That attention has also helped him in the other mode, the intensely focused state he gets into when practicing wrestling.
"It helps me on the mat, when my breathing is normal and I can control my breath as I'm wrestling, you don't get as tired. You keep that long stride breath that gives you that energy," he said.
Before practice, he listens to fifteen to twenty minutes of Brain.FM music in its focus mode, so he can fix his mind on his goals for that practice. "I'm a kid who's been diagnosed with ADD, but I don't take Ritalin anymore," he said. "This kind of puts me in that deep focus that Ritalin put me in when I was in the classroom."