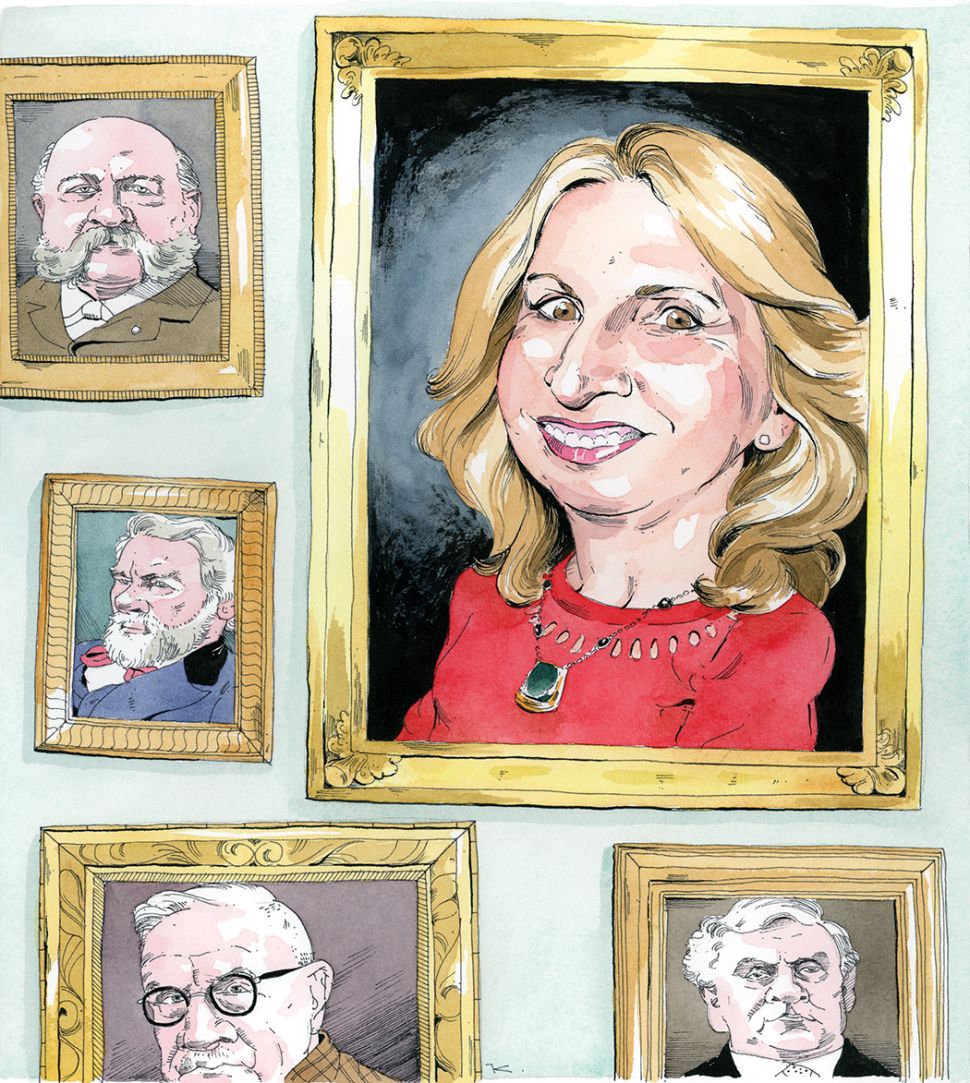 "The women who made American history have been neglected," declares Louise Mirrer, president of the New-York Historical Society, sitting in a conference room decorated by the peering portraits of the 11 founders of the city's oldest museum—all unsmiling white men in coats and ascots. "There are names that we've never heard of, or women we have heard of, but heard of in the most trivial ways," frets Mirrer, who has worked to remedy such oversights throughout her career.
Name one woman who historians largely ignore. Lillian Wald. If you go to the Lower East Side, she has her name attached to a public housing project. The people who live there probably have no idea who she was. Wald was from upstate New York. She was aware there were slums, teeming tenements in the city as a result of massive immigration at the end of the 19th century. So she came to New York City, had a look around and realized that she needed a nursing degree to tend to the needs of those immigrants. So she became a nurse and founded the Visiting Nurse Service. But she did many other things; for example, she saw there was no open space in public schools—that children who lived in very dense quarters were going to schools that were equally dense. She insisted that public school have playgrounds. So the reason that you look around and see so many schools with playgrounds is because Lillian Wald knew that children needed fresh air.
Besides Wald, could you tell me about another of your heroes? Frances Perkins, secretary of labor under FDR and the first female cabinet member. And I'll tell you why. We witness a lot of things that are terrible, and we turn the page. Most people do. Because we feel helpless. You don't know what you can do as an individual to change things. And she witnessed the Triangle Shirtwaist Factory fire in 1911. And when she went to be part of FDR's cabinet, she invoked the Triangle Shirtwaist Factory fire and said, "The New Deal was born that day." She witnessed something horrific and did not turn the page, did not say, "What can I as an individual do? I have no power to address these terrible things that happened." 
"Those that cannot learn from history," it is said, "are doomed to repeat it." What mistake are we likely to repeat as a society? I just went downstairs to revisit our anti-Semitism exhibition. So, I read our comment book, and I would say that the predominant comment—and there are hundreds of them—is, "I hope we are not moving in the direction of scapegoating particular groups."
'You have to provoke people to think about bad times as well as good times.'
Is there a room in this institution that you spend time in to experience a connection to history? Our library reading room. Much of what we have in our library is original documentation. And it's in library stacks. We have bookcases that contain the libraries of a number of our founders. To understand virtually anything that has happened in history, you need to also understand what somebody was reading.
Name a book that influenced you? The Diligent: A Voyage Through the Worlds Of The Slave Trade by Robert Harms. I read the book actually just before I started my job here. Then I invited him to be a speaker. He chronicles the voyage of a slave ship. And there is probably nothing that has brought home to me as powerfully as that book did how much our contemporary circumstances are influenced by what happened way back then.
Tell lay readers about a raging battle going on now among historians. One is whether Alexander Hamilton was a good guy or not. That, actually, I experienced when we did our major exhibition on Hamilton in 2004. I think that every figure, well-known or not, has many sides. We're human. I'm just kind of very interested to see historians really feel absolutely heated about their arguments over whether Hamilton, the world Hamilton created was a good world or a not-so-good world.
Have you seen historians get into fisticuffs? Fisticuffs, no, but I was on a panel on women's history a couple of years ago at the American Historical Association meetings. I have never seen such rude behavior, not towards me, fortunately, but against another speaker, whose point of view they disagreed with.
You've devoted your life to preserving history. Can you think of a statue in New York that you would like to topple? Gee, I don't think so. 
How about a plaque you would rewrite? There's a lot of debate over who we should preserve and who we should take down. I think that you have to provoke people to think about bad times as well as good times. If we ended up with monuments only to people about whom we think favorably, visionaries in their day and progressive, we would never stop to think, 'How could this have happened?' I really come down on the side of preservation. Those monuments were put up in a moment, and we have to understand that moment. 
Tell me a bit about your own family history. Your late father founded Long Island's North Shore Hospital. What did he teach you about being a leader? What he taught me was really not so much about being a leader but understanding, being empathetic. He started his career as a pathologist, and he used to say to us, "A white person, a black person, an Asian person—same heart, same liver, same lungs; there is no excuse for bigotry, and there is no excuse for prejudice."