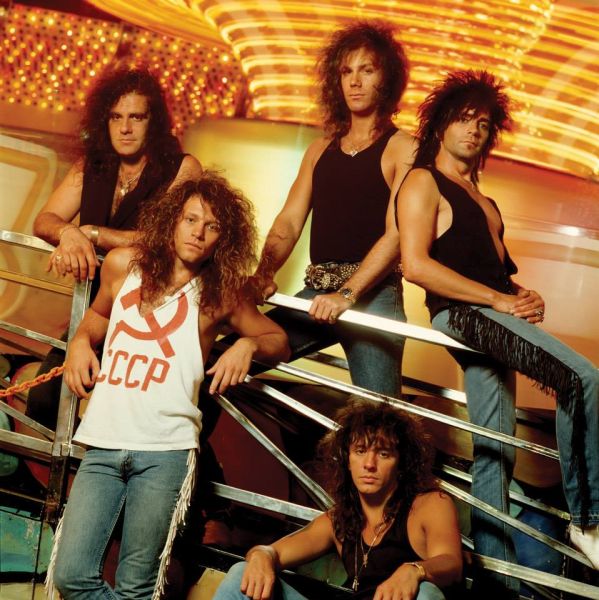 During the Decade of Decadence, mainstream hard rock, fueled by power chords, sex, and a fair amount of booze, weed, and cocaine, fanned the cult of youth and espoused a party hearty world where teens refused to get old or bow down to authority. Many of these '80s bands may have been legitimate bad boys offstage, but most of their tunes served up rebellion in a seemingly dangerous but ultimately safe package.
While Sunset Strip glam rockers like Ratt and Mötley Crüe had charged out of the gate with hard-rocking records, they soon softened their looks and hooks to seduce growing legions of female followers. Other than Def Leppard with the guitar-heavy Pyromania, no one had achieved monster success with the formula.
Until Bon Jovi came along.
1986 was a year of dichotomy in the rock world. The first wave of debauched hair bands was colliding with the thrash metal ascension, which countered decadent bliss with an antidote of reality during the politically callous era of the Reagan-Bush administration. Bands like Metallica and Anthrax delved into darker realms and broached topics like the ugliness of social inequality and the looming specter of nuclear war. It was the unsexy antithesis to the late Robbin Crosby's "Pussy Party Paycheck" ethos espoused by his band Ratt and their peers.
The keyboard-laced Bon Jovi found the perfect way to circumvent those two camps. Adored by legions of teen girls for their good looks and infectious hooks, the Jersey Syndicate (as they later came to be known) knew how to sell the fantasy of the rock 'n roll lifestyle and tell stories of both romantic love and sexual hijinks without the overt crassness of some of their hair-band counterparts. They made it look endearing. Bon Jovi's two albums were filled with such anthems and ballads: "In And Out Of Love," "Shot Through The Heart," "Only Lonely," "Silent Night," "Roulette"…
There was one problem. The quintet needed a smash single to rocket them into the stratosphere. The only bonafide hit on their first two albums (Bon Jovi and 7800° Fahrenheit) was the keyboard-propelled rocker "Runaway," the opening track of their debut album, co-written by George Karak and frontman Jon Bon Jovi. While they had some catchy tracks, the band needed an injection in the songwriting department.
Jon and guitarist Richie Sambora hooked up with songwriter Desmond Child, former member of '70s pop-rock ensemble Desmond Child & Rouge, through members of KISS, who had achieved renewed success with him on post-makeup albums like Animalize and Asylum.
An initial songwriting session at Richie's childhood home with Jon, Richie, and Desmond immediately produced "You Give Love A Bad Name," which Child secretly reworked from a recent flop he had written for Bonnie Tyler called "If You Were A Woman (And I Was A Man)".
[youtube https://www.youtube.com/watch?v=KrZHPOeOxQQ&w=420&h=315]
Jon and Richie's partnership with Desmond would prove to be incredibly fruitful. The man knew how to conjure relatable stories about the common man, an approach that Bon Jovi had always taken. Four songs from their Slippery When Wet writing sessions made the album: "You Give Love A Bad Name," "Without Love," "I'd Die For You," and the monster hit "Livin' On A Prayer," the stirring anthem about overcoming adversity that will forever be associated with the band.
All four collaborations were about the bonds of love (in the first case, lust), and "Prayer," Child's everyman tale of Tommy and Gina, inspired by himself and an ex-girlfriend struggling to make it as artists, struck a serious chord with working-class rock fans across the country. The chorus has become the band's ultimate sing-along melody live. Another track, the beloved B-side "Edge Of A Broken Heart," appeared on the soundtrack to the 1987 Fat Boys movie Disorderlies.
Buoying the rich song selection was the sparkling, booming production work of producer Bruce Fairbairn and engineer Bob Rock (who would later become a successful producer for Mötley Crüe and Metallica). Working at Vancouver-based Little Mountain Sound Studios with the band, Fairbairn and Rock imbued the tunes with the right amount of reverb, sonic gloss and a thick drum sound that would make the pop-rock tunes feel heavier than they were.
David Bryan's grinding, Jon Lord-like organ intro to the anthemic "Let It Rock" sounded like it was descending from the heavens. Richie Sambora's charging riffs and six-string squeals were placed front and center on the super catchy "Raise Your Hands," the closest thing the album had to a rousing metal anthem. On the flip side, the lust-fueled "Wild In The Streets" served up deliciously infectious power pop, and "Wanted Dead Or Alive," with its moody intro and crystalline acoustic guitar sound, offered a stirring mock cowboy anthem striving for mythical rock significance. It has become a classic of their canon.
[youtube https://www.youtube.com/watch?v=SRvCvsRp5ho&w=420&h=315]
Recording in the spring of 1986, the members of Bon Jovi—Jon, Richie, keyboardist David Bryan, bassist Alec John Such, and drummer Tico Torres—busted their asses in the studio under the watchful eyes and ears of their producer, but at night they hit the town to carouse with strippers and party heavily. The finished album reflected the raucous spirit of their Vancouver adventures, and ultimately the title was inspired by the No. 5 Orange Stripclub, where strippers soaped up onstage. But while Slippery When Wet genuinely reflected the lifestyle its creators were living, frontman Jon Bon Jovi was a driving musical ringleader who took things very seriously. From day one he wanted to be a star, and no one would derail him from his objective.
"He's a very driven guy," the late Fairbairn told Steve Newton for Ear Of Newt in 1998. "He's very much like Bryan Adams in terms of motivation. Jon—and I know Bryan, too—expects everybody on the team to be kickin' at that level and working at that intensity, and if you're not, you're out. And that's a good thing, except in some cases everybody has a bit of a different way of doing that."
Due to Jon's growing cowboy fetish, the original album title was Wanted Dead Or Alive and featured the band in full cowboy regalia. Neither their label nor their manager were sold on that dubious Wild West makeover, so photographer Mark Weiss created a wet T-shirt cover that, had it been released here, would have probably been banned from some retail chains and perhaps turned off many of the teen girls that swooned over them.
While that cover did make it to Japanese release, it was nixed for America and Europe at the 11th hour and replaced with Slippery When Wet simply spelled out on a wet garbage bag. Cynical detractors might have quipped that the final cover was as bland as the vanilla rock within; either way it did not hurt sales.
The album impressed the masses as well as those within the industry.
"I dug the sound of it, I dug the energy of the songs, I dug the energy of the mix and the sonics," producer Kevin Shirley (Joe Bonamassa, Journey, Iron Maiden) told me when we spoke for my forthcoming biography Bon Jovi: The Story. "I hadn't heard anything like it." Around 1987, he loved Def Leppard's Hysteria and Slippery. "Those two records knocked me out. I remember hearing Aerosmith's Permanent Vacation record, which was also another album Bruce Fairburn did with Bob Rock. That team was just on fire, man. They were just something else." (Shirley went on to engineer the two new tracks on Bon Jovi's 1994 greatest hits album Cross Road, which included the massive hit ballad "Always".)
Slippery's lead single, the booming "…Bad Name," surfaced almost a month before the album's August 18 release date. It became a hit but took until late November to top the charts, a month after the album hit No. 1 on the Billboard Top 200 chart. The Jersey boys toured incessantly during that time, opening for Judas Priest, .38 Special, and Queensrÿche. By mid-December, they launched an epic eight-month North American tour with support act Cinderella, whom Jon had helped land a deal at his label.
The "Prayer" single, released on Halloween, hit No. 1 in February 1987. When that happened, especially after Slippery became the No. 1 album for two months and at one point sold a million copies per week, the group turned into household names. Their songs dominated radio and their larger than life, Wayne Isham-directed concert videos were plastered across MTV.
The album's third single, "Wanted Dead Or Alive," which made use of the discarded cowboy photos for its cover art, peaked at No. 7 in June and allowed them to make a romanticized video portraying a road-weary band giving their all for their fans. (Two years later in September 1989, Jon and Richie did a two-song acoustic set of those latter two songs at the MTV Music Video Awards that inspired MTV's Unplugged series.)
By the end of 1987, Slippery When Wet was the best-selling album of the year, racking up 8 million in sales in the 17 months since its release, half of them that year alone. It would go on to sell 4 million more in America by 1995 and has reportedly sold 28 million copies globally in the last 30 years.
It remains the biggest album of Bon Jovi's career and one of the biggest albums of the '80s, while "Prayer" is their most famous song in America. ("It's My Life" from their 2000 comeback album Crush is arguably their biggest hit worldwide.)
Near the end of their 1986-7 world tour, the quintet played three nights at Madison Square Garden, two at the Meadowlands, and two at Nassau Coliseum, a feat that they have never repeated.
In the wake of Slippery When Wet, radio opened up to Bon Jovi's style music in 1987, which had been relegated previously to MTB, and a second, more peroxide laden, and more international wave of hair bands infiltrated pop culture, for better or worse. Other bands had plotted a similar course but got a huge boost from the Bon Jovi machine.
Veteran British rockers Whitesnake shed some of their raunchy skin and became a smash success with hipper-looking players and a more radio-friendly sound. L.A. hard rockers Great White went more Zeppelin-esque and likewise broke the platinum barrier. By coincidence, Def Leppard went glossier and poppier and sold millions with Hysteria, serving as competition for the Jersey rockers.
Until the fall of 1991 when grunge began to take over, glam bands, many inspired by Bon Jovi,  stormed the charts, most of them today reduced to musical footnotes. Bon Jovi had permanently altered the landscape, and it would be somewhat of a challenge in later years to come out from under their own cultural influence.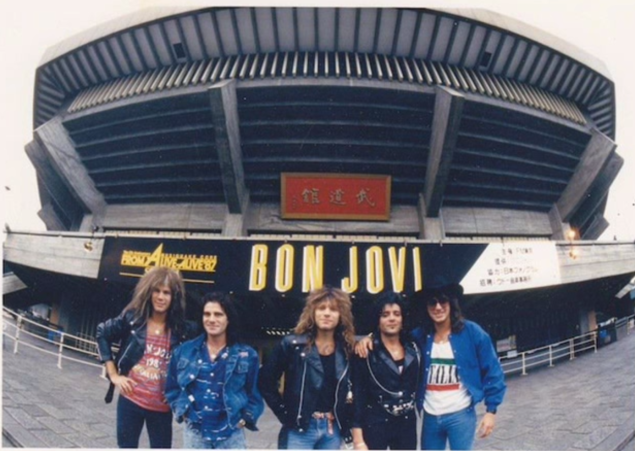 Slippery When Wet understandably generated some resented with heavier groups who disliked hair bands being lumped into the metal category. As a hardcore underground metal fan, I certainly disdained them and their commercial predilections at the time, as did many of my heavier rocking brethren. But cooler heads saw the musical distinction.
"I don't think they were considered metal, they were considered hard rock," veteran rock journalist Gail Flug recalled to me. "I remember my friend Derek [Simon] who worked at PolyGram used do this thing called the 'crowded mall T-shirt' [test]. You would wear a shirt of a band, and if people made comments about the shirt they were on the rise. He had a Bon Jovi T-shirt and people were coming up to him at the mall and asking him where he got it."
Is Slippery When Wet a seminal pop-rock album from the '80s? Definitely. Is it Bon Jovi's best album? Far from it. While it contains some classic Bon Jovi tracks, not every song was a keeper—"Social Disease" was annoyingly raunchy filler, "Without Love" rather vapid pop-rock, and "Never Say Goodbye" a cringe-inducing power ballad.
While 1988's New Jersey showed them maturing musically, it was not until 1992's Keep The Faith, which followed a near breakup and unintended hiatus of nearly two years, that the band released what this writer considers to be their definitive musical statement. It was grittier, edgier, removed from the sonic sheen of its two predecessors, and expressed concerned with real world issues. And the songs were damn great. They have also put out a lot of other solid releases since then, including 2002's Bounce (their heaviest effort), 2005's Have A Nice Day, and 2009's The Circle. And their energetic debut still possesses a charming naivety to it.
[youtube https://www.youtube.com/watch?v=UhqN8-asMgg?list=PLmfMgqsFYhSMX7oulttm2Etavel0h8svn&w=560&h=315]
Although an unapologetically populist band, Bon Jovi became a critical whipping post back then for music journalists who, somewhat understandably, saw them as the flavor of the month that reveled in pandering to teens.
Let's face it, "Prayer" (a song that Richie and Desmond reportedly begged Jon to include on the album) and the band's significant musical chops aside, their lyrical ruminations did not dive too deep. It probably did not help when Jon made comments like these two to Susan Orlean of Rolling Stone: "Kids now don't know what Vietnam was, so why should I write about it?" and "My attitude is we're prime-time TV."
They redeemed themselves later, although many longtime fans seem to prefer that they continue embracing their inner '80s teen; that does look silly after awhile. Bon Jovi's subsequent reinvention has been wisely plotted out, even if some critics still hold a grudge.
Critical barbs aside, the legacy of Slippery When Wet remains secure, and over the years it has continued to attract listeners. Today, Bon Jovi concerts are attended by at least two generations of fans. Atreyu guitarist Dan Jacobs got into the band in the mid to late '90s when he was into punk and metal.
"One of my friends introduced me to Def Leppard, in particular played 'Pour Some Sugar On Me'," Jacobs told me. "I had never really paid attention to this kind of music before, and I was like, 'What is this? This song is huge and catchy. Is there more stuff like this?' I just fell into everything from there including Bon Jovi. It's one of those staples bands. They just have some of the biggest hooks ever." (Funnily enough, Atreyu's cover of "You Give Love A Bad Name" is one of their longtime concert favorites.)
As I was working on my Bon Jovi biography, I learned that many heavy metal fans that I thought would have rolled their eyes at my endeavor easily admitted to being Bon Jovi fans. Perhaps time steamrolls youthful intolerance. (I changed my tune many, many years later.) Or perhaps only those of us thrashing our necks at the time were deeply offended.
"I'll be happy to say that I've always been a fan of Bon Jovi just because of the talent," Rob Halford, lead singer for Judas Priest, told me. "To write those kind of songs and to be able to have such a broad swath of approach is really quite special. Off the top of my head, I can't really think of any other band that came out of that time with that kind of music that is still so big now in 2016."
That's the truth.
Bon Jovi is the only group to truly escape the "hair band" ghetto—an unfair denigration to many talented bands of that era, but apropos for many more—and move on to bigger things. Their three most recent new studio offerings all debuted at No. 1, and their 2013 world tour was No. 1, grossing $260 million globally. That's nothing to sniff at. Jon prefers not to dwell too much on the early days, even the time his group was the "it" band. He has moved ahead and evolved.
There are still plenty of people who find Bon Jovi's '80s output to be a direct line to their youth. And with Jon aging so gracefully, they can easily feel transported back then as they sing along with him in concert to the band's '80s hits, particularly from Slippery When Wet. It might be a bit overly nostalgic, but that's not such a bad thing, is it?
(Bon Jovi: The Story by Bryan Reesman arrives via Sterling Publishing on November 1. It features over 35 new interviews with people who have known, played, recorded, collaborated, and/or toured with the Jersey Syndicate.)