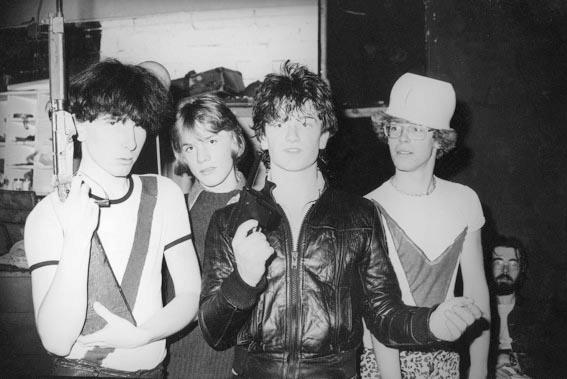 Between September of 1979 and May of 1980, U2 released seven tracks, on three different 45s. These songs seemed like flawed, minor pleasures, and the overall effect of these discs was far from extraordinary.
In late October 1980, U2 released their debut album, Boy. Poised, majestic and ambitious, it announced that a formidable new act had arrived.
What on earth happened between the singles and the album? And how did an LP that was relatively thin on first-rate material and relatively thick with easily traceable influences become the lodestone for one of the most important careers in rock history?
The ascension of U2 into a creative and commercial stratosphere that none of their contemporaries even remotely approached was initiated by three factors: the extraordinary, singular skills of producer Steve Lillywhite; transformational and proud live performances; and U2's ability to borrow from other sources and make these appropriations entirely their own.
1980 was a helluva year in music.
Here's just a few of the albums released in 1980: AC/DC's Back in Black; PiL's Metal Box/Second Edition; Colossal Youth by Young Marble Giants; the Clash's London Calling and Sandinista!; [i] Stiff Little Finger's Nobody's Heroes; Women and Children First by Van Halen; British Steel by Judas Priest; The Feelies' Crazy Rhythms; Kings of the Wild Frontier by Adam and the Ants; X's Los Angeles; Double Fantasy; Totale Turns by the Fall; Elvis Costello's Get Happy!; The Ramones' End of the Century; The Correct Use of Soap by Magazine; Underwater Moonlight by the Soft Boys; Joy Division's Closer; Prince's Dirty Mind; Remain in Light by the Talking Heads; Bruce Springsteen's The River; The Black Album by the Damned; and Mötorhead's Ace of Spades.
Oh, and debut albums from the Psychedelic Furs, Selecter, Teardrop Explodes, the Pretenders, Iron Maiden, Echo & the Bunnymen, the Cramps, Dexy's Midnight Runners, Killing Joke, the Dead Kennedys, and the (English) Beat.
Good goddamn, what a year.
[youtube https://www.youtube.com/watch?v=videoseries?list=PL77479CBDF3A09F40&w=560&h=315]
It was such a remarkable year that it's unlikely Boy was one of 1980's 10 best albums (though it may have been one of the most important). Heck, Boy wasn't even producer Steve Lillywhite's best record in 1980; Peter Gabriel (the third eponymous Gabriel solo album) was released in May, and XTC's Black Sea was released in November.[ii]
Steve Lillywhite was one of the greatest magicians of the era. He recorded bands with a confident and deliberate touch that made their records headphone-friendly and timeless, yet had no deleterious effect on the music's power. Although other producers may be more associated with the punk era (Chris Thomas, Martin Rushent, Vic Maile, Martin Hannett, and Ed Stasium come to mind), Lillywhite was one of the few producers who thought in widescreen, detailed, "classic" terms when it came to punk productions.[iii]
By the time he began recording with U2 in the spring of 1980, Lillywhite had already performed some major punk rock miracles: He had helmed and finessed Johnny Thunders' only great solo album (So Alone, 1978); he had eked a Byrds-meets-Springsteen classic out of a high-energy pub band (Eddie and the Hot Rods' "Do Anything You Wanna Do"); he had virtually invented punk ska with the Members; and he had helped two cultish acts transition from herky-jerky non-conformists to astounding new-pop icons (Ultravox and XTC).
U2 needed someone who could make the most of their limitations and maximize the majesty that was, at this early juncture, only implied in their music. Lillywhite was not only able to emphasize the best aspects of the desperately young band (like the simple rhythm section, relatively complex guitar shapes, and Bono's preaching, soaring vocals), he was also able to mask the bands' shortcoming (such as the limitations of the rhythm section, the fact that the Edge's ambition exceeded his grasp, and Bono's penchant, at this stage of his gestation, to squeak like a stepped-on dog toy when he went for his high range).
Next, to understand what was behind the conception and creation of Boy, it's essential to understand U2's influences.
U2 have always held these influences exceedingly close to their chest. They will occasionally mumble about Television and Patti Smith, but to be honest, there's only a smidgen of Television in their early work, and I haven't detected any Patti Smith at all. This is an intelligent red herring; from early on, the band realized that their actual, far more obscure influences might play well in Trouser Press, but would be meaningless to a larger American audience.
I also strongly believe that U2, with both a resonant sound and classic performance style that was considerably removed from the 1980 alt-rock mainstream, wanted to appear as virgin-birthed as possible, and therefore were deliberately reluctant to disclose much of a connection to their past. In other words, U2's influences remain largely hidden to the vast percentage of their audience. [iv]
In fact, these influences are readily detectable.
The most obvious influence on early U2 was a Scottish punk/Post Punk band, the Skids. Well before U2 ever recorded, the Skids had articulated the formula that would come to be associated with U2: skipping, adroit guitar that was one-third Celtic, one-third punk, and one-third prog metal, alternating with echoing, melodic rhythm/leads; martial rhythms and simple, melodic bass; and over-reaching, triumphant Celtic-flavored vocals.
On their first album, U2 do not exactly go out of their way to mask this influence: "I Will Follow" is a fairly literal mash-up of the Skids "Into the Valley" and PiL's "Public Image," and "Out of Control" so closely resembles the Skids' "Of One Skin" (not just in "feel," but in actual chord changes) that it is remarkable that U2 actually thought they could get away with it.[v]
[youtube https://www.youtube.com/watch?v=g2BqLlVHlWA&w=420&h=315]
Other important influences are evident on the early U2 singles (we will return to the LP in a moment).
"Boy/Girl" (from their first 45 release, 1979's Three EP) was pretty much halfway between a Stranglers and an Undertones song (and borrows recognizable stylistic elements from both); "Another Day" (from U2's third, Martin Hannett-produced 45) shows the influence of the Only Ones and Be Bop Deluxe; and the original, Hannett-produced version of "Twilight" (on the B-side of "Another Day") tips off a tripartite influence of Thin Lizzy, Sensational Alex Harvey Band, and Durutti Column.[vi]
In addition, these pre-album, pre-Lillywhite 45s reveal that young U2 were almost certainly aware of Protex (a melodically aspirational Northern Irish punk pop band). Also, a very early U2 composition that never made it to vinyl, "Street Mission," was clearly influenced by the original prog-punk band, the Stranglers.[vii]
I also suspect (especially in their earliest days) that U2 may have been influenced by Slik, a Scottish bubblegum band with prog and punk aspirations who featured Midge Ure, later of Ultravox, on vocals. U2's (very) early live performance style bears some resemblance to Slik, and the lower-end of Bono's vocal range is similar to Ure's in a way that is probably not accidental.[viii]
The Boy album reveals even more important secrets, and "An Cat Dubh" may be the Rosetta Stone.
[youtube https://www.youtube.com/watch?v=ZX44avG_mGk&w=560&h=315]
"An Cat Dubh," the third track on the LP, is the glowering, cinematic piece that announces that Boy is going to be an "important" album, i.e. far more than collections of well-hewn, expertly produced Post Punk songs. It also provides a remarkable insight into what U2 were thinking as they transitioned from the awkward sounding band on their early singles to the momentous, portentous act heard on Boy.
"An Cat Dubh" reveals that U2 were listening, avidly and closely, to 154, the majestic, epochal third album by Wire (released in the autumn of 1979).
How do we know this? It's pretty obvious: "An Cat Dubh" borrows melodic motifs from not one but two of 154's songs, "A Mutual Friend" and "A Touching Display." There is also is a conscious attempt on "An Cat Dubh" to replicate the musical vibe of both these Wire tracks. If there's any doubt at all about this supposition, the solid giveaway is that Adam Clayton plays a bass line on "An Cat Dubh" very clearly modeled after a prime guitar part in "A Mutual Friend."
More than any other album of the pre-Boy era, 154 attempted to bring a cavernous elegance and wide-screen resonance to the punk/Post Punk genre; although Wire lacked both the commercial ambitions of U2 and the vocal and instrumental reach of Bono and the Edge, the vision of 154 was clearly an imprint on the aspirational, churchly, holy-rock vision of Boy.
Now let's take all of these factors (the well-considered elements appropriated from the Skids, PiL, Durutti Column, Wire, and others; the masterful production of Steve Lillywhite; and last but most definitely not least, a very willing and capable label), and then add grandiose, effective, and passionate live performances. Put it all together, and you have a foundation for one of the most successful and important acts in rock history.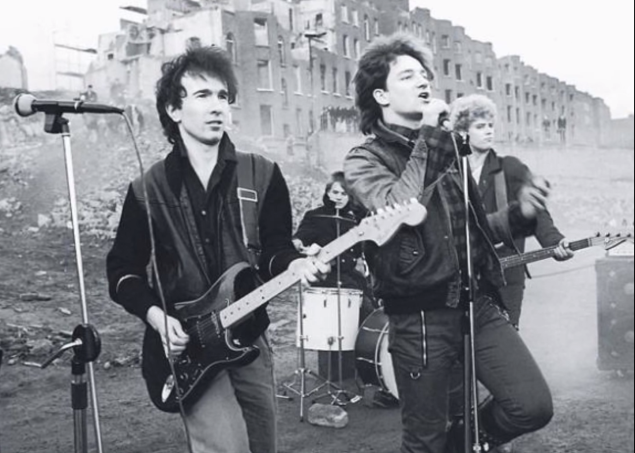 U2's early live performances were transformational and startling. They were absolutely shameless and old school in a way that was virtually oppositional to any other alt-rock band of the era, and they pulled it off, too.
I was fortunate enough to see U2's very first NYC show, a relatively low-key, moderately attended gig at the Ritz on December 6, 1980. The manner in which they occupied the stage and owned the moment was about half-a-hair short of being too much. But it wasn't too much; it was virtually perfect, and announced that the Post Punk genre might have an arena future that had seemed highly improbable up until that moment.[ix]
Significantly, on the very same night that U2 debuted in Manhattan, the Skids played their first-ever New York show at Hurrah, a considerably smaller venue on West 62nd Street. The Skids had just released their third album; although it had been an artistic triumph and a commercial success (in the U.K.), on stage the band seemed tired, virtually going through the motions. Stuart Adamson, the band's vastly talented and influential guitarist, would very shortly leave the group and form Big Country; ironically, many listeners assumed U2 influenced Big Country and Adamson, whereas it was precisely the other way around.
Like anything in music and everything in creation, U2 were a product of causes and conditions. But it takes an ambitious, able and capable band—and one extraordinary producer—to turn those causes and conditions into a legend.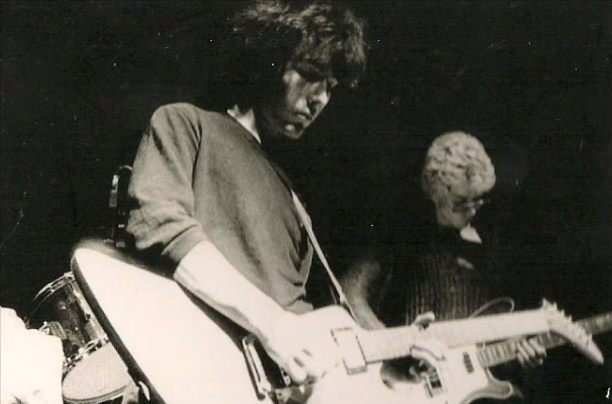 [i] The Clash's London Calling was released in the U.S. in 1980 and in the U.K. in 1979. Due to this peculiarity, it has the rare honor of appearing on "Best of the Decade" lists for both the 1970s and the 1980s.
[ii] The 1980 Peter Gabriel featured "Games Without Frontiers," "Biko," and "I Don't Remember."
[iii] A possible exception was Chris Thomas, a true classic rock producer; however, his only actual "punk" credits are the Sex Pistols, the Tom Robinson Band, and post-Nick Lowe Pretenders. Also, to be fair, both Nick Lowe and Craig Leon were doing work that was nearly as exemplary as Lillywhite's.
[iv] Contrast this with R.E.M., who did little to mask their influences; rather, they celebrated the music of the dBs, Feelies, Pylon, Method Actors, Big Star, Velvet Underground, etcetera. On the other hand, it took over a quarter of a century for U2 to cover the band that was their biggest influence, The Skids.
[v] Which, of course, they did.
[vi] It is no accident that Hannett also produced Durutti Column; Vini Reilly, the Durutti Column's echoing, trippy, verbalicious guitarist, clearly had a profound effect on The Edge
[vii] Until Boy, it's possible that the most accomplished, visible, and fully realized prog punk album was the Stranglers' Black and White (1978), and I strongly suspect U2 listened to it a lot. It had a reach, in much the same way Boy would have a reach. Also, I would be remiss if I didn't point out that the specter of Thin Lizzy hangs over all of this. At the time, Lizzy towered over Irish rock in much the same way that U2 would tower over the 1980s and Nirvana loomed over the 1990s; only the most determined punk act could evade some aspect of their shadow. Lizzy pervade nearly everything early U2 did, most detectably in the stage posture of Adam Clayton and the global aspiration of U2's music and philosophy.
[viii] Here we tip our hat to bassist Russell Webb, who hit the trifecta. He played with three of the bands I've noted here as influencing U2: Slik, the Skids, and (much later) PiL.
[ix] On the afternoon of the Ritz performance, Bono and the Edge played a four-song acoustic set in the room they shared at the Gramercy Park Hotel for me and friend—just me and a friend. This is a long story I shall not go into here.