While London's Savile Row remains the steadfast protector of luxury tailored menswear, it struggles to right itself in the face of brands who can provide well-tailored garments at a lower cost. The frontrunner in this new guard of tailored suiting is J.Hilburn, which recently held its annual conference in Dallas, Texas. The three days are filled with training demonstrations, new product releases, and a runway show celebration where I quickly learned that rather than the gentlemanly whiskey, Chardonnay is the drink of choice.
What began in June 2007 as a small custom shirting business co-founded by former mergers and acquisitions analyst Veeral Rathod has grown into a lifestyle brand selling more than just shirts. A walk through a temporary showroom setup at the conference center in Dallas included several new additions to the suite of custom and ready-to-wear looks like water resistant cashmere outerwear and new luxury shirting options made in partnership with a handful of Italian mills also responsible for garments sold by larger (and more expensive) fashion houses.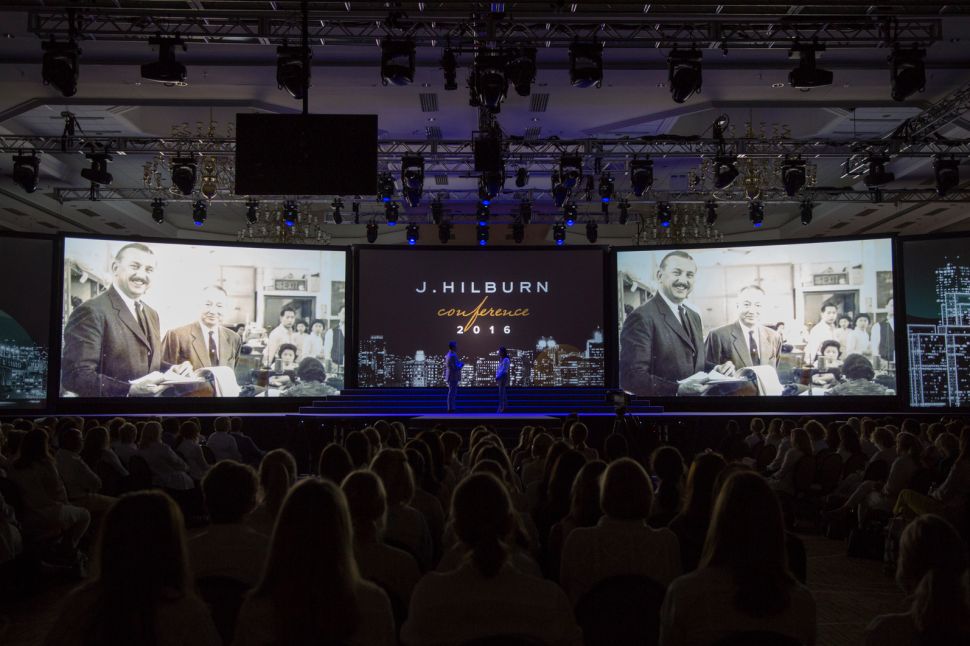 There are certainly other businesses making similar products, but what makes J.Hilburn particularly fascinating is its direct selling model in which "stylists" are sent out into their local field to advise, measure, and ultimately sell to the brand's 100,000+ active customers. Unlike Savile Row, which is dominated by male tailors, the 2,700 stylists working for J.Hilburn are often women between their late 30s and early 50s. They live in suburban communities where access to tailored garments is admittedly limited, making it easier for them to hold a position of authority when it comes to men's style. Among the top sellers are former fashion executive Annette Dresser, who touted her over $1 million sales record over four years, and Jill Kennedy, who leads her own team of 247 stylists. "Be proud of yourself, and what we've built," she told the crowd as she accepted her award for embodying the "spirit of J. Hilburn." Much of the conference time is used to award the stylists for their soaring sales, of which they take varying percentage based on how long they have worked for the brand.
Numbers like these reinforce the visible trend of increased spending in men's wear, which rocketed 13 percent over EuroMonitor's 2010-2015 review period. However, it flies in the face of the newly popular notion that men are buying for themselves. Instead, J.Hilburn's overarching purpose is to play into the $40 billion direct selling industry by providing guidance—something that several larger department stores have shied away from by offering standalone men's wear stores where male shoppers are left to their own devices. In J.Hilburn's case, there is a particular attention paid to each customer, all tracked in a digital "Little Black Book." It includes each client's sizing, their fabric preferences, a catalog of items they already own, and special events they have in their personal calendars that might warrant a new purchase. This all works toward an objective to normalize high-quality, personalized garments by making them easily accessible. After all, the tailor, and all of their wares, arrive at your front door.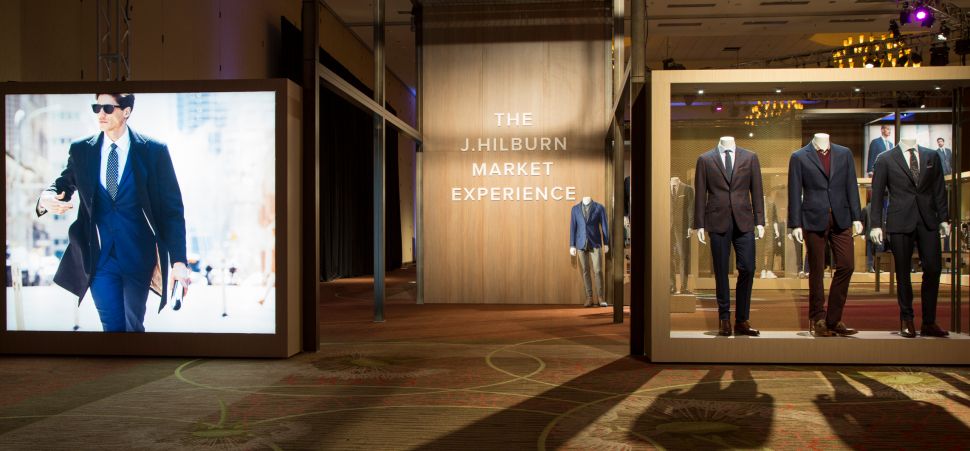 "You shouldn't have to be rich and famous to have your own stylist," the brand's creative director, Robert Milam, said in a flashy video montage announcing the season's key looks inspired by Manhattan and, in particular, John F. Kennedy Jr. A look at the mood board for the collection includes several photos of the debonair Mr. Kennedy with his wife, Carolyn Bessette, who both died tragically in a plane crash while en route to Martha's Vineyard. At first glance it might seem like a curious choice, but to both the stylists selling the garments, and the men buying them, it's a logical play. Their visits to Manhattan are few and far between enough that the city maintains its intrigue, and JFK Jr. still holds a place as the most recent symbol of a monied but modest man with New York roots. "A lot of our guys are traveling, and a lot of them are going to New York City," Rathod added when speaking to the crowd. "There is just an energy about that city that you cannot recreate in any other place." Though, it seemed clear that the best way to recreate it might be with a new wardrobe care of J.Hilburn.