Being a pioneer is a messy job. There is no job description or easy-to-use guidebook available on how to break new ground. Intuition, improvisation and blind luck are all essential to the process. There's a lot of stumbling involved and despite whatever precautions the curious interloper might take, a few innocents always seem to wind up heavily bruised or crushed underfoot in the process.
Long before the release of his 1987 Grammy Award-winning album, Graceland, Paul Simon was one of the earliest "pioneers" of world music, a genre which, until the sudden Bossa nova and calypso crazes of the late '50s/early '60s, consisted mostly of field recordings of indigenous peoples, listened to and appreciated primarily by academics.
Simon's interest in exotic sounds began back in 1965 on a tour of the U.K., where he befriended the British guitarist/folklorist Martin Carthy (The Watersons, Steeleye Span) from whom he learned (and appropriated without crediting) his stunning arrangement of "Scarborough Fair," a song which, thanks to The Graduate soundtrack, became synonymous with the '60s.
Years later, Simon and Garfunkel would popularize "El Condor Pasa (If I Could)" originally written in 1913 by Daniel Alomia Robles, which Simon translated from Spanish. While most people assumed Simon had written the lilting melody and evocative lyrics, he'd once more put his personal touch on a song commonly known to Peruvians as their "second national anthem." In the music world this type of "borrowing" is commonly known as "the folk process." It was nothing new; Dylan did it all the time (just compare his "With God On Our Side" with the Irish ballad "The Patriot Game").
"Everybody's lifting all the time," Simon later rationalized to a reporter from American Songwriter magazine. "That's the way music grows and is shaped."
The release of his first solo album, Paul Simon, in January, 1972, revealed the influence of reggae (a relatively new style at the time that was about to bust out world-wide) with Paul's "Mother and Child Reunion," which he recorded in Kingston, Jamaica. Much to his credit, Simon's vocal performance bore only the slightest trace of the island's infectious accent, unlike a trio of British bottle-blonds called the Police who would soon forge a white-washed hybrid of punk and reggae that propelled them to worldwide fame.
The album also featured "Me and Julio Down By the Schoolyard" built on the giddy rhythm of a talking drum played by Brazilian percussionist Airto Moreira, best known for his work with Miles Davis, and on Chick Corea's Return to Forever. Another exotic touch came with Simon's song "Duncan," which showcased Los Incas (who had earlier turned Simon on to Andean music with their rendition of "El Condor Pasa") playing wood flutes and a small nylon-string ukulele-like instrument known as the charango, made most often from an empty armadillo shell.
Fast forward to 1985. Paul Simon, despite the failure of his second marriage (to Carrie Fischer) and the disappointing sales of his latest release, Hearts and Bones, is joyfully scat singing along to a cassette tape from South Africa called Gumboots: Accordion Jive Hits, Volume II. The singer/songwriter experienced the same charge of inspiration from Mbaqanga music (better known on the streets of Soweto as "Township Jive") as he once gleaned from street corner Doo-wop.
Simon later said that upon first hearing he felt "a strange familiarity" with the music, an "almost mystical affection." But no matter how it stirred his soul, playing Mbaqanga, for a white American musician at the time was forbidden fruit.
[youtube https://www.youtube.com/watch?v=FWj1KgMPvAg&w=560&h=315]
The debate over South Africa's policy of apartheid concerned most touring performers who conscientiously boycotted the country as a show of solidarity with the country's abused black majority. (Somehow the Byrds missed that memo. The band's leader, Roger McGuinn's politically incorrect decision to play Johannesburg caused their newest member Gram Parsons to quit the group—at the urging of his pal Keith Richards—despite having recently recorded their country rock opus Sweetheart of the Rodeo.)
Simon soon found himself in the thick of a similar controversy. While punk-folk singer/songwriter/activist Billy Bragg and Paul Weller of the Jam took offense at Simon's choice to ignore the cultural embargo, South African jazz trumpeter Hugh Masekela encouraged the creative alliance between his countrymen and the American pop star.
"I'm with the artists," Simon protested. "It was a collaboration between blacks and whites. There were no inferiors or superiors." The album and subsequent tours, from Paul's viewpoint, represented "the essence of anti-apartheid."
Recorded between October, 1985 and the following June, in an array of studios from South Africa, New York, L.A., London to Louisiana, Graceland was released on August 25, 1986 to underwhelming response.
The album's title song (which was not released as a single until the following November) revolved around the recently divorced Simon's fabled pilgrimage through the American wasteland to Memphis, Tenn., with his young son, Harper, to visit Graceland, the Antebellum-Mod mansion of the late, great Elvis Presley.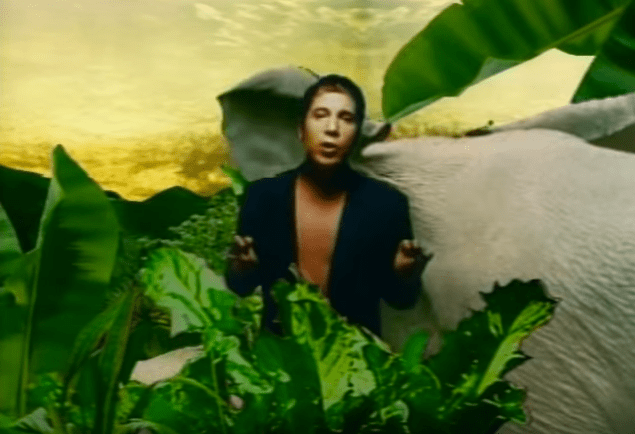 Nearly 20 years after a "lost" young poet and a girl named Cathy boarded a Greyhound "to look for America," on Simon and Garfunkel's 1968's masterpiece Bookends, the insightful songwriter fashioned yet another anthem that evoked the spirit of his generation. In 1988 Joe Strummer the Clash's no-nonsense front-man told the L.A. Times that "Graceland" (which featured harmony vocals by Simon's heroes the Everly Brothers) was "just as good as 'Blue Suede Shoes.' "
While Ladysmith Black Mambazo's vocals infused songs like "Homeless" and "Diamonds on the Soles of Her Shoes" with a double scoop of South African soul, Simon's lyrics now stretched beyond the usual foibles of relationships to addressing the ever-widening disparity between rich and poor, whether in New York, Hollywood or Johannesburg.
Like musicologist/slide guitarist Ry Cooder, whose recent album Chicken Skin Music had hipped the American public to Flaco Jimenez's percolating Norteno accordion as well as the ethereal Hawaiian slack key guitar stylings of the Gabby Pahinui, Graceland also offered a wide range of eclectic musical styles, spreading the word, not only on Afro Pop, but helping to popularize the ramshackle rhythm of Louisiana's zydeco accordionist Rockin' Dopsie as well.
The album's amazing bassist, Bakithi Kumalo, who I'd run into years later on the corner of Broadway and Houston Street, immediately set me straight on the matter of Simon's alleged musical colonialism. He was filled with nothing but admiration and gratitude for "Mr. Paul Simon," adding that without Simon's help he believed he most likely would have remained an unknown musician back in his troubled homeland of South Africa.
Kumalo, who brought the funk to the album's first single "You Can Call Me Al," would become a regular in Simon's touring band as well as performing and recording with Herbie Hancock, Mickey Hart, and Chaka Khan.
[youtube https://www.youtube.com/watch?v=-I_T3XvzPaM&w=420&h=315]
"He's a phenomenal bass player," said sonic mash-up master Mocean Worker (a.k.a. Adam Dorn) who'd previously played bass for Chaka. "By slapping a fretless bass he created a very unique sound and an original voice on the instrument."
Ironically, the problems with Graceland came, not with Simon's perceived appropriation of African music but from his collaboration with East L.A. roots rockers Los Lobos, who were invited down to the studio one night to jam.
According to the band's saxophonist, Steve Berlin, Simon had "no ideas, no concepts" when his bandmates spontaneously offered a new tune they'd been working on. "In no way do I exaggerate when I say he stole the song from us," Berlin claimed. Simon allegedly took the tapes from the session, wrote lyrics to the melody and released the tune as "All Around the World or The Myth of Fingerprints" with no mention of Los Lobos' contribution to its creation. Simon later claimed he was shocked when his manager received a letter from the band's lawyers who took issue with the album credits baring "no mention of joint writing."
Despite whatever grousing over Simon's creative process, the beauty of Graceland continues to endure 30 years later.
"[Engineer/producer] Roy Halee is as good as it gets," exclaimed producer John Simon, the man behind the board on Simon and Garfunkel's "Save the Life of My Child," as well as pivotal recordings by the Band, Leonard Cohen and Janis Joplin. John Simon (no relation to Paul) knows good music. "It is truly a fucking classic," he exclaimed.