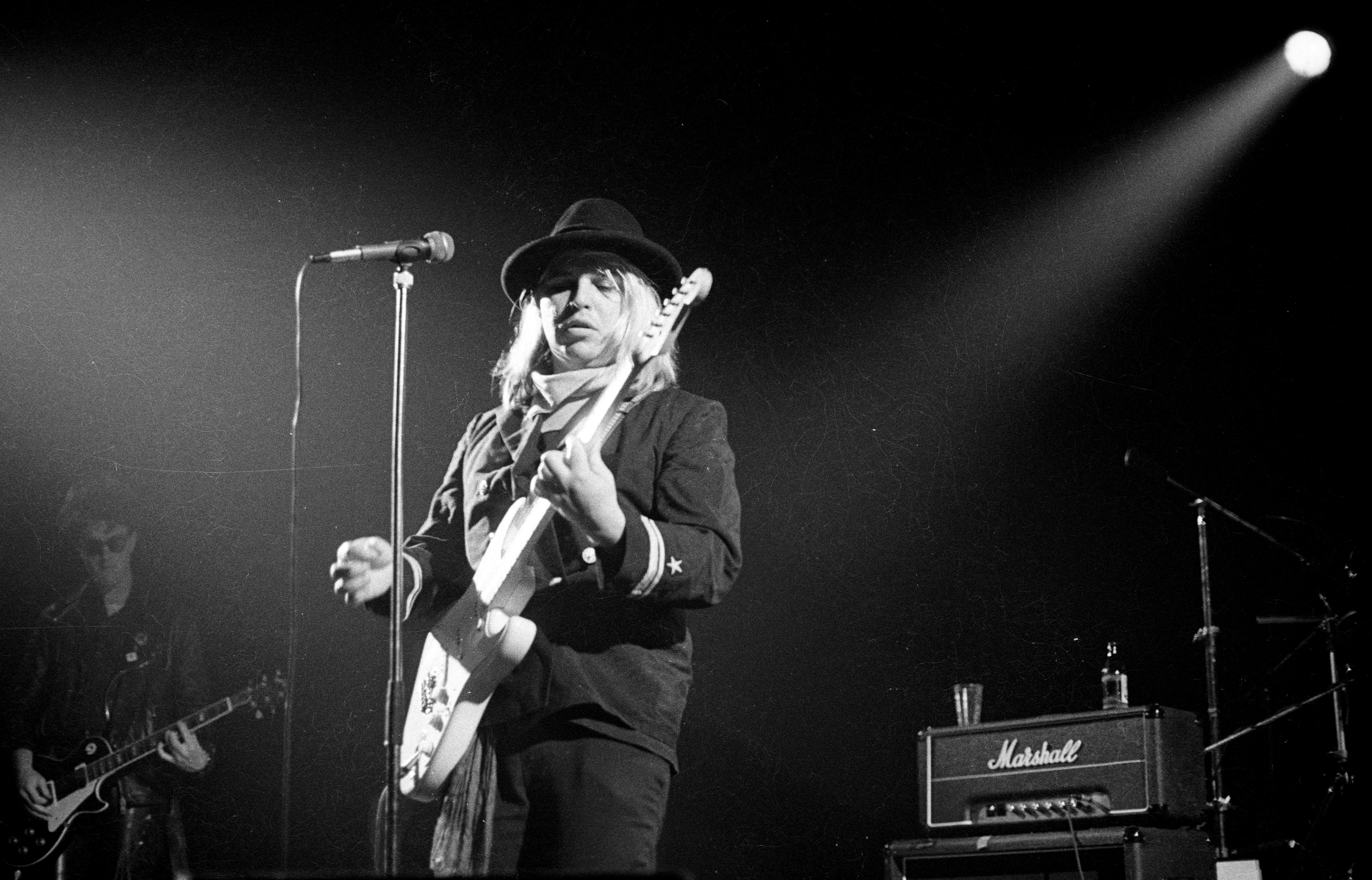 There's this wild theory about American music history I've been kicking around in my head for years but haven't been able to report, and hence, haven't been able to prove—Bob Dylan unwittingly invented punk rock.
Consider the bipolar approach on each side of 1965's Bringing It All Back Home as a starting point. Side A was full of short and and electric rock 'n' roll, while the side B songs were acoustic, grandiose paisley projections of narrative and dream. Both were refusals of the old guard folk gentry, but that Side A was also much more than simple good-time rock 'n' roll—it was nasty and snarling. And Dylan, for his part, found a way to make his nasal, weighted delivery show that he cared even less what you thought about him than ever. That was the seed.
Well, The Seeds were the seeds, to be fair, and their big hit single "Can't Seem to Make You Mine" was released in March '65 too, within weeks of Bringing it All Back Home. Largely forgotten past the Nuggets box-set hoarder crowd, The Seeds and their resident wacko frontman Sky Saxon (every good band needs one) nonetheless arrived as the perfect pop counterpoint to Dylan's scene-sabotaging sonic shapeshifting. Country Joe and the Fish formed in Berkley that year, too, while New York's The Fuggs brought a scuzzy psychotic country twang to their tales of urban lament.
Along with more garagey bands like The Sonics and The Standells who had been around a bit longer (anyone in Boston to this day will tell you that they love that dirty water), the groovy music that these bands made perfectly rounded out the sudden vacuum Dylan had created in popular music. Dylan, for his part, was smart for rushing the recording and release of Bringing It All Back Home to just two months, as something was, without a doubt, happening.
While artists like Dylan, The Stooges and X had injected gritty American roots music into their songs, The Gun Club took those sounds and lovingly ripped them to shreds.
Later that year in August '65, Dylan found a way to combine the longer lucidities of Home's second side with the speedy rock 'n' roll of its first on Highway 61 Revisited, rewriting the American songbook with a series of compositions that former fans had an even harder time figuring out what to do with. One month prior Dylan debuted his first electric show as "Bob Dylan and the Band" at Newport Folk Festival, a gratingly twangy set that had folk critics covering their ears and Pete Seeger famously saying he wished he had pulled the plug. But at that same show,The Band was born, and music would never be the same.
The next May, "Dylan and the Band" debuted their new American music on a tour of England. The tour culminated at London's Royal Albert Hall in the now infamous show where someone yelled "Judas!" before Dylan told Robbie Robertson to "play it fucking loud" and launched into "Like a Rolling Stone". Dylan's amphetamine use was reportedly at an all-time high at this time, and his "don't give a fuck" attitude was on full display as he ripped out the new breed of roots music to stunned British folk fans with a giant American flag as the stage's only backdrop. His time spent messing with the British press on that tour can be observed full force in D.A. Pennebaker's classic Cinema Verite, Don't Look Back, and is irrefutably punk as fuck.
[youtube https://www.youtube.com/watch?v=bx9zIGxQ-zE]
Over the next few years, an emerging plethora of one-hit wonder white rockers were discovering that there was something far more raw, visceral and death-obsessed driving the blues than mere melancholia. Two Detroit bands—the MC5 and The Stooges—both started some sort of vague formation around '64 but wouldn't release their bluesy, crusty debuts until 1969. Iggy Pop allegedly got the idea for The Stooges after meeting blues drummer Sam Lay in Chicago. He returned wanting to start a band that didn't just re-appropriate the blues, but that transformed the music into something else altogether. Like Dylan just years earlier, Iggy would reinvent the blues for his own dark desires.
I'm certainly not the first one to point out that punk's emergence around the mid-'70s was more likely than not a reaction to the failed utopian ambitions of the hippies, and chronologically it's all there when you look at bands like The Clash, who, much like Dylan or The Stooges, wanted to show their love for another culture's genre (in their case, Jamaican reggae, dub and ska) but worked hard to move past imitation or appropriation and create a new canon. The naiveté of the free love generation cannibalized itself, and the new breed wasn't all too easy to dig.
Put a cork in this for a second and let's shift five years later to a pivotal moment in L.A. punk—the suicide of Darby Crash on December 7, 1980, largely unnoticed as John Lennon would be murdered the next day.
The Germs had dissolved a month or so earlier after Crash fired drummer Don Bolles, and Crash's decision to shoot himself up to death, a suicide pact with Casey "Cola" Hopkins (who survived), left a gaping hole in L.A.'s crusty hardcore scene that not even GG Allin could fill. But a new scene was emerging—the glam rockabilly of X took the same love of rockabilly and the Bo Diddley Beat that The Blasters channeled on 1980's American Music and sped it up on their seminal debut, Los Angeles, that same year.
While the Blasters and X injected gritty American roots music into their songs, a young man named Jeffrey Lee Pierce and his band that would become The Gun Club took those sounds and lovingly ripped them to shreds.
"Pierce had been a writer at Slash Magazine, the L.A. punk fanzine that had grown out of the first L.A.-based reggae fanzine Claude Bessy's Angeleno Dread," writes Stevo Olende in his three-part history on The Gun Club. "Pierce had tried to expand the knowledge of his readers, writing as much about '50s rockabilly and '30s blues as the prevailing punk music of the time. He also wrote about reggae under the name 'Ranking Jeffrey Lea.' Doing research for this, Pierce made a trip to Jamaica in 1979 hanging out with Winston Rodney (better known now as Burning Spear) amongst others."
Olende talked to Kid Congo Powers, Pierce's one-time right-hand man in The Gun Club who left twice—once to join The Cramps and once to join mutual friend Nick Cave—but always came back. Powers told Olende that New York had changed Pierce—after Pierce took a Greyhound eastbound during his time as the head of L.A.'s Blondie Fan Club, he was well received in the community. What's more, he was exposed to the No Wave scene of late-'70s downtown, in which rhythm sections were often dissected and reassembled into atonal noise in the interest of creating texture.
Just as James Chance and his skronking sax would come to epitomize downtown New York's heroin chic, Pierce's punctuating wails soon gave L.A. a much-needed shot in the arm.
The early incarnation of The Gun Club, known The Creeping Ritual, was largely inspired by "the Marty Robbins LP Gunfighter Ballads and Trail Songs and Ornette Coleman," writes Olende. "The 'Ornette Coleman influence' apparently mainly showed in Kid's open-tuned rhythmic free playing. It acted as a good way to cover up an initial incapability to play properly, if nothing else. Kid has adopted the sound-texturising this enabled him to do as a central part of his playing. I think this is one aspect of what he means by musical impressionism."
They officially became The Gun Club when Pierce's roommate Keith Morris, singer of The Circle Jerks who would later go on to start OFF!, came up with the name.
When The Cramps and their rockabilly leanings moved to L.A. from New York in 1980, they poached Kid Congo to help them record their second record. Pierce found a suitable replacement in Ward Dotson, who shared much of the same love for old sounds as Pierce, bassist Rob Ritter and drummer Terry Graham. This new iteration of The Gun Club cut their teeth opening for X, The Blasters and similar bands, but once their debut, Fire of Love was released in August of 1981, everything changed.
[youtube https://www.youtube.com/watch?v=M8fBuU-_IZU]
"We were one of the first bands out of L.A. to hit overseas," wrote Pierce in his posthumously published memoir, '98's Go Tell The Mountain, "but there was a backlash. The main reason was because we were never a favorite band in L.A. We wouldn't draw more than 200 people on a good night. Suddenly, New York and Boston discovered us. And there's always been a rivalry between New York and L.A. Traitors already in one direction, and then off to Europe and the U.K. Imagine what it looked like to people over there. We were no better than defecting communists. Might just as well have taken a walk over the wall at Berlin and handed over the documents."
The other reason that everything changed with The Gun Club is that, unlike X, Pierce couldn't give less of a shit about documenting the seedy Los Angeles underbelly in his songs. Fire of Love begins with Pierce calling L.A. scenesters stupid, then screwing by a Christmas tree. When Pierce sang, "I know your reasons and I, I know your goals, we can fuck forever but you will never get my soul" in "Sex Beat", he wasn't just singing to a fuck buddy—he was singing to the whole city.
And that's why the next song, "Preaching the Blues", a dirty, fast reimagining of Robert Johnson's "Preachin' Blues (Up Jumped the Devil)" that takes Johnson's old chords, shoots them up and lets them loose, still shocks the system. Dotson's slide guitar comes to the fore on this track too, a new element to punk that cut through the rhythm section like a razor, creating a loud-quiet-loud dynamic that Olende calls "a helter-skelter ride of slide-led rave-ups interspersed by sudden silences." The slide guitar stayed put for the rest of the record.
"A junkie without track marks is a yuppie. You'll never really understand life until you live it near death. Crackk! What does that sound mean? Death, you fuck."—Jeffrey Lee Pierce
Olende talked to Dotson about his slide guitar, writing that "Ward says he was influenced by 'The Sun Sessions by Elvis, I mean Scotty Moore's playing, I was trying to cop all his licks at that time. I knew Jeff's "real" musical tastes and he too loved pop, ala girl groups, Burt Bacharach, Brian Wilson, Roy Wood, plus all the obvious ones (country blues, Iggy, etc…)'. There is one interesting thing about the sound of this record: the space given to each individual musician. Nobody appears to be carrying anybody else; it's almost like N.Y. punk-heroes Television in everybody's reliance on weaving in with everybody else."
That sense of space, room to breathe after the jolts of electricity, would change punk forever.
You can hear the legacy of those sudden jolts best in the early work of the Pixies, particularly "Vamos", as Black Francis vacillates between speaking the verses and switching into frenzied, rockabilly cut-time for the song's chorus. I love the Pixies as much as the next person, but discovering Fire of Love undoubtedly unravels a tiny bit of their sonic mystique, revealing that much of the sound you previously ascribed to being birthed by this college rock band actually came from their punk forefathers.
Meanwhile, The Gun Club's effect could be heard by their peers, too. X got considerably more country after The Gun Club came around, in my opinion perfecting their take on the sound on 1983's More Fun in the New World. The Gun Club released The Death Party EP in '83 as a seemingly tongue-in-cheek one-upping of Pierce's friend Nick Cave's The Birthday Party , which would disband soon after from being burned out on touring their final album, 1982's Junkyard. That album saw Pierce's rockabilly sensibilities creeping in, and Cave would go on to channel the country death blues that Pierce championed as a recurring theme with The Bad Seeds, finding an apropos landscape in the unforgiving Australian outback.
"She's Like Heroin To Me", looked at the love-hate relationship with the drug that Lou Reed sang about and only saw love. "A former junkie without hepatitis is lucky," Pierce later wrote in Ghosts. "A junkie without track marks is a yuppie. You'll never really understand life until you live it near death. Crackk! What does that sound mean? Death, you fuck."
The next track on Fire of Love, "For The Love Of Ivy" alluded to Poison Ivy Rorsarch of the Cramps while stepping into their rockabilly shoes and wearing them down to the souls. The song has been the subject of much debate as to why Pierce suddenly and unexpectedly seems to reveal his racist side when he sings, "I was hunting for niggers down in the dark, when suddenly I got a better thought, let's go hunt Ivy, oh-oh."
In my mind Pierce was being intentionally tongue-in-cheek with his ugliness here, one-upping Ivy and the Cramps by getting to the racist underbelly of rockabilly and raising eyebrows on purpose. Much like Joe Strummer's diplomatic perspective shifts from being a drunk rude boy on a double decker bus in London Calling's "Rudie Can't Fail", Pierce shifts perspectives on "Ivy"—though he starts off looking like an "Elvis from Hell", he himself becomes that Elvis by the end of the song, seemingly inspired by the song's namesake to commit horrific acts.
"We assumed our fans would get it," Terry Graham told Olende. "We were the last people to take someone by the hand and explain everything we were doing and saying and displaying so that we wouldn't be misunderstood."
When Pierce sang, "I know your reasons and I, I know your goals, we can fuck forever but you will never get my soul," he wasn't just singing to a fuck buddy—he was singing to the whole city of Los Angeles.
The song that gives the album its name, "Fire Spirit", comes next, as Pierce describes leaving L.A. to find some greater truth—"Up through the streets and the gunfire of cars, going to the mountain with the fire spirit, but no one will take all of me, so the fire will stop."
It's in these lyrics that we first hear Pierce staring mortality in the eyes, a prominent theme in both punk music and country music that he soon synthesized. Years later the "No Depression" genre of alt country would emerge, in which death became an escape from the ugliness of the world around you. In the country you had cattle Brucellosis, famine and rot, but in the city you had STDs, crime and overdoses. In both scenes, poverty reigned.
The "No Depression" genre took its name from a 1939 Carter Family song about The Great Depression, "No Depression in Heaven", which saw salvation from bucolic hell in the afterlife: "I'm going where there's no depression/To a better land that's free from care/I'll leave this world of toil and trouble/My home's in heaven/I'm going there." When Uncle Tupelo brought the song back, death-obsessed alt-country had a name, which would equally apply to the doom and gloom legends like Townes Van Zandt as it would to folks like the late, great Jason Molina, the Songs:Ohia/Magnolia Electric Co. frontman who, like Townes, drank until it killed him.
[youtube https://www.youtube.com/watch?v=yQ0eBSqy-Bg]
If The Carter Family gave "No Depression" a name, Pierce officiated its unwitting marriage to self-sabotage.
But he also created another, more aggressive genre we enjoy today, which The New York Times called "cowpunk" in '84 to describe bands like  X, The Gun Club, Los Lobos, and Meat Puppets. We still see cowpunk in the music of The Black Lips, The Men, Lucero, Those Darlins (RIP) and countless other bands.
Even when the L.A. Times hung out with Pierce at his mother's West Hollywood apartment back in '89, the labels were reductive—"Yes, the vocalist/guitarist who founded mutant swamp/blues/country/soul/punk/rock group The Gun Club right here in Los Angeles about eight years back is eclectic," they wrote. "At least that's what all his press clippings say. They also invariably mention that, like Jerry Lewis, the man is a god in France."
As their profile continues, Pierce's fearless ambivalence toward the glamour of dying young comes to the fore. "Suppressing a giggle, Pierce says, 'That's not true. They hate me in France now. 'Cause I didn't die. When I was drinking and taking all these drugs and doing really terrible shows, they thought I was great. But I didn't die, so that makes me a poseur. Pretentious. So now they don't like me anymore.'"
Pierce eventually did die, in '96, of a brain hemorrhage no doubt brought on from years of abuse. "Not believing in anything can be very depressing, but it can also be very creative," the L.A. Times quoted Pierce in his obituary, "because then you can look at everything with objectivity. There's a feeling that you can do anything because nothing really matters. A lot of people take drugs for that reason but drugs just inhibit the creativity. If you're trying to produce something artistic, you can come up with some very realistic, scary stuff."
"Not believing in anything can be very depressing, but it can also be very creative, because then you can look at everything with objectivity. There's a feeling that you can do anything because nothing really matters."—Jeffrey Lee Pierce
When any artist of great influence dies, though, that wonder of what could have been sets in. If the cops had just lifted up Hendrix's head, for instance, he wouldn't have asphyxiated, although the question as to whether his legacy would have remained untarnished with inevitable, late-period recordings still remains unanswered.
Pierce's legacy, for what it's worth, is aggressively honored by the legends who knew him and the new guard, too.
Debbie Harry, Nick Cave, Lydia Lunch, Mick Harvey and Kid Congo Powers launched The Jeffrey Lee Sessions project in 2010, a series of albums based off of recordings a friend found while cleaning out Pierce's loft. Kid Congo still covers "Sex Beat" and "For the Love of Ivy", too, despite the fact that he never technically played on the album. Upon rejoining The Gun Club, and in his many subsequent projects (check out Kid Congo and the Pink Monkey Birds, they rule) the Fire of Love songs remain a crucial thread, connecting Powers' past and present.
"Jeffrey Lee Pierce was a very good friend of mine and I miss him horribly," said Henry Rollins to an Australian radio station before launching into a cover of The Gun Club's "Bill Bailey". "I play a lot of his music because I miss him and I want people to never forget The Gun Club."
[youtube https://www.youtube.com/watch?v=Iouos-ipCDg]
So while the younger kids paying attention will learn about The Gun Club through bands like Japandroids, who covered "For The Love of Ivy" on 2012's Celebration Rock, you've got to wonder if a musical archivist like Pierce would even want someone to unearth his music who wasn't willing to dig for it a bit. By the time that Fire of Love came out, Bob Dylan had gone evangelical—the same man whose infusion of country and blues into aggressive, noisy rock 'n' roll kicked off a whole generation's great refusal. And while Dylan was no longer the new guard, a guy like Pierce was perfectly poised to assume the post.
"The Gun Club's 'Fire of Love' and Bob Dylan's 'Shot of Love' are worlds apart in terms of their diametrically opposing viewpoints," The New York Times wrote in '81, the week of Fire of Love's release.
"But they were both recorded in Los Angeles during the last year, they are both rock-and-roll, and they are both the work of musicians who have been fascinated, at one time or another, with the blues and other 'sinful' music. Heard back to back, they suggest that rock is neither the Devil's music nor the Lord's—it is capable of transmitting almost any message, or (as sometimes seems to be the case) no message at all. And if the fundamentalist Bob Dylan sounds tired and somewhat confused when compared to the supercharged drive of The Gun Club, one should note that Mr. Dylan is at least 15 years older. What kind of music the members of the Gun Club and other punk bands will be making in 15 years' time remains to be seen."
The joke was on them, though; Pierce died just 15 years shy of that album's release. Neil Young said "it's better to burn out than fade away," but those punks like Darby Crash and Jeffrey Lee Pierce were the ones to truly own that aphorism until the end. The point of my earlier Dylan theory was simply to suggest that, as punk was gestating and festering into a movement of great refusal, Dylan and his repurposing of the blues set the track. Then, years later, Jeffrey Lee Pierce laid that track with dynamite and lit the match.
Writer Sylvie Simmons remembered walking with Pierce down Hollywood Boulevard in December '81, just months after Fire Of Love was released, in a 2005 Mojo piece on The Gun Club. "Originally Kid and I played guitar and everybody ran, we were so noisy and gross," Pierce told her. "The best part was people would try to interpret it as art. They'd say, 'I really loved that, that was an incredible statement you were making, that this is what the world's like, and noise is really all that means anything,' all this shit. And we'd go 'Yeah, yeah, buy us a drink.' "
Much later, after a storied career, Pierce would sum it up much more succinctly: "There's nothing as unreal as life."