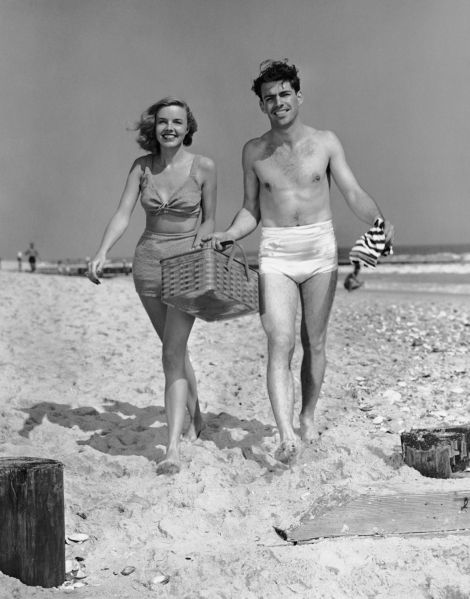 Summertime offers plenty of opportunities to pack a picnic basket and head outdoors. Of course, there's always a quick jaunt to Central Park, but with new events popping up weekly, there are loads of reasons to stock up on rosé and bring it to a much more glamorous destination. Whether you're heading to the Jazz Age Lawn Party on Governor's Island, Summer Screen to catch a cult classic in Williamsburg's McCarren Park, or a Celebrate Brooklyn concert, your picnic haul should be delicious enough to enjoy, but also beautiful enough to Instagram.
For snacks, plenty of NYC bakeries offer small sandwiches specifically made with outdoor eating in mind. Duran Sandwiches makes open-faced Austrian sandwiches a block away from Madison Square Park, if you feel like snacking in Flatiron. Duran has pre-made picnic boxes with everything from smoked salmon and celery root purée to an avocado smash situation, for the truly 'gram obsessed. If y0u're looking for something a little more unusual than the typical avo toast, Padoca Bakery is the inventive brainchild of Brazilian-born Marina Halpern, formerly at The Dutch, and Canada-born, Israel-raised Rachel Binder. Their specialty is the PDQ, a Brazilian cheese bread made with yucca flour and can be stuffed with ham and egg, then tossed into a basket, along with coconut cake, guava babka and hearts of palm empadinhas. This collaborative international effort is also perfect for celebrating the Olympics, even if you don't want to watch outside.
Of course, a picnic is incomplete without cocktails, and Bar Primi's ultra-trendy frosé is the ultimate coup. But if you're worried about your icy drink melting in the unbearable heat, Sugarfina's rosé gummies travel well–but there's no alcohol involved. Your best bet is grabbing a bottle for the road. And finally, to top it all 0ff, you need a super chic picnic basket to pack everything. There's no need to use your hands–Williams Sonoma offers cutlery aplenty, this vintage leather basket from the 1920s comes with its own tea set and feeds six, the Balmoral allows you to customize your own basket and The Gourmet Trotter is entirely detachable and transportable. Much like glamping, the advancements for outdoor entertaining are more elegant than ever. Now, even the most indoorsy folks can pretend they love the great outdoors–even if it's only for one afternoon.