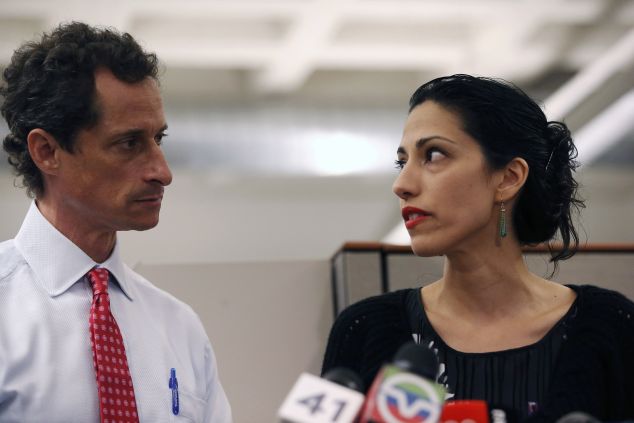 Ex-Brooklyn Congressman Anthony Weiner's compulsion to send strange women sexually explicit images of himself wrecked his promising career in the House in 2011 and his strong bid for mayor in 2013—and has now claimed another casualty: his marriage to Hillary Clinton lieutenant Huma Abedin.
Abedin, currently serving as vice chairwoman of Clinton's presidential bid, announced in a statement released to the media this morning that she was separating from Weiner after six years of not-quite blissful matrimony. The announcement came just hours after Weiner again made the front page of the New York Post with images from a racy selfie shoot he again blasted via Twitter—this time, to an anonymous, Donald Trump-loving woman who shared the private direct-message conversation with the right-leaning tabloid.
One of the photos featured Abedin and Weiner's five-year-old son cuddled up next to his father, who was visibly aroused and clad only in boxer briefs. The photos date back to January 2015. Weiner has deleted his troubled Twitter account since their release.
"After long and painful consideration and work on my marriage, I have made the decision to separate from my husband," Abedin said in the statement. "Anthony and I remain devoted to doing what is best for our son, who is the light of our life. During this difficult time, I ask for respect for our privacy."
Former President Bill Clinton presided over the pair's marriage in July 2010. Less than a year later, a partially nude image of Weiner—not unlike the most recent batch—popped up on his Twitter account. The congressman, a protege of Sen. Charles Schumer and oft-rumored contender for the mayoralty, initially denied the picture was of him and claimed he was the victim of a hacker.
But days later, Weiner admitted he was the scantily-clad man in the picture and that he had accidentally shared it publicly in the course carrying on an explicit exchange with a woman online—one of six women he confessed to having illicitly corresponded with. He abdicated his Brooklyn-Queens seat, which Republican Bob Turner won in a subsequent special election, before redistricting erased it altogether.
Abedin remained at his side throughout the scandal, just as she did in a 2013 New York Times Magazine profile of the couple's life in Manhattan, which many viewed as an effort by Weiner to relaunch his political career. He did just that, declaring his candidacy to replace term-limited Mayor Michael Bloomberg in May of that year.
The disgraced congressman quickly usurped then-Council Speaker Christine Quinn's frontrunner status, and appeared poised to return to office with Abedin beside him. Then, in July 2013, it came out that Weiner had continued to share sexual images with at least two other women online using the alias "Carlos Danger."
Abedin continued to campaign alongside her husband, and their travails became the subject of this year's documentary Weiner. That film now has an even sadder epilogue.
Disclosure: Donald Trump is the father-in-law of Jared Kushner, publisher of Observer Media.