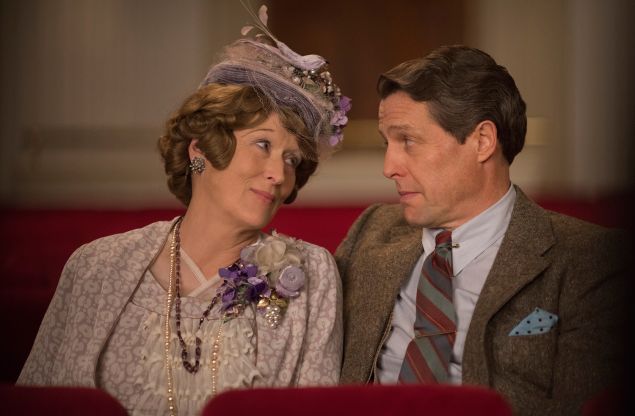 The desire to do something, not because you are any good at it but because you just want to. Foisting your questionable talents on the world simply because you have the means. Surrounding yourself with fawning enablers that provide you an outsized sense of self.
---

FLORENCE FOSTER JENKINS ★★★
(3/4 stars)

Written by: Nicholas Martin
Directed by: Stephen Frears
Starring:Meryl Streep, Hugh Grant and Simon Helberg
Running time: 110 min.

---
Sound familiar? These are typical of the grumblings that baby boomers and other assorted olds tend to hurl toward millennials and all the other selfie-stick-wielding, YouTube-channel-having gate stormers constantly demanding "likes" for gauzily filtered photographs of their morning coffee. I mean, what is wrong with these kids?
As shown in Florence Foster Jenkins, a comic lark that packs a satisfying emotional wallop and continues the balls-to-the-wall career victory lap Meryl Streep has been on since turning 60 years old seven years ago, deluded self-promotion was not born with the advent of Instagram. It is just that, while these days all you need is three bars of Wi-Fi to keep up the charade, back then it required something more: a healthy inheritance and a goodly number of yes men on the payroll.
Set in 1940s New York City, the film is inspired by the real life title character, a kind and somewhat batty socialite who, in addition to supporting the cultural life of the city, insisted on taking on opera's most challenging arias. Famously, she possessed a voice that had the tonal quality of bus brakes. Whether she was aware of this fact and of the snickering that accompanied her performances is still a matter of historical debate.
Just as today we are quick to share the latest Rebecca Black monstrosity on social networks, a ticket to one of Mrs. Jenkins' recitals was a hot commodity, though entrée was strictly limited to her high society well-wishers and the paid-off press. In the 1960s, it became en vogue to play the lone vanity recording of her warbling trills at dinner parties for a good laugh. Her eccentric manner and artistic exuberance has already been saluted on Broadway in the form of 2005's Souvenir, a two-person play for which Judy Kaye received a Tony nomination for the lead role.
The job of maintaining the bubble of sycophancy that allowed the Florence Foster Jenkins train to keep rolling fell to St. Clair Bayfield, a British actor known for the flourish he brought to supporting roles in Shakespeare plays. While they were married, their relationship is presented as platonic out of both design and necessity: Mrs. Jenkins was a long-term syphilis survivor, a condition that was treated at the time with mercury and arsenic, treatments that likely left her at least partially deaf. Hugh Grant uses every bit of his comic dexterity to play Bayfield, a gentleman of the theater whose lifestyle is fueled by Mrs. Foster's largesse but whose devotion to her is oceans deep. It's Grant's most satisfying and emotionally rich performance since he first made stammering a thing boys should do with Four Weddings and a Funeral.
Florence Foster Jenkins is a three-hander with the third coming in the form of Mrs. Jenkins' beleaguered accompanist with the Hogwarts-approved name of Cosmé McMoon, played by Big Bang Theory's Simon Helberg. In accompanist circles, McMoon's ability to change pace and even key to match Mrs. Jenkins tone-deaf flights of fancy is the stuff of legend. Helberg, who plays his own piano, shows a similar sensitivity in support of Streep.
The film, though, belongs to the iron lady. Streep's singing is hilarious with flights that are almost right and then suddenly Hindenburg-like. In just a few choice line readings, she is able to imbue Mrs. Jenkins with all the back story you need to understand her eccentricities, providing the film emotional heft and lifting it above its single joke premise. In the early part of her career, delving this deep into character was almost like a form of self-flagellation for Streep; here, it's more like joyful self-expression.
In this case, Streep is working out her feelings about the delusion that every artist, regardless of their abilities, must possess on some level. Indeed, while the film plays lip service (perhaps one too many times) to the healing power of music, it is really about how self-deception fuels and sustains. It may not keep us alive, but it will keep us going while we here.