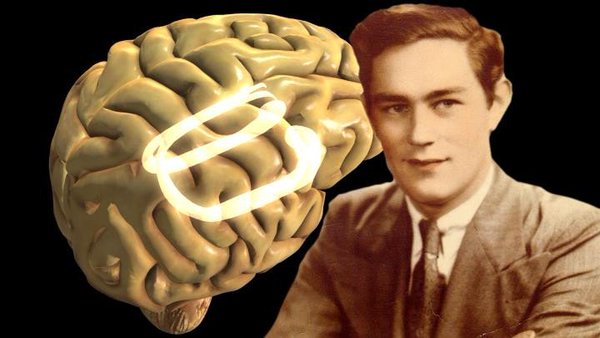 How did a seven-year-old boy walking through Colt Park in Hartford, Connecticut in 1933 become "the most studied individual in the history of neuroscience?"
That's the story Esquire contributing editor Luke Dittrich tells in his new book Patient H.M.: A Story of Memory, Madness and Family Secrets. Henry Molaison, the titular patient, suffered lifelong brain damage after being hit by a bicycle in that park 83 years ago.
Molaison's neurons ruptured as a result of the incident, and he became prone to epileptic seizures; he also couldn't feel pain. Because of this, he was shuttled through doctors' offices and mental institutions for decades.
In 1953, Henry (as he's referred to in the book) began seeing Dr. William Beecher Scoville, a neurosurgeon and pioneer in the field of lobotomy. Dr. Scoville thought the procedure, in which the brain's frontal lobe is suctioned out, would help Henry, so with his parents' blessing he operated on the young man's brain.
Dr. Scoville made one extra cut, however—he also removed Henry's hippocampus so he was incapable of forming new memories.
This story has been repeated in neurology textbooks for decades, but Dittrich was able to dig deeper into the human side of it for one simple reason: Dr. Scoville was his grandfather.
"My grandfather's work with H.M. was always part of family lore," Dittrich told the Observer. "I would've been drawn to it even without the personal connection because it's so compelling, but that made it irresistible."
Dittrich believes his grandfather's interest in lobotomy stemmed from a desire to help his own family—Scoville's wife (Dittrich's grandmother) developed mental illness n 1935 (soon after he began practicing) and was shuttled through institutions for the rest of her life.
"He hoped to one day be able to cure her," Dittrich said. "His work in lobotomy was inspired by that."
Dittrich also writes that his grandfather "did exactly what he wanted" when he made those deep cuts to Henry's brain.
"He had mixed motivations," he elaborated. "He genuinely hoped that he was going to be able to treat, if not cure, Henry's epilepsy. At the time he was also trying to illuminate what the function of these structures were, so Henry was useful in an experimental sense because the effects were going to be more readily apparent in him."
Henry worked with many other doctors over the course of his life, including Dr. Brenda Milner, a neuropsychologist who studied Henry for three decades (and is still doing research at the age of 98) and Dr. Suzanne Corkin, a psychologist at the Massachusetts Institute of Technology who collaborated with him for over 50 years (she died in May).
Henry, who suffered from dementia later in life, died in 2008 at the age of 82. He was never compensated for his work as a research subject.
But the story doesn't end there, because after his death Henry's brain was transferred to The Institute for Brain and Society, a nonprofit working to improve scientific knowledge about mental health. The organization had received $500,000 in funding from the National Science Foundation a year before Henry's death.
"In science, money talks," Dr. Jacopo Annese, a neuroanatomist and president of the Institute, told the Observer.
Dr. Annese, who in 2008 was also a professor at the University of California, San Diego, said that getting primary custody of Henry's brain felt like validation of his life's work. However, he was also aware of the risks involved with experimenting on it.
"I would've been known as the second person who messed up HM's brain," Annese said.
Thankfully Dr. Annese didn't mess anything up—after freezing the brain, he and his team dissected it for 53 hours over four days in December 2009, slicing it into 2,401 pieces.
Dr. Annese also harnessed the power of new media—he live streamed the dissection (over 400,000 viewers tuned in) and responded to questions on Twitter using Post-it notes, which he called "analog twitting."
"It flowed very naturally," Dr. Annese said.
After the dissection, the Brain and Society team created a three-dimensional surface model from digitized microscope slides. The result was the Brain Web Atlas, an open source digital replica of Henry's brain.
"Rather than selecting some pieces and localizing, we had a full view of the damage through a digital record," Dr. Annese said. "This cannot be just a one time study, we need a repository. Some people criticized that this was not serious science. But I wanted to make the project as transparent as I could."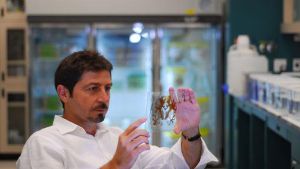 Much of the criticism Dr. Annese is referring to came from scientists who had studied Henry while he was alive, in particular Dr. Corkin. While she worked cordially with Dr. Annese as Henry's brain was transferred from Massachusetts to California, once he actually had the brain she claimed he lacked "neuroanatomical competence" and that any data produced about Henry belonged to her.
"She saw me more as a technician than a collaborator," Dr. Annese said. "She had entrusted me with the stewardship of the brain, but she wanted to remain in control."
Their biggest disagreement came in 2014, when Dr. Annese wrote a paper about Henry's brain in which he claimed there was another lesion in his frontal lobe, which indicated that the brain injury was even worse than originally thought. The only problem was that the paper did not cite Dr. Corkin's extensive work with Henry.
Dr. Annese said that he reached out to Dr. Corkin urging her to get in touch with him and contribute to the paper, but he never heard back.
"I suppose she may also have wanted to minimize the impact of the paper," he said. "It didn't come from MIT, so it would be a lame duck."
The doctor went ahead with publishing because he knew the lab needed to produce research to satisfy the National Science Foundation grant.
"In academia, papers are a matter of survival," he said. ""I had my own motivation to publish."
A team of independent reviewers disagreed with Dr. Annese's approach, however—they determined that Dr. Corkin should be retroactively be added as a coauthor of the paper. As such, the new lesion Dr. Annese focused on was less emphasized because Dr. Corkin didn't find it important.
MIT also demanded that UCSD turn over all the slices of Henry's brain, and the school complied despite Dr. Annese's objections. As such, he resigned in early 2015.
Dr. Corkin further ensured that it would be more difficult to conduct research on the brain after her death—she shredded all of her files about him.
"It was as if I had flushed all of Henry's tissue slices down the toilet," Dr. Annese said.
"A lot of what we've learned about how the brain works comes from people whose brains don't work."- Luke Dittrich
Dittrich chronicles this game of neurological subterfuge at the end of his book, and he said that watching this "weird odyssey" set into motion by his grandfather made him feel conflicted.
"I found it fascinating as a writer, but I couldn't help but find it a little sad," he said. "A human being's brain was being wrestled over as if it were a trophy."
The fact that Henry's brain was entangled in bureaucracy in recent years served to further the tragedy of his life, according to Dittrich.
"A lot of what we've learned about how the brain works comes from people whose brains don't work," he said. "Henry taught us a huge amount about ourselves, but he did so at a huge cost to himself. He was frozen in time, and lived a life you wouldn't wish on anyone."
Dittrich also said that his research into Henry had affected his opinion of his grandfather, for better or worse.
"I had to wrestle with learning what he did—I found it very troubling," he said. "But he also saved hundreds of lives in his career as a neurosurgeon, and I've saved zero. So in the grand scheme of things he did all right."