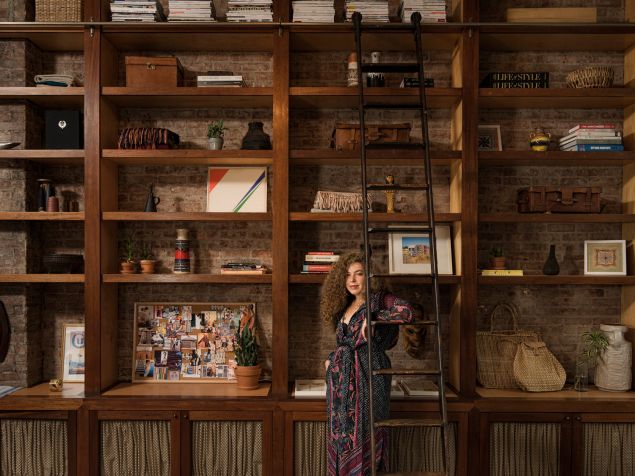 A Peace Treaty is a brand that sells scarves and bags and jewelry, but its offering is much more than just a few pretty accessories. Designer Dana Arbib travels to the far corners of the globe to glean textiles, learn production techniques and scoop up baubles, trekking from Pakistan to Peru, Turkey and beyond.
So it comes as little surprise that the New York headquarters of A Peace Treaty is anything but boring. After completing two years in the CFDA Incubator, during which participants are given an office space in Midtown Manhattan, Arbib wanted to find a unique space of her own. That brought her to the cobblestoned Lispenard Street in Tribeca.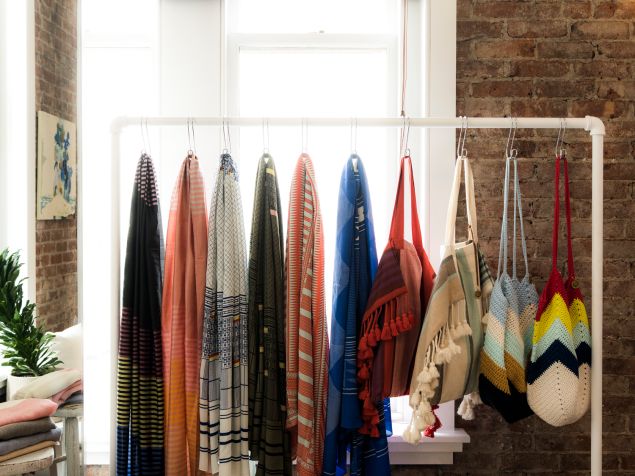 "This beautiful location was found through a friend of a friend in a classic pre-war building. I was ecstatic to come across a studio which has a mixture of both modern and rustic elements," Arbib told the Observer. "I knew that I did not want to move into a corporate building, I wanted something a little more relaxed. The whole point of me owning a company is to not feel corporate, to feel creatively free."
In addition to the location of this studio, the space's built-in, floor-to-ceiling shelving was a major draw. So was the functioning rolling library ladder. Arbib tends to acquire objets when she travels, so the shelves are a tasteful, clutter-free way to display them all. That includes handwoven bags and accessories she scooped up from an artisan market during a recent jaunt to Cuba.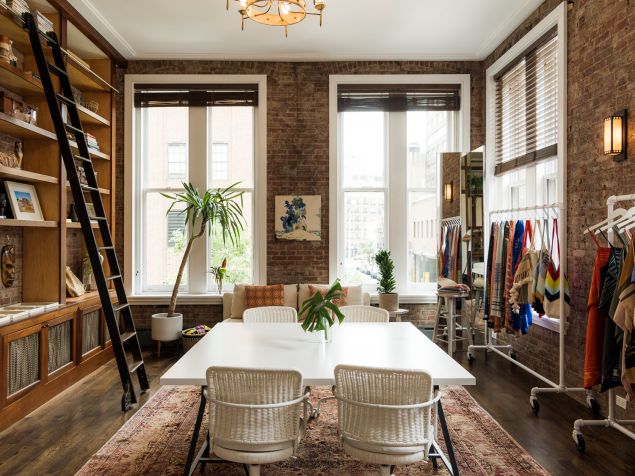 Other artifacts in the space include a leather trunk Arbib that had custom designed in India and a train case she picked up from a trip to London, which is now used to transport jewelry to and from appointments. Her family has contributed to the décor, too. "Some pieces are from my family's various travels including a collection of masks that were picked up by my father in South Africa and Namibia in the late '70s, my favorite piece of art from an Israeli artist names Michael Argov, and a tomb statue from Egypt."
However, artifacts aren't the pieces that inspired the design of this space; it was the Resort 2017 collection from A Peace Treaty. That collection was based on the "marvels and rich legacy of woven African art," including crocheted caftans and scarves, plus intricately embroidered patterns on textiles.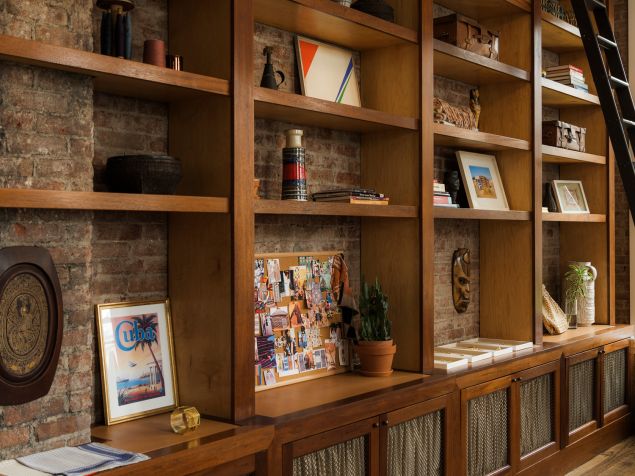 "If you look through our office you will find many pieces from Africa, many baskets, handmade crafts. We celebrate these traditional handmade techniques throughout our collections as well as our workspace," Arbib pointed out. As a matter of fact, most of the baskets in the space were found in Rwanda, save for the leather handle bolga basket, which was made in Ghana.
Anyways, this celebration of cultures is certainly better than anything you'd find at Pottery Barn.