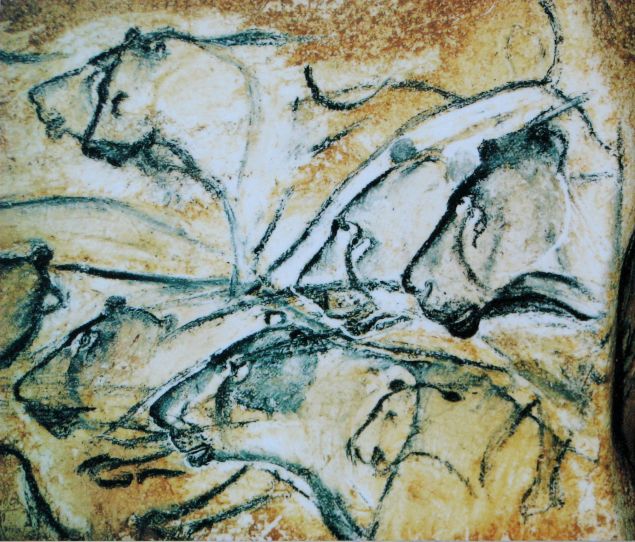 Digital replicas of famous art—from celebrated paintings to paleolithic cave drawings—seem to be appearing everywhere for myriad reasons, Noah Charney at Slate notes. In some cases, these are reproductions of art that has been destroyed, or that make rare art accessible to more than a lucky few. But however impressive and accurate the replicas, this trend could potentially put a damper on our ability to appreciate the real thing. It is the soul of the original—its "aura"—that could be lost as digital repercussions continue to appear, Charney argues, in reference to the Walter Benjamin essay The Work of Art in the Age of Mechanical Reproduction.
Take for example a French exhibit called "Caverne du Pont d'Arc," where visitors can experience the prehistoric paintings of the Chauvet cave, without actually visiting the site. Without this reproduction, the art within the cave, which is indefinitely closed to the public, would never be seen. Still, like all simulations, while in theory the exhibit may mimic the experience of walking inside the true Chauvet site, it's hard to ignore that it was surely not created by hand. The attraction is altered; all 8000m² of the original cave have been condensed into 3000m²—less than half the size—and instead of being underground, is elevated on stilts.
Fine art is seeing an influx of digital replication, as well. For $250,000, anyone can purchase the Relievo collection, a grouping of nine 3D-printed Van Gogh remakes developed by the Van Gogh Museum and Fujifilm. The set includes copies of famous paintings like Sunflowers and The Harvest, seemingly with the same thick layers of paint, and can be acquired through a variety of international dealers.
Some replicas are being made with good reason—for instance to reconstruct artworks and ancient artifacts that have been destroyed. When the 3,000-year old Assyrian Palace of Ashurnasirpal II was demolished by ISIS, the Anya and Andrew Shiva Gallery at John Jay College of Criminal Justice recreated the exhibit using virtual reality.
Still, there is a question of how authentic digital reproduction can be, even in comparison to hand-crafted replication, as Charney notes. Can we even compare a painting that is made by printer and a painting that is by a human hand using actual paint, even when the painting in question is a copy of another painting?
Some claim the answer is no. Artists have been borrowing from the paintings of masters forever. Consider for instance, Manet's Olympica which was inspired by Titian's Venus of Urbino, or Lichtenstein's version of Van Gogh's Bedroom at Arles. Apprenticeship played a large role in the creation of Western and Asian art as well, in which students of the craft were actually required to mimic a particular style. "The mark of a good assistant was his ability to create in a way that was indistinguishable from the master's style," Charney explains, adding that printed art veers from this tradition. Keeping this in mind, it appears that even art forgery takes a level of integrity that a printer simply does not and cannot possess.
However exciting, the trend of digital reproduction could be detrimental to art. "A danger arises when amateurs and bogus experts aren't able to tell the difference between what's real and what's reproduced," Charney notes. "Worse, they might see the digital copy and decide that it is not worth the effort to see the original."
Time will tell if digital replicas will continue to impress with their startling accuracy, or simply spit in the face of authenticity. One thing, however, is clear: there can't be a replica without an original.