North American concert tours kick off in different cities all the time, but the deluge of creative coverage usually doesn't start appearing until they hit New York. This is a function of how many publications are based here, of course, and while other cities' local papers might be the first to reveal what new songs are being played or the ornate staging of a show, our arts publications tend to go a bit deeper.
You can only go deeper when writing about a performance if there's substance to it, though, and that truth has become painfully apparent  since Drake and Future's "Summer Sixteen" tour rolled through town for four nights at MSG last week.
Among the coverage, a report of the show by Noisey's editor-in-chief, Eric Sundermann, sticks out. "Drake Is King Millennial: We Crowned Him and There's No One to Blame But Ourselves" begins with Sunderman in awe of the spectacle created by Drake's large-scale set-pieces, then transitions into a sort of think-piece about how Drake owns everything we think, feel and say.
"Drake may be the biggest schmuck of them all, but this Canadian ex-teen soap star still somehow manipulated his way to the top by creating a persona that is both incredibly easy to mock yet nearly impossible to criticize," Sundermann writes. "Drake is you. Drake is me. Drake is everyone."
Embedded in this quote is the tacit understanding that Drake's ascension is perhaps unwarranted, but nonetheless ubiquitous to our generation. Sundermann goes on to make the insightful point that after "Hotline Bling", Drake became impervious to criticism, essentially laughing at the joke he'd deliberately made himself into with that absurd video and its subsequent memes. It's not unlike how David Foster Wallace viewed American culture's "malignant addiction" to television and our own resignation in this transaction: How do you you castrate protest and criticism? Self-conscious postmodern irony.
If that's the case, then "Hotline Bling" was a dangerous paradigm shift that made one of the most influential artists of our time impervious to criticism or deeper analysis. If we all go along with the joke, it becomes real. And that's exactly what that "Hotline Bling" music video did.
"Drake may have grabbed the crown for King Millennial, but we laid it before for him on a velvet pillow,"  Sundermann later admits. "And I know I'm guilty."
My mere surface familiarity with Drake's music gives me no authority to criticize or deride the man's work no matter how hollow and vacuous it seems, but I do read a lot, and the majority of pieces about the Dreptiallian Drizzard are all the same—feelings-based, lacking any fresh perspectives or reportage, and praiseworthy for reasons that never quite seem to be supported. I'm really hoping to point something out to you today.
[youtube https://www.youtube.com/watch?v=uxpDa-c-4Mc&w=560&h=315]
Feelings-based journalism is a dangerous phenomenon, because even though the journalism industry is restructuring itself to put video and new media storytelling above writing, the words we write about megastars like Drake are still the record we leave. Let's make that record one of substance, eh?
Fellow journalist Paul Cantor let out a similar sigh the other day when he tweeted that "pretty much every Drake article is the same exact article." At long last, someone else was speaking up about this! I hit Cantor up to let him know I was working this piece out in my head, and he had some pretty sound theories about why Drake remained so hard for journalists to substantively cover.
Cantor observed that, aside from high-profile promotional appearances with Ellen, Fallon or Zane Lowe, Drake doesn't really do interviews with actual journalists. "If you can't really get close to the guy or he doesn't grant any interviews, then the narrative can be controlled pretty tightly," he said. "Everything is going to be pretty vetted."
But that's Drake's right, isn't it?
By making sure he controls the flow of information about him, the power remains his to define his own reality, and who are we to say that's unfair? We media vultures, ever hungrier to pick clean the corpse of the wayward traveller who's wandered astray, don't we ever know when to just let someone be?
Of course that's Drake's right, but here's the thing—asking tough questions is our fucking job, whether that means getting backstage or aggressively urging the leadership at our publications to lobby Drake's team for an interview.
Cantor pointed out that even 10 years ago, it wouldn't be uncommon for the editor-in-chief of a prominent urban magazine like XXL, Vibe or the Source to text an artist directly and make things happen. But today that sounds unheard of.
So when a media company has a billion-dollar evaluation and access to an artist still remains impossible, what's really going on?
When Drake has a song called "Headlines" that proclaims "money over everything" and "they know, they know, they know," it's more than likely the lack of access is a tactical move from someone who may not otherwise do well in the press.
"If you set up an infrastructure where someone is denied access to a prominent celebrity, despite their publications standing as an authority in the field, then you force their work to be 'feelings-based' and void of any fresh reporting or news," said Cantor. "Then the work becomes content."
Ah, "content," that anonymous filler text used to justify ad sales. My thoughts on the proliferation of "content" are now well documented, and Cantor's words suggest to me that if much of the writing about Drake is just "content," well, his music might just be "content," too.
If much of the writing about Drake is just "content," well, his music might just be "content," too.
The best we can hope for is that when writing "content" about Drake, a journalist sees through the mass millennial hallucination.
My colleague Brian Josephs over at Spin did just that last spring, brilliantly subverting the list format to unpack "The Nine Corniest Lines on Drake's 'Views' ". "The multitudes of snap opinions and tweets about the project basically agreed on one thing: It's a Drake album through and through," wrote Josephs. "That is, there's one surefire summer hit, some lachrymose relationship insight, and, of course, a bunch of corny lines."
Cheers to Josephs for daring to question the legitimacy of Drake's mawkish catharsis. Why aren't more pop-music journalists doing the same? Even with my superficial familiarity of the guy's work I can tease out some great fucking story ideas that no one has broached, for one reason or another.
How about a deeper look at the claims that Drake uses a ghostwriter to pen his songs, with some anonymous sources and deep digging?
Meek Mill accused him of this a while back, prompting a massive back and forth that saw Drake's inner circle jumping to his defense and Drake's swift release of some diss tracks in response. Yet we saw no interview with Drizzy where he got out in front of it, no in-depth, well-researched, investigative report.
Don't we deserve to know if the biggest rapper of our generation is actually pulling a pop-star move and performing music written by someone else?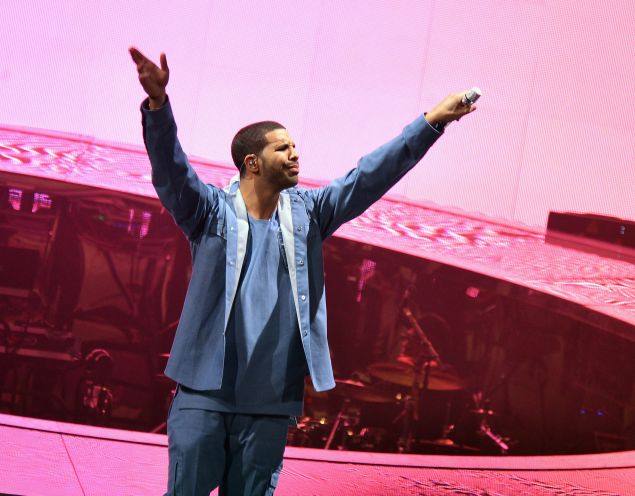 Or how about an analysis into Drake's sensitivity and what it says about the current state of rap music? I'm re-watching 30 Rock with my girlfriend right now and there's a moment in Season 1, Episode 8 when Twofer, the only black writer on staff, lectures Tracy Jordan about why he shouldn't dress in drag for the sake of comedy. "There are large pockets of African-American culture that Caucasians know nothing about, and drag is one of them," he says. "All I'm saying is, drag is a way for Caucasians to emasculate you and make you seem nonthreatening."
Of course, we all know 30 Rock's fictitious TGS was meant to parody SNL, and many a black comedian has worn a dress on that storied, late-night comedy institution before, Drake included. Could the argument be made that Drake's sensitive, hyper-emotional paeans to being non-committal are emasculating a whole genre of black music in a similar way? As neither a black man nor a Drake fan, that's in no way my story to write. But somebody really should.
All of this is to say, we're all letting Drizzy off the hook if we can't do any better than just declaring him the King Of Our Generation without going any deeper.
"If you have 600 Drake articles that all say the same fuckin' exact thing and don't offer or introduce any new information, well, eventually these emotional truths that aren't facts become real facts," said Cantor.
"Based on the reporting that exists now, you would go back maybe 15 years ago and think The Baha Men's 'Who Let The Dogs Out' was a great song, you know what I'm sayin'? You can completely have a revisionist history because all the reporting is divorced from any kind of cultural reality."
Is the author just a hater? Let him know on Twitter