For many who grew up in the New York City area during the Koch and Dinkins eras, the local underground was always a din of rust, rage and creativity informed by the squalor of its surroundings. Sunday afternoons at CBGB and Saturday nights on the Bowery were a far saltier way to spend your weekend, proving to be more like an exercise in survival than a casual opportunity to catch a show on a free day.
Fifteen or more years on, it's hard to imagine such cultural inhabitation existing on the sanitized streets of this rapidly gentrified metropolis, a place where Vampire Weekend and Animal Collective would've been held at knifepoint in a dark alley near the Williamsburg Bridge and jacked for their vintage Hush Puppies.
In spite of the grit, or arguably because of it, this period marked one of the city's most fruitful times in underground music, a time when some of the most savage and innovative acts in metal, punk and hardcore converged on the stages of such fabled venues as The Pyramid Club, L'Amour and ABC No Rio. Pussy Galore. Cop Shoot Cop. Swans. Unsane. Live Skull. Sonic Youth. White Zombie.
Wait, what?
That's right, kids. Before they became the Beavis-approved, platinum-certified, Grammy-nominated alt-metal juggernaut of the 1990s, White Zombie first existed as a noise band assembled by a quartet of students from New York's Parsons School of Design in search of a way to conjure the elements of Butthole Surfers, Black Flag, The Doors, The Birthday Party and X into one cacophonous brew. When those passions were cross-referenced with the interests of frontman Rob Straker (now Zombie), particularly his love for both The Misfits and Italian horror films, the band's image stuck out from the masses of torn denim like a fluorescent green thumb.
[youtube https://www.youtube.com/watch?v=C50lWoX7Ua4&w=560&h=315]
A primary color, by the way, that graphic designer Henry Owings of Chunklet fame utilized to construct the gorgeous new box set from Numero Group, It Came From N.Y.C.
"I knew exactly what I wanted to do for the box," Owings explains. "And it's almost exactly what I envisioned. Two things: hair and day-glo ink. That was all I remember from them. I don't think another designer would have gone so minimal. Look at their Geffen shit, it's godawful. But Rob is an illustrator, that's why I hired a cartoon guy to do the letters and mimic Rob's hand-drawn look."
Chronicling these halcyon days of White Zombie back when they were a far more experimental racket, It Came From N.Y.C. captures their entire recorded output from 1985 through 1989, including every 7-inch single and EP in addition to remastered versions of their first two full-lengths, 1987's Soul-Crusher and 1989's Make Them Die Slowly.
"White Zombie were an intelligent group," Matador Records co-owner and early White Zombie supporter Gerard Cosloy told Rolling Stone in 1999. "It was always meant to be larger than life, not some insular, weirdo punk-rock thing. But, then again, I don't know anybody who'd have predicted that Rob Zombie would end up a hero to every fucked-up teenage kid in America."
If you were ever a skeptical admirer of White Zombie during their Geffen years, chances are you had a friend who once said to you something along these lines, "Oh man! You should've heard their shit before they went mainstream!"
Indeed, the pure art ghetto grind of such early singles as "Gods On Voodoo Moon", "Pig Heaven" and their insane cover of the Kiss cut "God Of Thunder" are country miles away from the cartoonish nature of 1992's Devil Music: La Sexorcisto Volume One and 1995's Astro Creep 2000, and especially the albums in Rob Zombie's solo repertoire.
[youtube https://www.youtube.com/watch?v=ntpm9jB9Bys&w=420&h=315]
This three-disc collection does a phenomenal job of rescuing the group's lost history once and for all.
Beautifully designed by Owings and featuring exhaustive and insightful liner notes by renowned music journalist Grayson Haver Currin, It Came From N.Y.C. leaves no stone unturned when it comes to its documentation of White Zombie's past life. The combination of Owings' masterful utilization of photos, flyers and even T-shirts from the era and Currin's deep, revelatory conversations with all the original members of the group tells the complete tale of a band and a man radically different from the Rob Zombie of today, who barely acknowledges his roots in the NYC noise scene.
In fact, when you look at Zombie now, it's actually difficult to imagine this is the same man who used to rock Janus Films shirts onstage and hung out with the likes of Michael Gira and Thurston Moore.
"I think the more common perception of White Zombie and Rob Zombie has to do with his groove metal and use of electronics," explains Currin.
"But White Zombie was very much a different band at one point in time. For a number of years, they were a very volatile band in a very volatile scene. And they were very different from their peers on the New York scene, because they were incredibly interested in presentation and look and effect. I think that's one of the things that set them apart from the start. They had a very deliberate aesthetic. They were art-school kids, and that was the reason why they were in the city. It wasn't for music, it was for art school. I think that was a huge part of Rob's and White Zombie's success."
[youtube https://www.youtube.com/watch?v=ZpNl14AhBFk&w=560&h=315]
"They were such an aesthetically driven band. They had a look and they wanted to be sensational. And they were very good at that. I think it's one thing that always set them apart. The music they made was always a work in progress. You can even hear in this box set the notion of a band working within this scene, trying to figure out how they fit in it, and making some pretty weird music. They were a really—for lack of a better word—fucked-up band."
"White Zombie and Pussy Galore were both signed to Caroline around the same time and did a bunch of shows together," reveals Bob Bert, who played drums in Sonic Youth until 1985, when he joined the likes of Jon Spencer and Neil Hagerty in Pussy Galore.
He also served behind the kit for fellow New York City garage-noise greats The Chrome Cranks and is currently performing in Lydia Lunch's latest project Retrovirus as well playing alongside Mick Collins of The Dirtbombs and the legendary Kid Congo Powers in a new super-group called The Wolfmanhattan Project.
"White Zombie always opened for us. [Pussy Galore] had a much clearer concept and audience and, at the time, it looked like a much brighter future. White Zombie, although their influences were in place, was much more of a chaotic East Village noise-rock band than anything resembling groove metal. They had a guy named Tom Five on guitar, who went on to form a band called Angel Rot and a drummer named Ivan [de Prume], who didn't say much and didn't seem to have a lot going on upstairs."
[youtube https://www.youtube.com/watch?v=HDLrvsAcGRE&w=420&h=315]
It's hard to imagine Rob Zombie having any level of street cred in 2016. Here is a guy who is the living embodiment of Hot Topic cheese culture in this modern era. As a filmmaker, he nearly destroyed the good name of John Carpenter's Halloween with his dreadful remake. Meanwhile, his latest solo album, The Electric Warlock Acid Witch Satanic Orgy Celebration Dispenser, in its title alone just proves the man born Robert Cummings has reduced himself to a simple shell of nonsensical psychedelic hashtags that totally misrepresent the kind of generic tribal tattoo metal he's been churning out lately.
But as Bert attests, there once was a time when Zombie was the real deal, despite being more of a horror and sci-fi guy than many of those from that scene would probably care to admit.
"Rob and [bassist] Sean [Yseult] were a couple at the time and I got along with them both very well," Bert explains. "There were people that I remember not liking Rob that much, but he was always cool to me. I remember hanging at their place once. They both had jobs doing layout for a mag called Celebrity Sleuth, which printed naked photos of famous people. I'm still friends with Sean to this day, but I haven't seen Rob since they signed to Geffen and left NYC. I'm not a big metal fan, so I never really followed them that closely. Everyone was surprised that they were the band from that scene to make it big. They were really no big deal until they were molded."
When White Zombie split in 1998, it was not on friendly terms.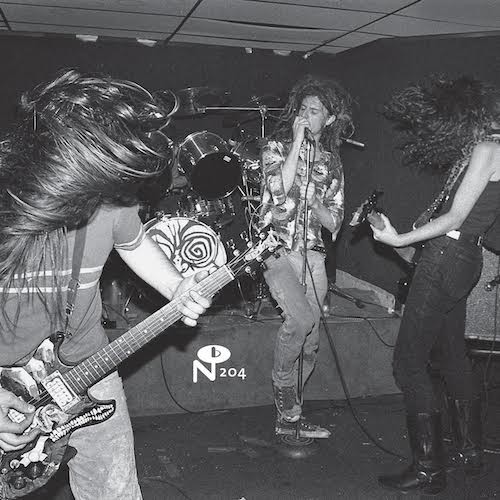 There were rumors going around this summer about the possibility of a reunion in the wake of news about Rob Zombie performing Astro Creep 2000 in its entirety at this year's Riot Fest in September. But according to Currin, based on his experience putting together these liner notes for It Came From N.Y.C., the chances of seeing any lineup of White Zombie let alone the original quartet are indeed slim to none given the band's present state of estrangement.
"When I was asked to do these liner notes, it was an interesting offer," Currin said. "And one of the most interesting things about it was that the members of White Zombie don't really get along. They don't speak at all. I was going to be able to have an unprecedented level of access to every member, so it was important to me to make sure that Rob Zombie would speak and we were all on the same page. That was difficult, navigating the history of two or more factions of a band that's all putting their official stamp on a product."
Zombie, however, waited until the very last minute to actually sit down and get interviewed by Currin; certainly no surprise given his compulsion to dodge the past, putting the writer in an unnecessary squeeze.
"So Rob had initially agreed to it, and over the course of several months he did not fulfill his obligation," he explains. "And it looked like I was going to write the liner notes without Rob. But he got in touch at the 11th hour, and we had two talks. They were good. He was a little non-committal. The other members were very open about those days, but he wanted to play it a little cooler, because he's Rob Zombie."
[youtube https://www.youtube.com/watch?v=8yjoMP9eBpM&w=560&h=315]
Unfortunately, Zombie continued hamper assembling It Came From N.Y.C., pushing the project beyond its deadline, particularly when it came to fact-checking of the liner notes.
"So I finally put together the liner notes, and he had a fair deal of changes," Currin expounds. "It was mainly in reference to things that made him look bad, which was pretty much everything everyone else had to say about him. In fact, I have no idea how the final version of the liner notes read, because I gave up control at one point. It was clear Rob Zombie was not going to compromise on his points. The liner notes were totally approved and in production and he pulled them back, basically."
For Bert, such obnoxious behavior on the part of Zombie certainly isn't surprising, considering what he's heard through the years about him.
"I kind of laughed when I read that Rob legally changed his name to 'Zombie,' " he states.
"I had heard through the grapevine that it really went to his head that he treated Sean like shit, had his own dressing room, etc. Nobody that knew him had anything nice to say about him. I always wanted to run into him to see how he would react to me, but it never happened. Sean, on the other hand stayed in touch, with me through the years. In fact, in the '90s, I recorded and posed in photos with her and Bridgette West as the Famous Monsters, which put out a cool four-song 7-inch on Estrus Records that she even paid me royalties on—a rarity! Then, when the Chrome Cranks reunited in 2009 or so, her band Star & Dagger opened for us at the Mercury Lounge."
Yet in spite of the lumps received by Currin, Owings and Numero Group in the construction of this box set, It Came From N.Y.C. is an incredibly significant lost chapter in the talking history of New York noise rock, and a must-own for any soul looking to finally pique their curiosity about White Zombie in their salad days.
"I'm glad this box set is out there, firstly because these records are really great," proclaims Currin.
"And secondly, I hope it sheds some light on the fact that White Zombie wasn't always this purely festival headlining groove metal thing. They were an odd band. Rob is very image conscious, he always has been. So Rob would like for you to believe that in some way this band didn't take influence from elsewhere. That's not quite true. I think, in talking to the other members, it was very clear they were taking notes and experiencing the scene that revolved around them."