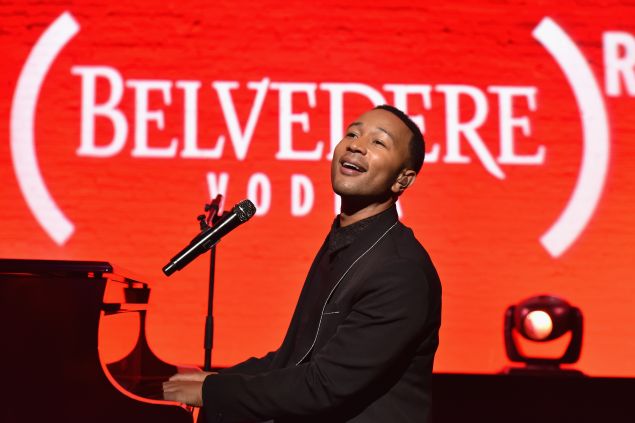 Sitting on a couch on the morning of his performance at Apollo theater this weekend, John Legend explained that when he cooks with his wife—model and cookbook author Chrissy Teigen—he's the sous chef. "The other day, she made tuna casserole and my job was to open the tuna cans and drain them," he laughs. In Teigen's book, she writes about her Cheesy Jalapeno Tuna Casserole with Potato Chip Topping recipe, "This tuna casserole is made with cans, cans, cans, and that's the way I like it, thank you very much."
Yet Legend's busy summer has involved much more than helping in the kitchen and dining out. The executive producer of the newly released film Southside With You, about a young Barack Obama trying to woo Michelle, the singer, songwriter and philanthropist has also been named the brand ambassador for Belvedere Vodka's charitable RED #MaketheDifference campaign, which supports HIV/AIDS research. The charity is celebrating its 10th anniversary this year and has raised over $350 million to date.
"When it comes to the HIV/AIDS crisis, it's been going on for almost 40 years now," Legend said. "What's encouraging about RED and all the work by governments and organizations is that we've actually made a lot of progress as a group of global citizens who have been trying to fight this crisis."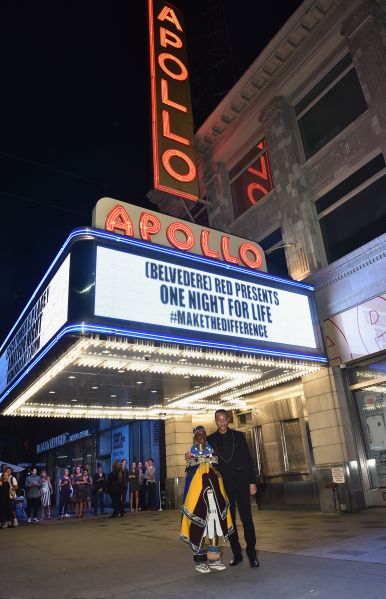 The singer chose celebrated South African artist Esther Mahlangu to reinterpret four symbols—signifying security, unity, change, support—as artwork on Belvedere's bottles and also dedicated his new single, "Love Me Now," to the cause.
At Legend's live concert at the historic Apollo Theater in Harlem, the singer played some of his biggest hits on a scarlet illuminated stage; he was wearing a metallic trim jacket over a black button-down with an embossed collar. When it comes to fashion, Legend says it's all influenced by his work.
"I think I lean on the more classic side. It's kind of like my music. It's new but it still feels timeless and classic," he said. His pièce de résistance? "Over the last couple of years, I wear this one Saint Laurent jacket more than anything. I think good jackets are pretty important to your wardrobe. Especially in L.A., it's like the light jacket that you wear at night to dinner."
Legend has lived and worked in both New York and Los Angeles and both have inspired his personal style and music equally. "I've made music in both cities for pretty much every album, but this is probably the first album that every song is written in L.A," he says, referring to his forthcoming album out later this year. "I don't think there's [an] L.A. signature in the album though, I just think it had to do with my living situation."
Legend and Teigen's choice of dining out is similarly bicoastal. "In New York, we love Le Bernardin," he says. "In L.A., the one place we usually end up going back to is kind of little-known. It's called Via Veneto. It's in Santa Monica and it's an Italian restaurant. I think one of my managers told me about it years ago and we started going. It's still not hugely well-known, but it's one of the best meals when we go there. There's something kind of emotionally significant about it, it's like our place."
As for his favorite drink while dining out? A Moscow Mule. When at home? Legend says a simple vodka soda, or even a beer will do. As a brand ambassador, musician, new dad, film producer and philanthropist, he certainly deserves one!