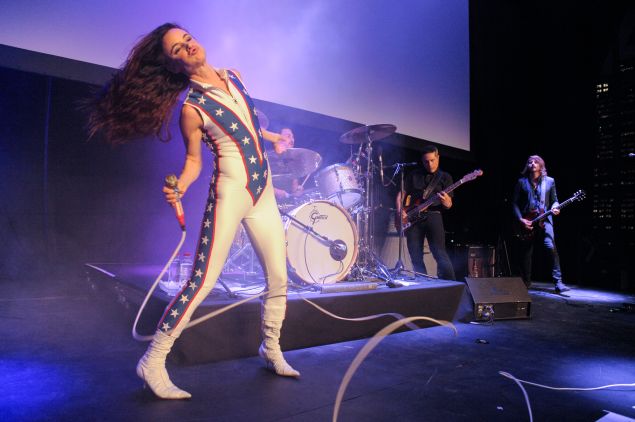 "Everything I do is sort of cosmic and half-assed, like miraculous accidents," says singer/actress Juliette Lewis. "Some of it is self-caused, some of it is from the universe; pre-laid or predestined. I'm just trying to ride the wave."
That said, talent will out, beginning at age 18 for Lewis, in her Academy Award-nominated 1991 breakout role as Danielle Bowden in Cape Fear, followed by intense, nuanced, often left-of-center performances in films including What's Eating Gilbert Grape, Natural Born Killers and Kalifornia.
In 2003, just before turning 30, Lewis, an L.A. native, launched a music career with her band the Licks—a move that quickly proved her talent for raw, emotive roles was no accident.
A new documentary by her friend, actor Michael Rappaport, Hard Lovin' Woman (the title of a song from her 2009 Terra Incognita album), is, she explains, "a love letter to my audiences. [Mike] understands my nature and is not doing something sensational or exploitave. I really like the humor, it captures this Lucille Ball quality possibly that I have," she says with a laugh, "that people don't expect."
The doc premiered at the 2016 Tribeca Film Festival and is now available globally on Red Bull TV.
[youtube https://www.youtube.com/watch?v=DW4_uW6Y1Kg&w=560&h=315]
In an Uber on the way to the LAX, flying to Detroit, heading to her first show of her first tour in about six years, Lewis spoke of her hiatus from and return to live performing, her demeanor focused, hyper-articulate, and funny, her observations often bordering on the philosophical.
No matter what medium she's working in, Lewis says, "At the end of the day I'm just trying to inspire others and have then connect with their own truth and strength. As I get older, more than ever I rely on the connectivity through our own collective humanity through difficult times, like when I lost my father [actor Geoffrey Lewis] a year ago, never was it more pronounced. I went, 'Oh, that's what the stories and love of other people is about, it can carry you through this hardship.' "
Music did that for her beginning as a child, when as one of eight children she listened to everything from Lisa Lisa and Cult Jam to classic rock, having an epiphany when her dad introduced her to the otherworldly powers of Janis Joplin and Miles Davis.
"Whether the Cure, Depeche Mode or Led Zeppelin, it's something that starts your fire, or makes you feel less alienated in difficult times. The music I make is the same: It's celebratory, it's channeling, it's transcendent. There's a lot of pain in it, but there's a lot of life and love."
Lewis' new single, "Hello Hero," written and co-produced with Isabella Summers of Florence + the Machine, is the prelude to an EP or album that she's been working on with help from Brad Schultz of Cage the Elephant and other producer-collaborators. The song marks an intentional departure from her intense, punk-fringed rock 'n' roll, performed with an Iggy Pop-like power and attitude, that demanded knee-pads for her frenetic live shows.
Lewis, currently starring in TV's Secrets and Lies as Detective Andrea Cornell, notes, "These are songs I wrote when I didn't have a band over the last few years. We created a sound that was a bit more soulful and groovy, but still full on rock 'n' roll, a little bit '60s garage-rock-tinged. There's a blues song called 'I Know Trouble,' that was inspired by [Screamin' Jay Hawkins'] 'I Put a Spell on You.' "
The Licks lineup ended in 2009; 2006's Four on the Floor was the band's second and final-length album, with Lewis explaining, "I wanted to get away from the two-guitar-driven rock band. Which is very muscular, and try to create, all from the bottom up. The drums and bass are just more groovy; it's less straight up-and-down rock, it's more hip shaking, I guess you could say."
Her last album and first without the band, Terra Incognita, was a shift toward her new, slightly more electronic direction.
It's not so much reinvention as growth, mining different parts of her creating with like-minded cohorts. However, being a TV/Film celebrity doesn't make Lewis immune from usual musician woes: Finding great players who are available.
"I've already had three different drummers," including boyfriend Brad Wilk, a founding member of Rage Against the Machine who also tours with Black Sabbath.
Now 43, Lewis has lost none of her lithe physicality and barely corralled mania on stage: she is a rock star, not just acting the part. And she sees her musical career far into the future.
[youtube https://www.youtube.com/watch?v=cFacIRsY_F0&w=560&h=315]
"The consumerist society of selling youth in this ridiculous beauty culture I just don't connect to," she says. "I toured with Chrissie Hynde of the Pretenders; I saw Zep when they got back together with Bonham's son Jason. There's no age, there's no gender, there's just a pure force of that talent. That's reassuring. Same with Patti Smith. They have a timeless energy. Music is the great equalizer."
Of her other career, she says, "It's little different from film, where you are reliant on the physical form a bit more, because you're telling stories, of a, say '40-something-year-old.' Or a 20-year-old. Music is heart and soul energy, spirit energy."
On the road with a new EP/album pending, she allows that she'll continue to tour, but not the grueling, months-at-a-time outings of her earlier career.
"The thing I love about music, particularly that I'm an independent musician, not with a label, is that I'm just answering to the muse within and a handful of people who show up [to gigs]. I'm honored to be their public servant in rock 'n' roll," she says with a chuckle. Her first band T-shirts even proudly proclaimed "Public Servant."
And it's a fortunate public who are witness and party to Lewis' onstage transcendence. Even though the singer admits that she learned to sing by "imitating Billie Holiday," what Lewis is drawn to, and what she clearly is, is one of the "people who are unmistakably themselves, like no one else. That was my goal in music; how to find myself."