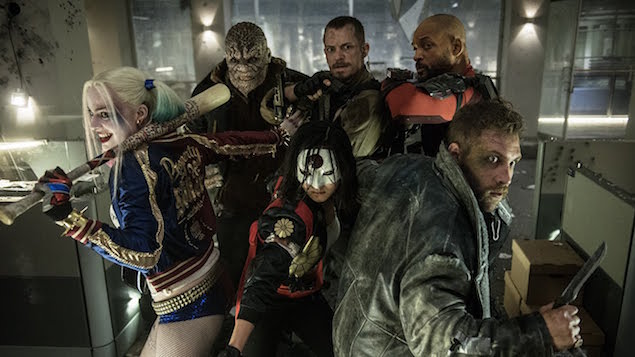 The drama surrounding Suicide Squad is more than just mediocre reviews: reports indicate the film's release was marred by post-production arguments, last-minute edits, and extensive cuts. This scene, in which Viola Davis as Amanda Waller introduces the idea of a "suicide squad" to high-ranking government officials, was cut to just a fraction of its original length. As you can read here, the debate to create the team was more contentious—indicative of a version of the movie that would have been darker and less cartoonish. Decide for yourself whether you think Warner Brothers made the right call leaving most of this on the cutting room floor!
INT. SECRET GOVERNMENT COMPOUND — DAY
GOVERNMENT OFFICIAL
Gentlemen, ladies—what if Superman had decided to fly down, rip off the roof of the White House, and grab the president right out of the Oval Office. Who would have stopped him? Someone here has a plan. Ms. Waller?
VIOLA DAVIS
Thank you, Lieutenant. I want to build a team of some very bad people who I think can do some good
[She shows the room the files of THE SUICIDE SQUAD]
VIOLA DAVIS
(cont.)
These are the only people that will be able to handle the threats we'll be facing in the future. First up, we have Captain Boomerang, world's best bank robber.
GOVERNMENT OFFICIAL #2
Wait, so the Australian guy is named "Captain Boomerang"? And he uses a boomerang? Isn't that kind of… racist? What, does he ride a kangaroo, too?
GOVERNMENT OFFICIAL #4
I mean, it's not like he's a stereotype of an Asian girl obsessed with some vague notion of "honor" or revenge. Like, could you even imagine how bad that would look? Like, like I mean if they made it seem like she didn't speak English, so a white guy would talk for her the entire time, but then it turns out she does speak English. And they wouldn't even give her a name—she's go by like, "Nunchucks." Haha jeez, I mean that would be bad. Captain Didgeridoo is fine.
VIOLA DAVIS
Can I get back to business?
GOVERNMENT OFFICIAL #2
Wait I have one more question. How did we get these guys?
VIOLA DAVIS
Excuse me?
GOVERNMENT OFFICIAL #2
I mean, they were in prison, in custody. Who caught them?
VIOLA DAVIS
Deadshot and Harley Quinn were apprehended by Batman, and Boomerang was brought in by The Flash.
GOVERNMENT OFFICIAL #4
We got those guys on the team, too, right?
VIOLA DAVIS
I don't understand
GOVERNMENT OFFICIAL #2
Yeah, I mean those guys beat these villains that you're saying are unbeatable. Why don't we have a secret team with—I don't know, Batman and The Flash, maybe some of the other heroes like Aquaman and Wonder Woman that you have files on right here?
VIOLA DAVIS
I want to build a team of some very bad people—
GOVERNMENT OFFICIAL #3
Yeah, you said that.
VIOLA DAVIS
—who I think can do some good.
GOVERNMENT OFFICIAL
Just… let her talk.
VIOLA DAVIS
Dr. Harleen Quinzel, AKA Harley Quinn. Partners with the notorious Joker, and straight up crazy herself.
GOVERNMENT OFFICIAL #5
So in the file here it looks like she's wearing, like, really high stiletto boots. And fishnet tights and booty shorts? If we're sending a prisoner in our custody into battle, we should probably offer her a bit more protection.
GOVERNMENT OFFICIAL #2
Does she use weapons? What are we going to give her to fight?
VIOLA DAVIS
She… she uses a whimsical mallet.
GOVERNMENT OFFICIAL
Do any of these people have any powers at all? I mean, you sold us this meeting as a way of defeating, what did you call them? "Meta-humans"? Like, this guy—"Slipknot." What's his power?
VIOLA DAVIS
He's very good at climbing.
GOVERNMENT OFFICIAL #5
Ok. Let's just take a minute here. Let's all take a breath. Would any of these people be better at handling a threat than, say, a trained military unit, or an airstrike?
GOVERNMENT OFFICIAL
He has a good point. Like, that crazy, paranormal explosion that went on in the subway—has anyone checked to see if just a regular bomb would fix it? We already evacuated the city. We're going to feel really dumb if we send in this squad of… unstable criminals if a normal bomb would work against it. Wow, could you imagine how dumb that would be? If just one small bomb could kill him?
VIOLA DAVIS
I don't think you understand. They get caught, we throw them under the bus.
GOVERNMENT OFFICIAL #3
And then… what? It looks like we let a half-dozen of our highest security criminals escape and tried to cover it up? I mean, there's no way this ends up looking good for us.
VIOLA DAVIS
I didn't mention that one of them shoots fire. He has severe PTSD after accidentally killing his wife and children.
GOVERNMENT OFFICIAL
JESUS. He's not even a super-villain! He's just—he's just a tragedy. Have we at least been getting him counseling? Anything?
VIOLA DAVIS
No, we locked him in an empty oil drum all alone and we won't let him out because he says he doesn't want to hurt more people.
[Government Official #4 begins weeping softly]
GOVERNMENT OFFICIAL
Fuck. Alright. Alright. Just—just get him, I guess. There might be some convoluted and poorly explained situation that can't be handled by either the military, or Batman, or The Flash even though they're all established as operating within this movie.
VIOLA DAVIS
The quips are going to be so good, guys. Such good quips.