John D. Rockefeller, Jr.'s former triplex at 740 Park Avenue has become legendary over the years. The sprawling apartment is located atop one of the most prestigious addresses and the city, and its current resident, Blackstone Group honcho Stephen A. Schwarzman, set a then-record when he bought the apartment in 2000.
The two-bedroom, two-bathroom spread that Rockefeller's great-great-grandson, Justin Rockefeller (a venture capitalist-slash-activist-slash-philanthropist) just sold at 280 Park Avenue South doesn't have quite the same cachet as his famous ancestor's. It has, however, been featured in Elle Décor, where Rockefelle's wife, fashion exec Indre (she's held positions at Vogue, Moda Operandi and Delpozo, to name a few), told the magazine all about her design aesthetic and style.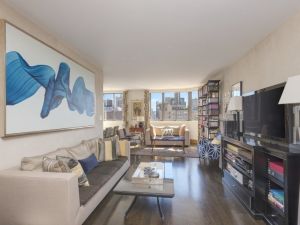 "It's important for me to have a home that is a collection of different eras, travels, and people," she told Elle Décor in 2014, where photos show her printed curtains and overflowing bookshelves. Vogue also gave the apartment a shoutout when Rockefeller posted an Instagram of herself in the "beautifully eclectic" pad. There are also oversized windows with north and east exposures in the living and dining areas, and the master bedroom has en-suite bath as well as built-in storage, according to Sotheby's International Realty broker Yvonne DeNigris's listing.
For features like hardwood floors, a windowed kitchen, and custom teak finishes, buyers Helen and Stylianos Aniftos paid the Rockefellers $2.23 million. It's not quite what the Rockfellers were first asking for the 1,266-square-foot condo, which was most recently listed for $2.35 million, down from the $2.68 million it was put on the market for back in October. Still, the Rockefellers have resided at the Gramercy Place condo since 2007, so perhaps after nearly a decade, they felt it was time to move on.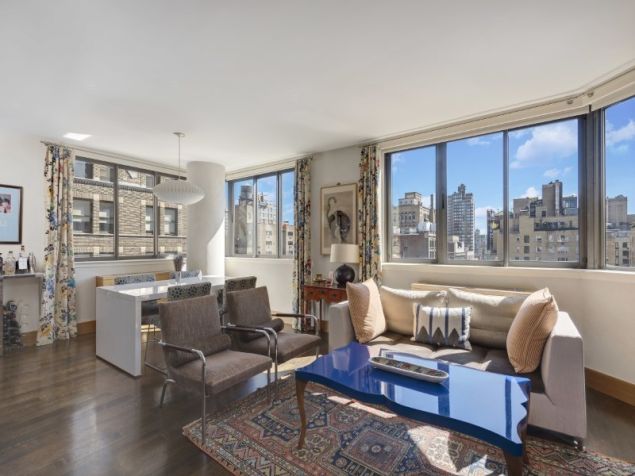 The building does have lots of summer-appropriate comforts, like an indoor pool (winter too, we guess) and a Jacuzzi, as well as two roof decks complete with lots of outdoor furnishings and BBQs.
We wonder where the Rockefellers are planning on going next—perhaps they'll look to that triplex for inspiration. After all, the stylish Flatiron space might be dreamy to most, but what's a two-bedroom condo when compared to space where a resident, could, say, dedicate a room specifically to house a 200-pound Great Dane?