Not a fan of Kanye West's many forays into fashion? Well, the rapper's latest bout of news will probably be unsettling for you, so brace yourself. Over the next month, the multi-hyphenate star will open 21 pop-up shops, in addition to staging the Yeezy Season 4 show during New York Fashion Week. Busy, busy.
This weekend, the Adidas collaborator will open Life of Pablo shops in the U.S., Europe, plus Australia and Africa. American locations include the cities of Miami, New York, Boston, Houston and Los Angeles. Exact locations will be revealed on West's site (we assume also on his Twitter account, pounded out in all capital letters) and are set to shill tees and hoodies, customized to their respective locations. There's no telling whether or not the denim jackets and various other merch found at Pablo pop-ups earlier this year will be stocked as well.
When Ye held his two-day New York pop-up shop back in March, he claimed that he sold a whopping $1 million worth of bomber jackets and screen printed tees. Even if the rapper fudged his numbers a bit, the lines outside the shop told a similar story of explosive demand. Yeezy himself called it a "pop-up of influence," and pieces wound up on eBay, selling for as much as six times their original price.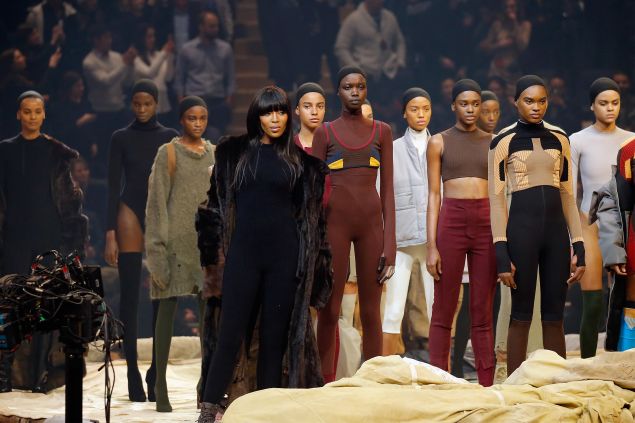 But that's not the only fashion project the artist has in the works. After signing an unprecedented contract with Adidas this summer to expand the purview of the Yeezy line, West will host a presentation for his Spring/Summer 2017 collection on the opening day of New York Fashion Week. While the scheduling makes sense for West, as he will be in the New York for the Life of Pablo tour around those dates, it makes him just one of the big names that will be kicking off the week of runway shows. In addition to the highly anticipated Yeezy show, Tom Ford will be hosting his New York presentation on September 7. Add to that the open of the Fifth Avenue Cartier mansion and the Young Thug-mentored VFILES show, the start to fashion week is already jam packed.
In a bit of "six degrees of separation" news, former VFILES show participants will debuting their work at the Yeezy presentation as some of the latest designers to be added to that team. Christa Bosch and Cosima Gadient who debuted blowtorched garments last season under their label Ottolinger are now also contributing to the Yeezy aesthetic. They will host their own independent show for Ottolinger two days later on September 9.