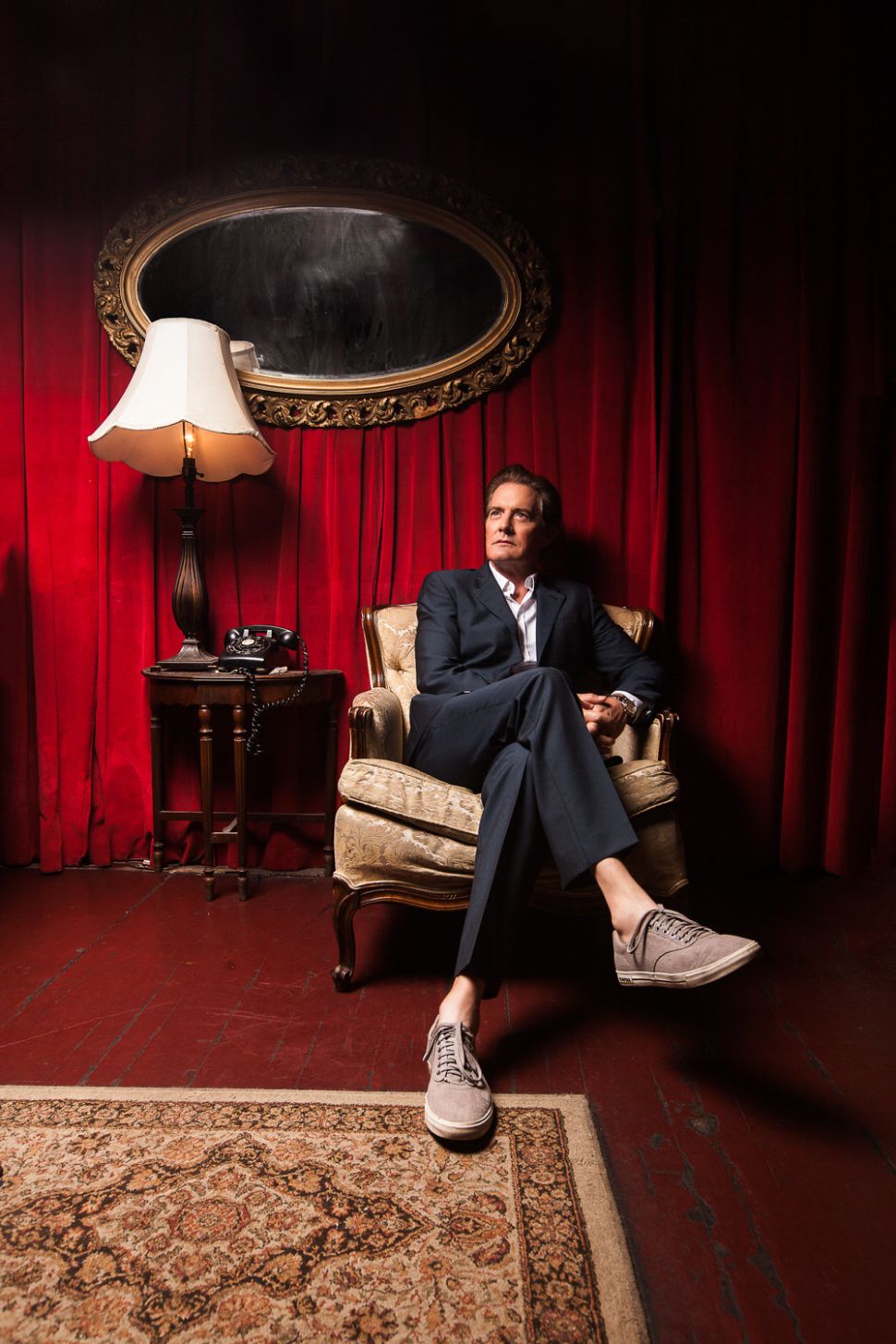 "Before we start, I just need to say there's a coyote looking at us," I tell actor and vintner Kyle MacLachlan, as we're about to sit down to talk over coffee in the back of the McKittrick Hotel's empty and darkly lit bar, on what is probably the hottest day of the summer. Out of the corner of my eye, I catch sight of a stuffed coyote, menacingly lurking behind one of the banquettes. And the Twin Peaks actor, 57, reacts in a delightfully surprising way: His eyes light up, his curiosity is infectious, and before we've even had the chance for a formal introduction, we're across the room investigating the creature together.
MacLachlan's enthusiasm is a running theme during our afternoon together, a quality that lends itself well to playing an overly exuberant mayor on IFC's satirical sketch comedy Portlandia, now entering its seventh season. After iconic roles in David Lynch projects such as Dune, Blue Velvet (and the aforementioned cult favorite TV show) and recurring characters on Sex and the City and Marvel's Agents of S.H.I.E.L.D., MacLachlan's spent over a decade in the wine business producing one of Washington's highest rated wine labels. He's still up for the next challenge, whatever that may be. Lately, that's been stepping back into the shoes of Special Agent Dale Cooper for the Twin Peaks' revival; 26 years after the original series wrapped, it's set to air again on Showtime in 2017.
While filming the new Twin Peaks, MacLachlan spent a good deal of time in Los Angeles, where he and wife Desiree Gruber (known for executive producing Project Runway) have dipped their toes into art collecting. He finds himself mostly drawn to objects and craft arts—baskets, cornhusk and beaded bags—particularly those from the indigenous tribes of the Pacific Northwest. And then there's the fact that his good pal Lynch is a prolific visual artist, so naturally he's acquired a few originals from him over the years.
"I have some stuff that he's [David Lynch] done—some of his pencil work and shading, smaller pieces and stuff that's he's doodled…that he made to me or I've kept," he says. "Those are really personal. We'll be sitting at a breakfast somewhere, and he'd be just kind of making something, and I'd say, 'Hey, David can you just put your initials right there?' "
MacLachlan and Gruber are on the collectors committee at the Los Angeles County Museum of Art. Last spring, they hosted a stylish Shakespeare-themed dinner at their L.A. home, for which he went above and beyond scouring the internet for miniature books by the Bard to decorate guests' place settings, according to InStyle. It was through LACMA that he met Seattle Art Fair artistic director Laura Fried. "I found him so thoughtful and considerate," Fried said. "I've always loved his work as an actor, but what really struck me when I got to know him was his love of the Pacific Northwest and his commitment to the region."
Between New York and Los Angeles, MacLachlan has a third place he calls home: Washington State, where his winery is. This is why he agreed to make an appearance alongside Portlandia co-star and co-creator Carrie Brownstein at the second annual Seattle Art Fair, an unusual venue for MacLachlan who is a relative newcomer to the art world—though he's eager to learn all he can about that too.
The Seattle Art Fair, now in its second year, has become a smash hit with the Emerald City. Over 15,000 people attended the four-day event last year, making it the city's biggest art event ever, according to the local weekly arts publication the Stranger. This year, attendance was even higher, reaching 18,000 visitors. Fried has decided to open up the program to a broader audience than most art world events with a star-studded talks program and ambitious large-scale public art projects. And that's where MacLachlan comes in. The subject of his talk with Brownstein was billed loosely to cover "cultural investment and place-making in the Pacific Northwest." MacLachlan is a natural choice for such a discussion: He was born and raised in Yakima, Washington, his wine is made in nearby Walla Walla, and he's starred in two hit television series set in the region.
But the Northwest of today is not the same place it was when MacLachlan was growing up, going to college at the University of Washington, even beginning his career in film. I seek to understand the changes MacLachlan has observed by starting from the beginning with his early life in Yakima. "Houses and lawns, it was the kind of place you'd ride your bike to see your friends…Parents didn't think twice about letting kids hang out until it was nighttime, and then you'd come home when you'd hear your whistle or bell."
"The thing that spoils me is working with David," says MacLachlan on returning to work with famed director David Lynch.
It's that idyllic childhood that he attributes to never developing a taste for the genre of horror. But when it comes to Lynch's work, that doesn't scare him, quite the opposite—he's deeply intrigued. "The thing that spoils me is working with David," he says. "We hadn't worked together for such a long time."
"A lot of the things David [creates], the imagery, is very impactful. It resonates deeper. And I recognize that—respond to that as well. I think it's more of an understanding. The result is frightening, I think when it's all put together, but the process of going through it is to me interesting, and I understand it and I guess I'd say I do enjoy. I enjoy getting into that world, and going through that world with David."
***
Growing up, the arts were always within reach, MacLachlan tells me of the path that eventually lead him to Lynch. "In my little world, we lived adjacent to a park that had a community theater in the center of it. It was an old apple warehouse, storage that they'd converted. And so from my earliest sort of memories, it was always the 'Little Theater'…and it was just part of our life…We worked there in the summers doing lights for some of the shows and running the concession stand, and I worked on some of the set building. I enjoyed acting, but it was never with the idea that 'This is what I'm going to do for my career.' It was just, 'This is something fun that I enjoy,' " he explains.
Fast-forward to today, and the pastoral suburbia MacLachlan has described to me is almost unrecognizable. The presence of Amazon and Microsoft has flipped Seattle's former industrial neighborhood of Lake Union into a thriving business district, reported the New York Times in 2015. Tech money has flowed steadily into cultural institutions, like the Experience Museum Project Museum, the brainchild of Microsoft co-founder Paul Allen (who is also the powerhouse behind the Seattle Art Fair), and in 2007 the Seattle Art Museum opened a major expansion in the city's Downtown.
Perhaps the film industry gets the most kudos for painting a romantic portrait of the Northwest. Shows like Portlandia and Grimm and books and movies like Twilight (alas, we have to mention it) have brought the region's majestic green landscape and eccentric subcultures to the screen. Scores of fans flock to area, hoping to unravel the mysteries of Laura Palmer's death while eating cherry pie at the real Double R Diner in North Bend or to unlock Portland's weirdness by devouring carb bombs at Voodoo Doughnuts.
On his home state of Washington: "When somebody else appreciates where you're from and sees it in a different way, you sort of start to see it in that different way."
"It's a testament to the power of the show. It's really sparked people's imaginations. They really want to travel and find out what that world is all about," he tells me on the ways filming mere miles from his childhood home have given him new perspective. "When somebody else appreciates where you're from and sees it in a different way, you sort of start to see it in that different way."
Then there's the Columbia Valley, the dry and arid land in the east, where you'll find Yakima, which is giving Sonoma and Napa a run for their money with a higher percentage of wines earning ratings above 90 percent than any other region, Washington State Wine vice president Chris Stone tells me. Among those wines is MacLachlan's own, which he's named Pursued by Bear.
"I did it to learn," he says of jumping into the business in 2005 with revered local winery Dunham Cellars. MacLachlan's label is their only collaboration project and one that came about through the actor's personal relationship with the winery's founder, Eric Dunham. "To learn about wine because I love it. And there's a creative element, too, to craft wine. [The wine industry] was just coming on in Washington state, and I was like, 'Maybe there's a chance to make something kind of interesting up there.' "
***
Pursued by Bear's 2012 Cabernet Sauvignon received 93 points from Wine Enthusiast and 92 from Wine Spectator. His 2011 Syrah, named Baby Bear in dedication to his young son, received 91- and 94-point ratings from the same outlets. For a full-time actor, he's done well leaving his mark in the wine world. MacLachlan is hardly the first celebrity to venture into the biz: director Francis Ford Coppola has operated a winery in Napa since the late '70s; rock star Maynard James Keenan makes wine in Arizona; and actors Matthew Goode and Matthew Rhys host ITV's The Wine Show. But don't assume MacLachlan's doing it as a hobby. He treks out to Walla Walla several times a year to taste his barrels, sets a harvest plan for the coming year and pours wine and chats up customers at tastings. This weekend, he'll be in Nantucket doing just that. "I'm going to be doing a tasting at one of the stores there. I'll just be there, on the floor, talking to people for a couple hours," he says, like it's no big thing.
"Kyle being from Washington—an Eastern Washington boy—he's down to earth, funny, quirky but also smart and passionate," said John Blair, Dunham Cellars' general manager, by phone from Washington. MacLachlan, he said, was there the same weekend as the Seattle Art Fair to check on his stock. "He's not an absentee celebrity who's just adding his name to the project; that's what separates him from other celebrity projects—his attention to detail and quality."
The reception from industry insiders has been a warm one, according to MacLachlan. "It probably helps because I'm from Yakima. I'm homegrown. Granted I was coming into a new world, but I got right away that this is kind of a one-for-all, all-for-one kind of attitude. Everyone rises with everyone else."
Now a seasoned vintner, surely MacLachlan would have some wisdom for how to avoid the dreaded wine hangover? And let it be more practical than his Twin Peaks love interest Annie Blackburn's cure: teetotalling and prayer. "If it's a bad hangover, I always think the IV is the way to go…You have to catch it—you have to nip it in the bud," he says. He seems entirely serious.
"So, straight to urgent care?" I ask. (No, but really, that's a thing people do?)
"While you're drinking wine, you have to enjoy your wine, but you have to do one water one wine, and that's, well…it's not that exciting."
We take a break from our regularly scheduled programing to answer some burning questions before we head out into the heat: Yes, Coop loves coffee, but MacLachlan may love it even more—and Lynch even has his own roast. "He's [David Lynch] definitely a coffee drinker," he says with emphasis. "We just love the tradition, and we love the silliness of it together and enjoy the conversation that goes along with it, you know. We are both coffee fanatics, I guess."
It surprises me to learn that MacLachlan, unlike most self-proclaimed coffee nerds from Seattle or New York, isn't picky—he'll take street-cart coffee any day. As for pie, despite what he told E! two decades ago, his preference is key lime, but cookies are No. 1.
"Dessert-wise, at the end of the meal, I like a cookie plate because then it feels like you have small bites, but it has to be really, really good…something you can crack in half, like biscotti or something, with coffee…It's interesting because…the older I get the more I realize I'm really about combining things."
All these dessert digressions sound like they could be straight from the Twin Peaks reboot. But how did he think the show would strike with a new generation, not weaned on the original series? "[Twin Peaks] is compelling and unexpected and frightening and all those things as the original was to people coming to it, whether you've seen it before or it's your first time," he reassures me.
But will Cooper's fans accept the man he's become—presumably still possessed by Bob? The last time we saw him he wasn't doing so well.
"It seems like audiences are ready for anything, as long as there's a good story, characters that they can get behind, well told, well directed—those are going to be all the things that Twin Peaks was and is."
It's ironic then that what strikes me most about MacLachlan as we talk is his own curiosity, a rare quality when I'm usually the one asking questions. "It's so tiny," he says of my recorder.
I can't help but laugh here, at the fact that MacLachlan—whose Twin Peaks persona Special Agent Dale Cooper became famous for recording diaristic anecdotes to a woman named Diane with a clunky handheld tape recorder—would candidly ask after a reporter's most ubiquitous tool. (Someone out there, please start a Reddit thread to speculate as to whether 2016 Agent Cooper gets a digital upgrade.)
He did it again, as I flip through the pages of my spiraled reporter's notebook. "Where would you get one of those?" he asks, which digresses into a discussion about the ergonomic advantages of having a notebook where the pages flip from the top rather than left to right.
We slide out of the leather booth, down a snaking hallway to a tiny ancient elevator. MacLachlan tells me as the car crawls seven stories downward how the McKittrick's sneaky side rooms and otherworldly decor remind him of Lynch's Parisian club Silencio. As we near what I'm hoping is the lobby floor, I notice we've been talking for several minutes, we're no longer moving and the doors aren't opening. A wave of claustrophobia hits me, and grasping at the wall, I blurt out, "Are we moving? It doesn't feel like we're moving."
"Huh," MacLachlan says. "It doesn't seem like we are." Sounding more curious than concerned.
The doors finally open, and I remember his answer as to whether he thinks the Mayor is an effective politician. "Yes, absolutely. Enthusiasm counts for everything," he says—with a big grin.
MacLachlan is a person made sunny-side up: after some hot coffee and a slightly scary elevator ride, he offers to walk with me through Chelsea's treeless, brutal 95-degree heat, to my train. It doesn't seem to faze him a bit. "I actually prefer it," he says. "Just put on a pair of shorts and a T-shirt, tennis shoes, and I'm fine." Dale Cooper would be proud.