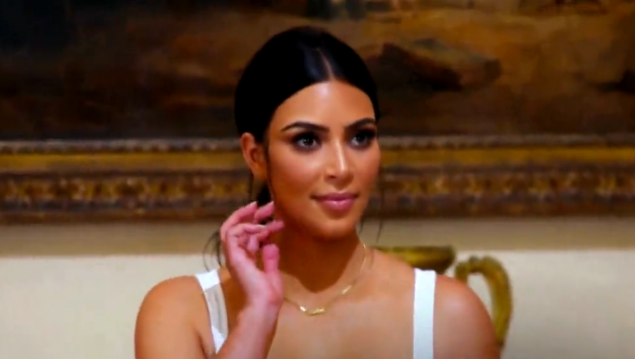 Represent, represent! Cuba! This week the Kardashian family went to Cuba in the greatest cultural tragedy toward that island since Dirty Dancing: Havana Nights, which is where I got the entirety of my knowledge on Cuba. Diego Luna and Romola Garai fought the communist revolutionaries through the healing power of dance and now the Kardashians came to heal with the power of non-touring. And strobing. And street style shots in front of decrepit landscapes. Wow.
What brings these ladies to this once embargoed nation? Was it an educational trip? A public service? Or to watch Kendall walk in the Chanel fashion show? Some would argue all three, but most would say it was just the third thing. Kim, Kourtney, and Khlo-money head to the island while Kris stays back because she can't live without her phone EVEN THOUGH THE SANGRIA IS TO DIE FOR according to Kim. True story, my sister and I looked into going to Cuba and decided against it for the same reason. I wish I was joking.
The good news is, Kendall decides not to walk in the fashion show so Triple-K and the gang decide just to visit anyway, you know, for funsies. And also because the show didn't have anything else planned for this week. Khloe loves the history and the culture. For example, everyone waves at her as she drives by. What an astute understanding of Cuban culture!
Kanye thinks the whole city of Havana is "very Yeezy" because it has "weird colors." Another astute understanding of Cuban culture! Communism and poverty are mentioned zero times, but don't worry because these guys just LOVE the culture. Cuban cigars! Fun!
Most importantly, Kourtney and Kim go to visit the home of noted Cuban person Ernest Hemingway. Kourtney is psyched because she read "The Old Man and the Sea" in high school. Overall they truly got the FULL Cuban experience. Khloe is too stressed to join them though because there are rumors Lamar Odom isn't doing well. Which is actually very sad and maybe a good reason to leave Cuba instead of continuing to misunderstand it so vastly.
While the gang is in Cuba, Kris sends some stuff to a Women's shelter and Kylie has a photo shoot. It's all pretty boring. Nothing to see here.
Where's Kendall this season? Where's more Taylor Swift drama? Where are Rob and Blac Chyna? This Cuba trip was like listening to the girl you know who went on a mission trip where she went to teach poor children but really she learned way more from them. Needless to say, I was bored! Let's step it up, Kardashians.