Boardwalk Empire actress Kelly Macdonald and her husband, Dougie Payne, just put their East Village condo on the market for $1.98 million.
Macdonald and Payne (he's the bassist of rock band Travis), who are both from Glasgow, Scotland, purchased the three-bedroom, one-bathroom condo in 2012 for $1.42 million, while Macdonald was still starring as Margaret Thompson on the HBO series. The couple welcomed their second child later that year, so perhaps they're starting to feel a tad cramped in the 1,047-square-foot pad now that they're a family of four.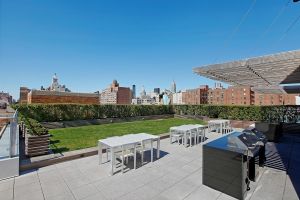 "[A]fter being in NYC for just a short while, we realized it's a great place for kids," Macdonald said in 2014, adding that the family spends lots of time in Tompkins Square Park, just a few blocks from their apartment at 425 East 13th Street.
The current listing looks pretty much identical to when Macdonald and Payne bought the apartment a few years ago—even down to the broker, Corcoran's Terrence Harding. Unfortunately, the description is a tad bare, but, just like before, there are still frosted glass pocket doors to the bedrooms, and the kitchen is set up with Celador oyster stone countertops, a Bosch oven and dishwasher, and a Leibherr fridge. There are also floor-to-ceiling windows, as well as a private terrace.
The condo is located in The A Building, with 24-hour doorman and concierge, and the buyer who scoops up this unit will, of course, get access to the rooftop pool and the health and wellness center—we're thinking that the pool is definitely going to be a draw in our current sauna-like summer.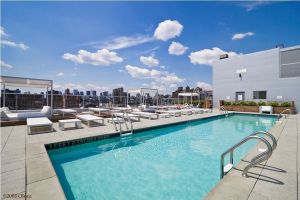 We wonder where the actress (hoping everyone also remembers her somewhat brief but still amazing role as Helena Ravenclaw in Harry Potter and the Deathly Hallows Part 2) and her husband will be heading next—it doesn't look like they've purchased anything just yet in the city, but maybe they're just looking for a bigger space. Or maybe she's making good on her talk about heading back to Scotland.
"These have been my New York years, and I've really embraced them," Macdonald told the Independent in 2014. "It's such a great community. It's like being in a village in Scotland. New York will always be a part of me."
Alas, the Scottish actress noted that she's rather excited to return to Glasgow. "We live in a lovely part of Glasgow that has a lot of cultural significance. You can feel it. The buildings are alive with history and learning. It's a very inspiring place to be." Plus, there's no heat dome.