Azzedine Alaïa has maintained a cult following since the 80s heyday of his eponymous brand, and in the latest issue of SURFACE Magazine, the famously secretive designer touts his "Galerie" within his Paris headquarters. While some consider his mammoth St. Bernard, Didine, to be the start of the cover story, there are also several bits from supportive friends who also happen to be international celebrities and/or billionaires.
There's Vanessa Friedman, the all-too-honest fashion critic, who lauds Mr. Alaïa for his ageless, mass appealing designs. "This guy, this policeman, was walking into the subway and he said, 'That is a beautiful dress,'" recalled Friedman of a day she wore an Alaïa dress on the subway. "In New York, that's pretty rare. But when I am wearing Alaïa I get regularly stopped by strangers—both women and men—on the street to say they like my dress." There's also Stephanie Seymour, who recalled her first runway show with Mr. Alaïa, where the designer was so taken by her "great ass" that he called friends at Kenzo and Comme des Garçons to book her too.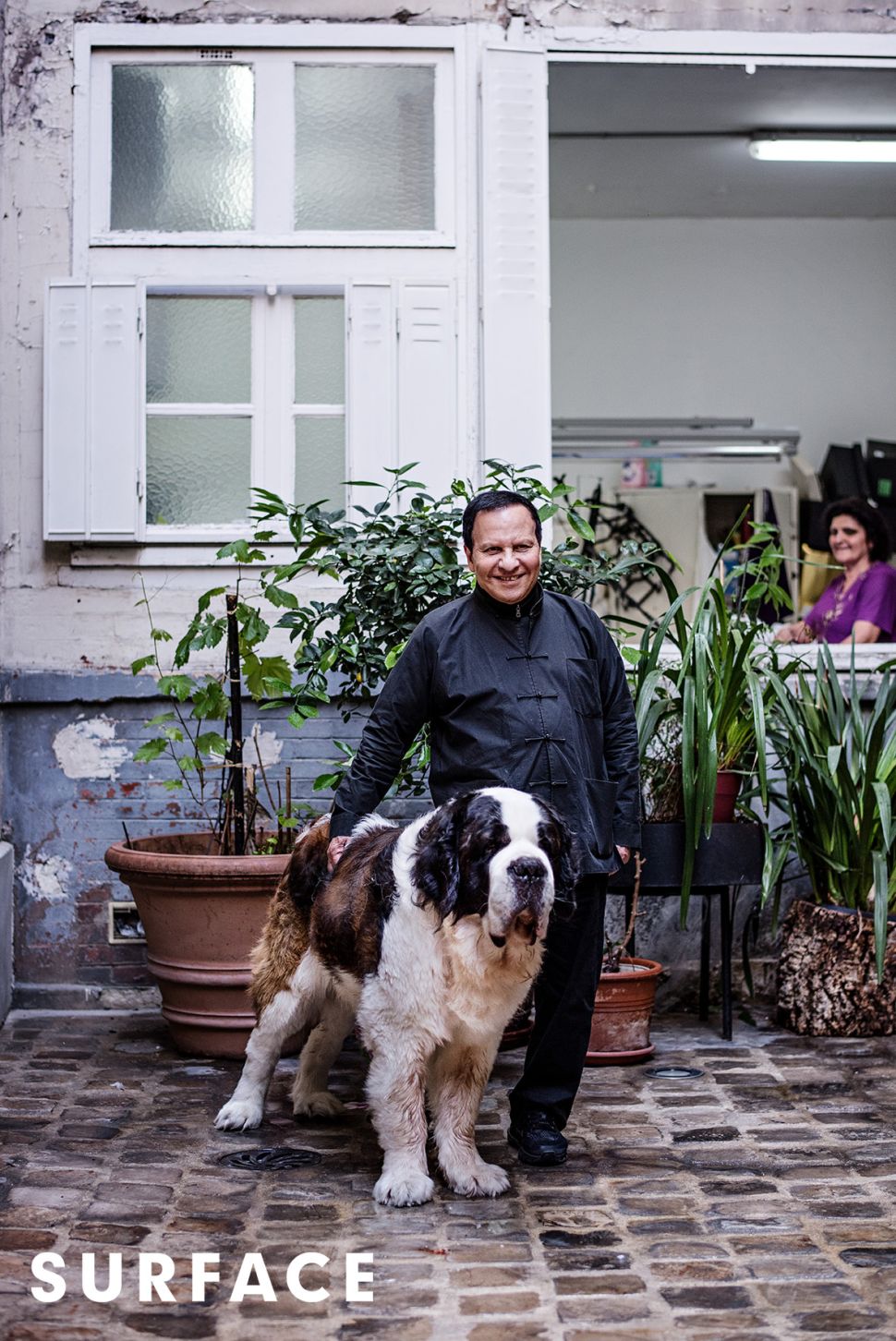 Kim Kardashian took a respite from selfie-snapping to tap out an e-mail waxing poetic on Mr. Alaia's legacy.  "As a child, my family's white poodle was named Azzedine Alaïa. That's how much my mom [Kris Jenner] loved him," she says in the story. "She introduced me to his clothes. I remember watching her get dressed. If it was a fun date night out she would put on an Alaïa. She saved them all and when I started to go to red carpet events she would let me wear them. Now every time I go to Paris I make sure I go into his store. I always search for vintage pieces. As for his gallery, I have not been, but can't wait to go."
Yet these all pale in comparison to Apple's Chief Design Officer, Jonathan Ive, known to many as Jony. While the two don't even speak the same language, they are close personal pals. "Despite not speaking French nor Azzedine English, we somehow seem to understand each other perfectly about the things that matter, talking or gesturing into the night," said Mr. Ive. "There is a privilege and intimacy seeing him work—to see his thinking, his actions, his practice.  His commitment to creating new, uncompromised work seems to fuel his fascination with the most oblique and progressive technology.  He does not just respond to technological opportunity.  He has the vision and tenacity to actually create and push technology to meet his demands, his belief in what could be possible." 
The full story is out today in Surface Magazine September Issue No. 131, available here.