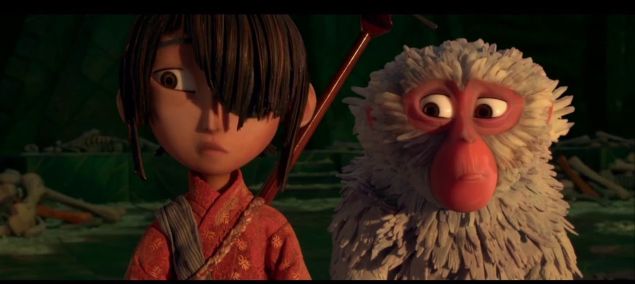 "If you must blink, do it now," Kubo, the masterful boy storyteller, intones in the opening moments of Kubo and the Two Strings as the tale of family, memory, fate and honor begins to unfold.
The boy, voiced with a sense of defiance and expectant adventure by Game of Thrones' Art Parkinson, says it several times more before the epic animated riff on samurai stories reaches its conclusion. You'd be wise to heed the warning. To blink would be to miss something strange and wondrous in what is arguably one of the most creative and visionary films of its kind, dating back perhaps to Disney in the late 30s and Pixar in the mid-90s.
Yet while the line speaks to the virtue of paying attention to this unique movie-going experience, it also hints at the film's lone Achilles' heel: It is quite aware of how special it is. A decade in the making, the film can strut its Joseph-Campbell-by-way-of-Akira-Kurosawa pedigree like a third-year film student and sometimes seems to prefer to astound and amaze rather than entertain. The stunning visuals and beautifully conceived milieu distract the viewer from the fact that the quest structure of the story is McGuffin-like and the conclusion emotionally muddled.
In this case, the tale, inspired by Japanese folklore, is about the tricky nature of family legacies. Our hero has only a one eye because his vengeful grandfather, the Moon King (voiced by Ralph Fiennes, a.k.a. Voldemort) stole the other from him. Along with his two cackling and shadow coated daughters (both Rooney Mara), he is on the hunt to complete the set. To keep this from happening, Kubo's mother, in a stunned state of grief after the loss of her husband at the hands of her evil family, keeps him sheltered in a cave after sundown. Kubo would prefer to stay in the village doing Dick Dale-like runs on his three-stringed samisen, riffs that cause the stories he tells to come to life via animated origami.
---

KUBO AND THE TWO STRINGS ★★★
(3/4 stars)

Written by: Marc Haimes and Chris Butler
Directed by: Travis Knight
Starring:Charlize Theron, Mathew McConaughey, and Art Parkinson
Running time: 101 min.

---
The story sets its course when Kubo fails to heed his mother's warnings, bringing destruction to the world that has kept him safe and setting him off on a largely snowbound adventure in search of three artifacts that he will need to face down and defeat his exceedingly cruel grandfather. He is aided by three unlikely protectors: a mute origami version of the proud warrior his father once was, a largely humorless eye on the prize monkey and a goofy samurai cursed with the body of a beetle and in possession of the most fraudulent memory this side of Dory the tang fish. Charlize Theron, tough as $2 steak, does the monkey, while McConaughey, in his funniest roll in eons, voices the beetle. It is an inspired Abbott and Costello pairing, one that would probably work as well in live action.
The encounters on their quest, including an oversized skeleton warrior that will make Ray Harryhausen smile from heaven and a journey across a cursed lake in a ship constructed by fallen leaves embedded with Kubo's increasingly powerful magic, lead to the expected showdown with the eyeball thief, a battle that is by turns scary and thrilling. It's significant to note that while never overwhelming, there are moments in the film that can be haunting for adults and terrifying for kids.
These are the mark of a film that refuses to talk down to its audience or ever surrender its air of unexpectedness, a lack of compromise one can expect from the folks at Laika, the Portland, Oregon-based studio that is making stop motion relevant—even vital. But this single-mindedness also speaks to the high regard in which the Kubo and the Two Strings holds itself. Sometimes the movie's cool factor can stand in the way of its emotional and narrative cohesion, leading to a denouement that is more convenience than truly earned.
Yes, this is movie that can be as hubristic as a Portland craft brew; like some of those bold concoctions, it has a slightly off-putting finish. But is that a good enough reason to ignore this larger-than-life fable? Not really—this is the rare movie that in its best moments is like a collective dip into the primordial ooze from which all stories once sprung. However imperfect, magic—movie or otherwise—is still a wonder to behold.