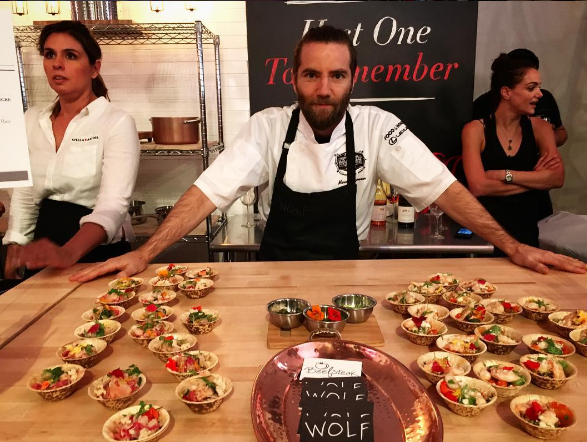 Marcel Vigneron, the mouthy Top Chef season 2 runner-up who many remember as the most colorful character ever on that show, has a lot of culinary tricks in his arsenal. His latest magic act, which he unveiled at a preview for his Beefsteak fast-casual restaurant on Friday night, is pure wizardry, something that fools your palate in the most game-changing way.
Vigneron has figured out how to make carrots taste like Velveeta.
For his potachos (potato nachos), he makes a cheese-free carrot queso that doesn't just taste like cheese. It tastes like and has the mouthfeel of the kind of queso you'd get in a Tex-Mex joint, where they make queso with something that labels itself "cheese product."
Vigneron finishes my sentence when I start telling him what his carrot queso resembles. "Velveeta," he says and smiles. He nods when I ask if that was his intention. He tells me that his recipe is carrots, onions, garlic, chipotle, adobo, salt and nutritional yeast. The sunflower sour cream he also tops the potachos with has sunflower seeds, water, lemon juice, apple cider vinegar, salt and soy. "And love," he adds. "The secret ingredient for everything here is love."
His big fried chunks of potatoes, crispy on the outside and fluffy on the inside, are cooked in water, frozen to help with evaporation and then fried. The texture of each potato might seem like the result of remarkable alchemy, but Vigneron, who's not playing around with molecular gastronomy the way he once did, says he's not doing anything special.
"McDonald's does the same thing, but they have factories," says Vigneron, who works out of the kitchen space he has at a Melrose Address address that also houses his more formal Wolf restaurant.
Vigneron had considered making his queso with butternut squash but went with carrots because of seasonality. Like salad giant Sweetgreen, Beefsteak, which opens today, is a fast-casual restaurant that will change its menu to showcase fresh produce.
Bowls and wraps come with sprouted probiotic brown rice and/or quinoa, and of course there are juices and smoothies.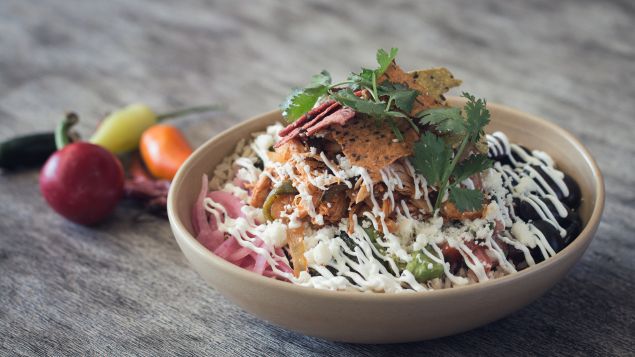 Vigneron's all about flexibility within the parameters of conscious, clean, plant-based cuisine. He has vegan Caesar salads with sunflower dressing and treats like beet jerky with yuzu and matcha olive oil cakes, but he prefers not to call his dishes vegan, so he can reserve the right to use honey and other ingredients. Also, you can add proteins like a poached egg, Korean-style short ribs or Scottish salmon to his vegan creations.
Bowls and wraps come with sprouted probiotic brown rice and/or quinoa, and of course there are juices and smoothies. Or booze, including punch cocktails, if you want to retox instead. This is fast-casual, so Vigneron hopes to be able to open many Beefsteaks, with a menu that's built to scale.
Vigneron, who also cooked at the both the Saturday and Sunday Grand Tasting at the Los Angeles Food & Wine Festival (repping dishes from both Wolf and Beefsteak), was just one of the prominent L.A. chefs who used the busy weekend to offer a taste of what's to come.
At Friday's L.A. Food & Wine night market, chef Denis Dello Stritto had our favorite bite of the evening: montanara, the fried pizza dough he'll be showcasing at Vinoteca, the wine-and-espresso bar opening at the Four Seasons Beverly Hills' Culina in September. Topped with cheese and tomatoes, it was airy and decadent, and will be the signature item at Vinoteca, which will focus on Italian street food while also using its fried pizza dough for lobster rolls.
Earlier in the day, at a Westside all-stars lunch at Rose Cafe-Restaurant in Venice, host chef Jason Neroni collaborated with Nyesha Arrington of Leona, Francis Derby of The Cannibal and, perhaps the biggest draw of all, Evan Funke. Pasta ace Funke is working to open one of the most anticipated restaurants in the city, Felix on Venice's Abbot Kinney Boulevard. At his previous restaurant, Bucato, Funke become known as perhaps L.A.'s most disciplined practitioner of painstakingly making pasta by hand with very specific ingredients. On Friday, he served rich and smoky capunti di grano arso (which translates to burnt wheat flour) with eggplant sugo and ricotta salata. The salty cheese made a big difference here too.