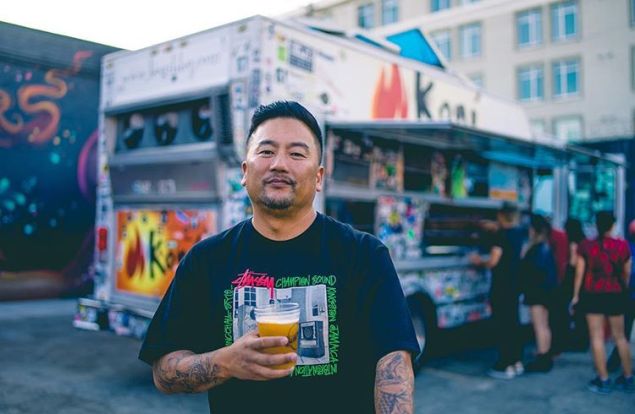 Summer in L.A. means nonstop outdoor food events, so who better than hang out with than king-of-the-streets chef Roy Choi?
Choi held court Friday night at The Container Yard in the Arts District, where guests at Blue Moon Brewing Co.'s Cook, Collaborate & Listen party paired Korean tacos from the chef's legendary Kogi BBQ truck with Cinnamon Horchata Ales and White IPAs. And because The Container Yard is known for incubating and celebrating artists and displaying their work on its industrial walls, husband-and-wife painters Kozyndan created a new piece honoring Choi at the free bash.
"For me, this party is all love," the always community-minded Choi said. "Free beer, free food."
Choi talked about the difference between New York and L.A. and how they eat and get down.
"When you're young and broke or old and rich, New York is the best," said Choi, who believes that L.A. gives everyone else a better way to breathe.
"It's Friday night," he added, dressed in a Stussy T-shirt and jeans, at a party where many wore tank tops and shorts and there was a guy rocking a double man bun. "My body and spirit, the last thing I want to do is put on a suit and go through that whole charade and sit for hours in a fancy restaurant."
Choi once interned at Le Bernardin, but what he's thinking about when he runs his food trucks or expands his game-changing fast-food chain Locol (which just launched in Oakland) is how he can continue to feed dozens of people for the price of one tasting menu.
"I don't think we, as chefs in Los Angeles, lack the talent or experience or knowledge," Choi says. "We're playing a different type of music."
And they take that music to the streets. After the successful debut of Locol in Watts, Choi's getting ready to launch a Locol food truck that will start following around Kogi trucks in September. He's also already got a Three Worlds Cafe truck, which is a spinoff of a juice and smoothie bar and coffeeshop that was previously in South Central and is moving to Watts. He might take the truck's Dole Whips back on the road soon after Three Worlds Cafe opens in Watts.
On the night Choi took over The Container Yard, another L.A. food-truck force, Guerrilla Tacos, threw its own raucous outdoor party to celebrate its four-year anniversary and make a major announcement: Chef Wes Avila's beloved market-driven tacos have found a brick-and-mortar location. He plans to open in the Arts District next summer.
In the meantime, you can find Guerrilla Tacos every Sunday at the Smorgasburg outdoor food market's new downtown L.A. location. Smorgasburg has been giving visitors many reasons to come back and back again, with events like an ice cream showcase, a BBQ bash and this coming Sunday's KCRW pie popup.
Other outdoor food parties coming up include many of the downtown events during the Los Angeles Food & Wine Festival, which starts Thursday and runs through the weekend. We're especially excited about Thursday's extravaganza celebrating Emeril Lagasse's new six-episode Amazon (AMZN) show Eat the World (which will be available for Prime members starting on Sept. 2).
"Each episode is about trying to learn the culture," says Lagasse, who went to China to eat soup dumplings with Mario Batali for the first episode and then visited South Korea with Danny Bowien and Cuba with Aaron Sanchez. "It's about learning ingredients and techniques and trying to understand the people who make the food."
For one episode, Lagasse, who also stresses to me that he understands that many American restaurant-goers are over fine dining, travels to Italy with Mozza's Nancy Silverton. Silverton herself will be part of a crazy outdoor food party in L.A. on Wednesday, September 7, with some of the world's most storied chefs going casual. She'll be at Wolfgang Puck at Hotel Bel-Air along with Puck himself, Argentine grill master Francis Mallman (whom you might remember from Netflix's Chef's Table) and fellow fire-starter Eric Werner from Hartwood in Tulum for a barbecue feast with communal seating on the hotel's front lawn.
And then, a few days later at Royce Quad at UCLA, there's the annual L.A. Loves Alex's Lemonade blowout, which has raised more than $3.2 million to fund childhood-cancer research over the years and secured more than $1 million at its 2015 event alone.
Silverton will be here too, at the Sept. 10 event hosted by husband-and-wife chefs Suzanne Goin and David Lentz, and the stacked lineup of more than 50 chefs serving food also includes other L.A. forces like Michael Cimarusti, Michael Voltaggio and Bryant Ng, along with visiting stars like New York's April Bloomfield, Jonathan Waxman and Nick Anderer. It will, as always, be an event that's both family-friendly and glitzy, where toddlers pound desserts, expensive wine flows freely and celebrities like Lena Dunham watch the action as hedge-fund bosses and society families bid tens of thousands of dollars for auction items like Goin, Silverton and friends cooking a private dinner at their house—or perhaps the outdoor setting of their choice.