It's all over, for now. The days of Olympic competition have come to an end.
For all their best laid plans, NBC's coverage of the 2016 Rio Olympic games didn't really meet anyone's expectations—the ratings were down nearly 20 percent (which was NBC's biggest fear), and viewers were put off by what they considered dismal coverage of the events.
Today, and in the days to come, there will no doubt be countless pieces written that endless contain statistics about the broadcast, the athletes and the overall success, or lack there of, of the games. Those will no doubt be some thoughtful articles, rife with details about the technical aspect of the games, but why not look at some other, maybe more thought-provoking, issues to come out of this worldwide event?
In closing out the games, here are some random thoughts about what transpired in the last two weeks, what it means given the current cultural climate and what all of it could mean going forward.
A big plus of the games is that gave weary Americans a slight break from the current heated political cycle, at least for a little while. The crazy statements and allegations flying between the parties were still there, they just didn't seem as loud, right? Sadly, now the volume will rise again. And, looking forward, with the way the games are scheduled now, with alternating summer and winter games every two years, the pattern of the summer Olympics coinciding with the Presidential election cycle will continue seemingly forever. Is that a good thing or a bad thing? Clearly, that depends on your position on and involvement in politics. (But I think right now average citizens can agree that this year, this was a very good thing.)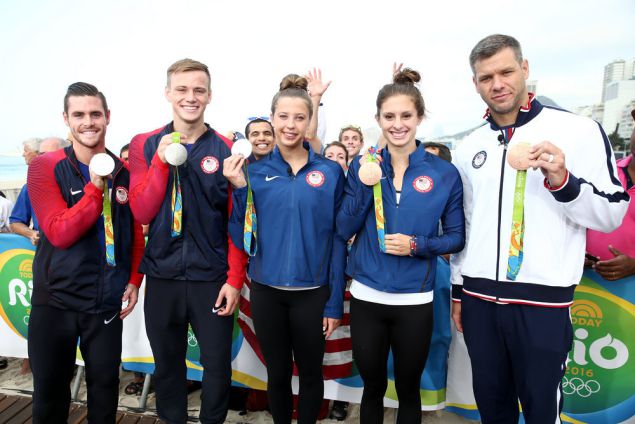 For all the missteps by NBC, and there were plenty, viewers have to admit that the on-the-ground, in-the-venue production quality was pretty flawless. Live production at sporting events is extremely tough and for all the complaining about the terrible commentary, awful scheduling and such, no one really said anything critical about the actual video coverage. That's because it was that good. So, while the higher ups at NBC have some criticism to face, kudos to those production people on the ground pulling cables and running camera and the technical folks in the booths live switching the events (in other words, the "worker bees") for doing such a great job. Your efforts are truly appreciated.
And that production team will need to step it up in 2020 as there will be new sports to conquer, like skateboarding, surfing and something called Sport Climbing. It seems safe to say the viewers are looking forward to how, you, the production team, show us these sports.
One does have to wonder what will be talked about in NBC's postmortem meetings about the Olympics. Since they hold the rights to the games through 2032 (Yes, 2032!), they can't just close up shop and move on. They'll need to figure out how to fix what they think needs fixing. Now, that's not to say they'll fix what viewers think needs fixing. Let's remember that for all the talk about delayed coverage, bad programming, etc. NBC accomplished what they wanted to do—they sold high dollar sponsorships and raked in lots of other revenue streams from the games. (And, as evidenced by an extended spot that ran in the Closing Ceremonies, they've acquitted Toyota as a major sponsor for the 2020 Summer games, to be held in Tokyo).
The network did work hard to stream as many events as possible, which in this age of digital consumption was a welcome addition to the primetime coverage. However, it's sort of mind blowing that they really didn't seem to consider just how much social media and that streaming would eat into the ratings for the primetime shows. But, to defend NBC a bit, methods of media consumption have changed so much in the last four years that it's virtually impossible to calculate viewership on any platform. If they used numbers from past summer Olympics, and really this is all they have to go on, then it's no wonder that their predictions were off. There is really no way to use past data going forward, given the rate at which technology is changing. So, in addition to having to come up with new broadcast strategies, NBC will also have to find new ways to quantify what they're doing as well. This will obviously be no easy feat.
The 2016 Rio Summer Olympics clearly had its highs—Simone Biles, Simone Manuel, Michael Phelps, Usain Bolt, the Refugee Team, Katie Ledecky, Allyson Felix, the U.S. women's sweep of the 100 meter hurtles, Ibtihaj Muhammad, Abbey D'Agostino and Nikki Hamblin, Super Mario making an appearance and so many more. It also clearly had its lows—Hope Solo and, of course, Ryan Lochte—but for all 17 days of it, it was truly captivating in some way for so, so many people around the world. And that, in and of itself, is saying something.
It was inspiring to see the recognition of some important matters, like the first woman competing in a Hijab and the presence of the Refugee Olympic Team, both of which raised awareness about issues that need to be discussed on a daily basis. Let's hope this aspect of the games this continues and expands moving forward.
Speaking of moving forward, it's always a little strange that many of the athletes are constantly asked about the next Olympics—"Will we see you in four years?" First, why do we find it so hard to live in the moment? The Olympics would be a great time to practice this. Let this be a lesson that we should take more than just a moment to reflect and celebrate before we set out to conquer something else.
And truly, who truly knows where they'll be or what they'll be doing four years from now? During the Rio games surely many people, including millions of viewers, reflected on where they were in their lives during the last Olympics. But looking ahead is always more difficult than looking back, and this holds true whether you're a top athlete or just an average Joe living your life.
So let's close out these games by saying, NBC, you've closed a chapter, but now you have a tough road ahead of you for the next Olympics. Athletes, well done (except those of you who were lairs or poor sports). World, you can go back to your countries and lives now, but let's use these games as a springboard to elevate caring and peace if we can. And for those in the U.S., the political games are back on now in full force. Everyone, take a moment, reflect where you are, where you have been and let's move forward. Four years is a long way away—we have time to think about it. But we really need to be focusing on right now, so let's do that. Thank you, athletes and Rio and Olympic Federation. Your work is for these games is complete. The work of the world continues.