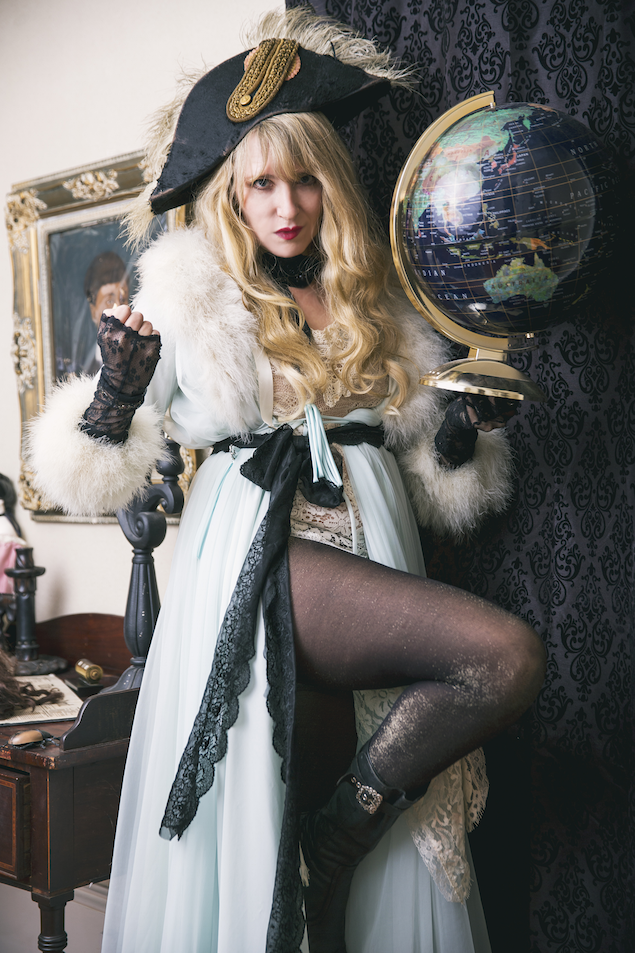 "I have to go to sea school to get my captain's license, so I wanted to do this interview now because I won't be able to for another three days." As interview-scheduling conflicts go, that's a new one on me. But if you've read any of her extraordinary comics from her flagship series Meat Cake — now collected in its entirety in the phonebook-thick hardcover Meat Cake Bible, on sale this month from Fantagraphics — you'd expect nothing less. Rhapsodic, romantic, sexy, silly, and macabre all at once, Darcy's powerfully drawn stories take place on pirate ships and in haunted mansions, in sumptuous boudoirs and at dainty tea parties: fairy-tale environments she makes her own with richly adult emotions and imagery.
Featuring an almost entirely female cast of recurring characters — flappers, mermaids, conjoined twins, living dolls, and an impossibly elegant woman named Richard Dirt — Meat Cake emerged during the golden age of alternative comics in the early '90s, alongside similar one-artist anthology titles like Daniel Clowes's Eightball, Chris Ware's The ACME Novelty Library, Julie Doucet's Dirty Plotte, and Adrian Tomine's Optic Nerve. But its Victorian-vintage look and fixation on witchcraft and pirates proved a unique predictor over two decades of underground (and, increasingly, mainstream) art and aesthetics. The series also came to influence generations of cartoonists, particularly women — none more so than Darcy herself, who looks, and lives, like one of her own creations.
When she's not prepping for her captain's exam, Dame Darcy resides in Savannah, Georgia. She's in the process of planning Meat Cake Manor, a combination bookstore, art gallery, mini-theme park, and flophouse for friends and fans she plans to establish in a large Victorian house. We spoke to the cartoonist — full name: Captain Dame Darcy Megan Cecilia Stanger Pleasant, pending upcoming captain's and marriage licenses — about her childhood, her influences, and what it's like to have her life's work collected between two covers.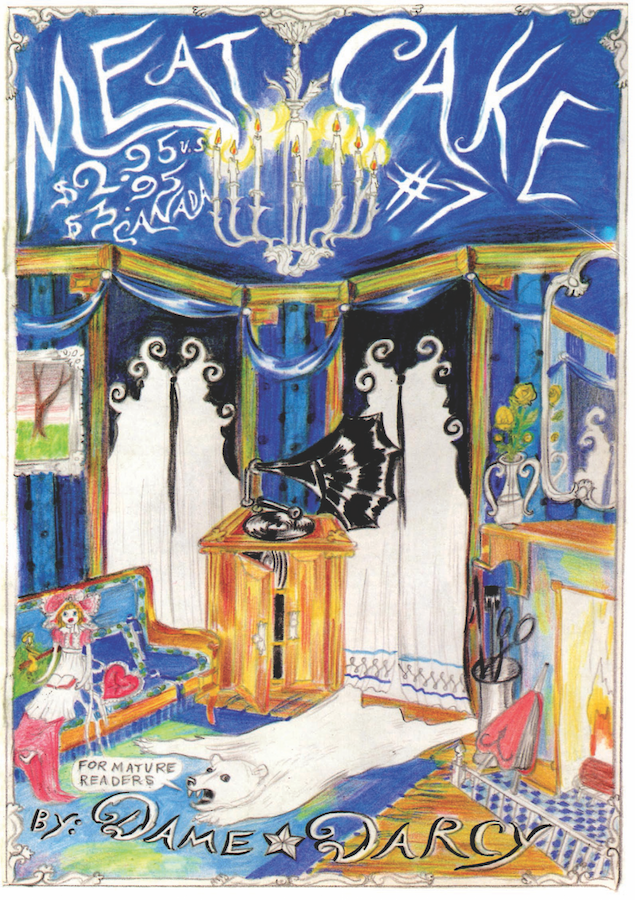 It's exciting to see you get the "COMPLETE DAME DARCY" treatment, an honor reserved for pantheon-level cartoonists. You're in rare company.  
When I was a child, I was influenced by illustrated Victorian fairytales. So to me, the point of publishing — and especially an awesome-looking book like the one I have had the fortune and privilege of having Fantagraphics produce — is that when a young artist of the future finds my work in an attic a century later, she's inspired by Meat Cake Bible to create her own books as well.
Compared to your contemporaries who've also earned this kind of collection…well, I've never been high on the idea that even the most detached-seeming alternative comics of the '90s are emotionally sterile, but there's a big difference between much of that era's work and the heart-on-sleeve, sturm-und-drang approach of Meat Cake.
Even though even I was super goth as a teen, I thought it was silly that the culture took itself so seriously and was so gloom and doom about everything. When I was 16 I saw Beetlejuice at the drive-in in Idaho Falls. I loved how surreal, campy, and dark-humor it was, even though it was goth. It was really inspiring to me, because I thought, "For this to reach me here in Idaho means there is a place for me out there in the world, a place where stuff this weird can be mainstream." And I also thought "I'd better get crackin', because Winona Rider is my age and she's already got her career happening."
I also thought this about Adam Ant in his dandy pirate costume and the weirdness in the video "Stand and Deliver," which I saw on MTV, and Daryl Hannah in Splash. I've always known I was going to be friends with Tim Burton, Adam Ant, Daryl Hannah, and Winona Rider. I think I'm kind of a mash-up of all of them, baked in my own freaky oven of circumstances.
What circumstances were those?
My mom, Lila Wickham, is a hardcore feminist and worked her whole life in the front lines for women's health care, a topic I could rant about for ages. She always said a lady had to make her own money in order to have her own power. And she is right. She's a career mom who taught me to think for myself and how to work hard, play hard, clean house and care for others, elderly and children. I always picture my Mom in her adorable doll dresses in power pink, polka dots, or aquamarine, matching her gloves and hat to her shoes. She is a wiz an sewing, embroidery, and knitting. She has built a mermaid-themed home with my stepdad by the ocean, and enjoys her life as a mer-mom, painting seascapes and crafting crowns out of shells she finds on the beach. She has such a fun, crafty, environmentalist home, and was so nurturing with her home cooking and garden. She has always been my inspiration for being a feminist through femininity.
The rest of my family, though, were staunch ranchers, and wanted me to be a tomboy. Because I was raised on a ranch in Idaho and I was the oldest with only younger brothers I was naturally outdoorsy; I still am, with all my sailing adventures. I didn't want to be considered prissy, and I did nutso things like ride horses through thunderstorms bareback, kicking the horses to run and jump over barbed-wire fences. But I also wanted to wear Victorian lace dresses all the time and have tea parties with my dolls. I was vehement about being girly in a family where I felt like I had to fight against everyone trying to negate and marginalize the fact I was a girl.
So to escape and rebel, I put on my lacy white petticoat, my lipstick, and my glitter heels and ran to the faggiest place anyone could go, a fine art school in San Francisco, when I got a scholarship to the San Francisco Art Institute. Growing up that way, how did I have the chance to become anything else than the loud horrible passionate hardcore feminist that I am today? Love it or leave it, Patriarchy. It's how I be.
I'm also a vegetarian because they made me wear cowboy gear and rope, brand, and cut the balls off of cattle. Little did they know they were actually training me to work as a freelance part time dom in New York City.
What's it like to put together a career overview like this? Is it fun, or at least enlightening, to go through old work, or do you focus on its flaws or what you'd have done differently now?
Looking through Meat Cake Bible, seeing it all in one place, has been amazing. I love the design of the cover, the gold, and the layout. I'm in my own personal hell, though, and it's distressing in that I want to still make changes on illustrations I just noticed from decades ago. I've had this feeling with other published works as well: I was under such a crunch and so much pressure to make the deadline that I didn't draw the spiderweb right, and now whenever I look at that page the spiderweb is all I see, even though no one else notices. I can't redraw the frames any better; I can't rework that expression or rewrite the dialogue. It's a book for all eternity, it's final. I have to turn OCD into acceptance and the process is painful.
Looking at these comics, some of which date back nearly 25 years, it's astonishing to see how ahead of your time your interests were. Victoriana, Edwardiana, Roaring '20s fashion, nautical themes, the Gothic-Lolita aesthetic, the occult and supernatural…really, the list goes on and on. There's this weird sense that this book is a crystal ball into the future of alternative culture. Have you ever felt this way yourself?
Yes. I was a film major with an animation minor at SFAI, and I always intended for Meat Cake to be a TV series or movie. I spent the majority of my adult life in NYC and L.A. and Tokyo pitching Meat Cake and other properties. I've come really close, had meetings and agents representing my animation licensing, et cetera, but in the '90s they thought I was really weird. They even said the typical thing: Girls can relate to guys' stuff, because it's produced all the time, but not vice versa. They said I was too weird to be mainstream.
Then last decade, I watched as the Harry Potter series, True Blood, Twilight, the Pirates of the Caribbean empire, the Carnivale TV series, all the feature films about fairy tales…All of it became popular, all of it went mainstream. And now American Horror Story, all the zombie stuff, and OMG, an awesome series that has all the elements of Meat Cake, Penny Dreadful, with absinthe, the Grand Guignol, witchcraft. And I'm still here, in the game, ready to get going with my series. Now is the time. Except I want to put elements of environmentalism, feminism, race, gender and LBGT issues in there too. 
There's a real movement and sweep to your artwork. The effect of reading it is really like getting swept up by a whirlwind, or a whirlpool. Even your figures seem curved, as if their bodies are flowing rather than walking or standing. Is this something you're aware of as you draw?
The process in which I draw my comics is freeform, but I plan out every page first by drawing it in pencil. Sometimes I'll use the light box over the pencil sketch to map out the composition, then I'll just draw the characters and the details freehand. The first reason for this is it makes drawing comics quicker, and as any sequential artist knows, whether it's animation or comics, the process can be glacial and taxing. Also, I like to switch it up, and I find the free-flowing art process to be meditative and organic. I'm never disappointed with the result, and if I make a mistake I work it into the design. My Dad said the key to being a good artist is knowing how to transform your mistakes so no one knows they were there. So all that beautiful glossy black hair covers up a lot of misdrawn jawlines.
One of my favorite questions to ask people who've worked with the same characters for such a long period—and very few have had your kind of longevity—is how your relationship with them changes over time, and why you stick with them when presumably your own life has changed dramatically. What do characters like Hindrance and Perfidia or Richard Dirt say to you now that's different than what they said when you first created them?
Funny how the more things change the more things stay the same. When I look through Meat Cake Bible it's like a personal diary for me now, where I remember where I was, who I was dating, my friends, where I lived, at the time I was drawing the page. Sometimes you can see this reflected in the story, but also it can be completely unrelated. I'd like to do a video of this sometime, where as I flip through the book I talk about what my personal memory of the page is. Like how I lived in Williamsburg and the Lower East Side of NYC in Alphabet City with prostitutes screaming bloody murder all night. Billions of crack vials and drug pushers, gangs roaming around. Things were horrifyingly dangerous when I was drawing these comics, but the ladies of Meat Cake live in gothic Victorian dollhouses with what looks like the stark mountains of Idaho outside. Meanwhile I was living in a squat with no windows on Avenue C.
At other times I was hanging with rock stars I have the fortune to call my friends at the Frying Pan, a once-sunken ship: J.G. Thirlwell, Kat Bjeland, Genesis P-Orridge, Stewart Lupton, Royal Trux. Or opening for Sonic Youth at CBGB's by playing sea shanties and murder ballads on banjo. Or drawing illustrations for the Village Voice and New York Press and BUST magazine, and hanging with cartoonists Tony Millionaire and Danny Hellman. Or making experimental art movies about ghosts while dating a goth pretty-boy millionaire. As I look through the pages of Meat Cake I remember these times, and see how the stories kind of correlate in a kind of subliminal code with the things that were going on. 
I think the characters are timeless because they are fractured aspects of my own psyche. [For example,] as a Gemini born on the cusp of Cancer, I now realize the twins Hindrance and Perfidia are the embodiment of what is in my brain. With black hair and the psychic moody witchy dark moon aspects of Cancer, they are conjoined twins, thus Gemini. Hindrance is light-hearted and tries to keep a happy face, while the other is mean and bitchy. Perfidia means two-faced, and Hindrance is a hindrance to her.
At the time [I created her] I saw myself as Richard Dirt, whose style is nowadays what one would refer to as Elegant Lolita, Sweet, or Victorian Lolita. When I first started self-publishing comics I wanted to experiment with having my pen name be Richard Dirt, to hide the fact I was a girl in a male-dominated industry, just to see if it would aid in my success. My Dad advised against it, saying that if I add a title to my first name, like Queen Latifah or Dr. Seuss, I would not have to deal with the hassle of actually changing my last name. I came up with Dame because it is alliterative with my first name and is a ladies' title.
Anyways, Richard Dirt is a sweet and elegant rococo, Victorian Lolita, but there wasn't really a scene for that at the time. Though I identified as goth, I really wanted to just drink tea with fillies in frills at a picnic, but I was a decade ahead of my time. I have friends in their teens and 20s in New York and L.A. now whom I adore forever, but back then they were little kids or not born yet, and I was on a punk desert island, wearing my bonnet alone.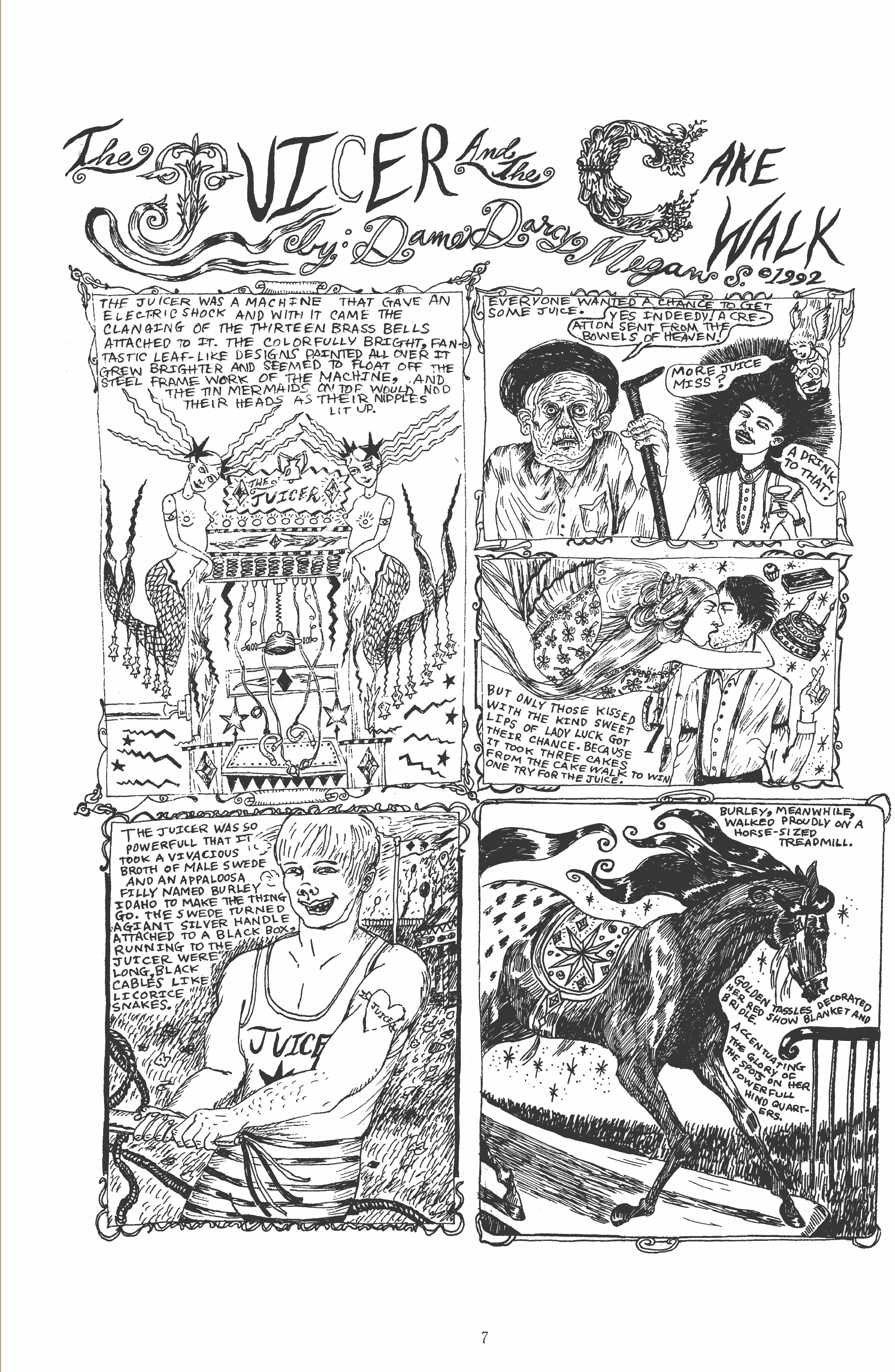 The photo gallery of you in the middle of the collection is one of its most striking aspects, because frankly, you look like you might have stepped out of one of your own comics. Do you see your work and your personal aesthetic as an extension of one another?
Definitely. Thank you for noticing! From the beginning I wanted my work to have a once-upon-a-time quality, so that as time passed it was always classic and timeless. This is also how I like to dress and design. With antiques and vintage you're never in style or contemporary, so you're never out of style either. As a feminist I wanted to show that though I am 45 I could still look good for my age, to embrace a woman's beauty at every age — and that I still look like the drawings of myself from decades ago.
There's a sense of weaponized femininity to your iconography — like, even though you're working with stereotypically "girly" elements like mermaids and witches and ornate costumes and windswept romance, you're uncovering the extremely rich emotional vocabulary underneath trappings that, perhaps, were once developed to keep girls' imaginations under lock and key.
Normal superhero comics made me bored and mad. They felt so macho and I thought taking the whole format out of context and reconceptualizing and feminizing the whole thing would be funny. As someone who is a radical pirate and advocate of feminism through femininity, I cultivate conventional beauty so I can mess with the minds of conservatives and they didn't see me coming. Those people assume things about me because of how I look or dress based on the preformed projections the patriarchy has dictated to them through advertisement and objectification of women. I can use this to my advantage through chaos magic and trickery, because they don't have a clue what a badass bitch and advocate of all freaks I am.
My partner is a cartoonist, and she once said that Meat Cake was hugely important to all the weird girls she knew in her teens and early 20s, but the male comic nerds she met afterwards had no clue what she was talking about. Have you noticed this disparity as well? To what would you attribute it?
That statement brings a tear to my eye, knowing my life's goal was not in vain. Thank you. 
As a kid I hated that even on Sesame Street, everyone was a boy. Actually, I thought Big Bird was a girl, but in the end he was gay and I was mistaken. The only time girls showed up in things was as sex objects — except for Pippi Longstocking and Wonder Woman — and they rarely ever got any good dialogue. Meat Cake set out to change all that, and make something weird and thinking girls could relate to. I felt so alone for so long, and I made a beacon like a lighthouse to shine through the darkness and attract the bats of other like-minded souls. 
It is my life's goal and pleasure to encourage other girls, ladies, anyone to be who they are, to find their true passion and pursue their hearts desire with freedom in their soul despite all odds. In Oz and Cinderella, I always identified as Glinda and the Fairy Godmother, even as a kid. I like how Glinda doesn't just wave her wand and whisk Dorothy home, even though she could. She gives her glamorous shoes and Dorothy uses them to find her own way. And through magic glamour and DIY elbow grease, Cinderella's Fairy Godmother turns the normal pumpkin into a couture carriage vehicle to empower the young lady to change her life. If my artwork can be this for someone else, then my will here in this mortal plane is done.