Lighting designer extraordinaire Lindsey Adelman is going to be decorating a whole new space with her extravagant creations. Adelman, whose lighting fixtures can sell for tens of thousands of dollars and count names like Reese Witherspoon and Marisa Tomei as fans, and her husband, Ian, just sold their Park Slope co-op, and as one might have imagined, the two-bedroom, 1.5-bath pad at 27 Prospect Park West was bedecked with many a Lindsey Adelman design.
"She put one of her light fixtures in basically every room," Corcoran broker Jackie Torren, who shared the listing with Charlie Pigott, told the Observer. "The living room had two of them—these amazing, sculptural light fixtures. As soon as you walk in, you're just sort of struck by that."
Andrew and Francesca Dickson must have found themselves particularly awestruck, since they paid $1.35 million for the space—just a tad over the original $1.295 million asking price. "We had multiple offers," Torren informed us. We can see why—the unit features lovely prewar details like herringbone hardwood floors, plaster cove ceilings and picture railings.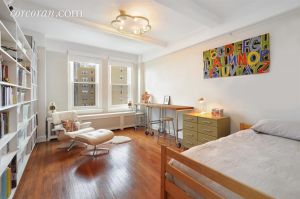 "It was a mess when [the sellers] first bought it, I think it was an estate sale," Torren said. "They had a vision for what it could be. They renovated the kitchen, and they fixed all the plasterwork. I think they brought it back to what it originally was," Torren opined. Indeed, the "sleek and modern" kitchen is now complete with custom white lacquer under cabinets and a Viking range, with a breakfast counter by the window with views of the harbor and Manhattan skyline.
Speaking of views, the apartment is true to its address, and features  impressive views of Prospect Park West from the living room and one of the bedrooms, while the master suite has the of the harbor and skyline, which Torren found to be one of the most unique aspects of the abode. "I would say the most special thing about this apartment are the views—they're just spectacular," Torren declared. "And the sunsets! The light was just unbelievable."
Just last month, Adelman took W Magazine on a tour of the Brooklyn home, where one can see her signature "Branching" bubble chandelier (which the magazine declares has "become a design status symbol") within the Park Slope apartment. There's no need to worry about removing the elaborate fixtures, as all of the lighting was included in the sale. Perhaps Adelman will provide another tour of her next abode, and all the new lighting she decides to decorate it with—she's moving to another residence within Brooklyn.
For those who want a more extensive peek at the recently sold apartment (or at least of the views provided), one must only do a bit of perusing within Instagram—Torren told us that there's a hashtag for the apartment, where one can find a number of photos that largely consists of a series of sunsets.