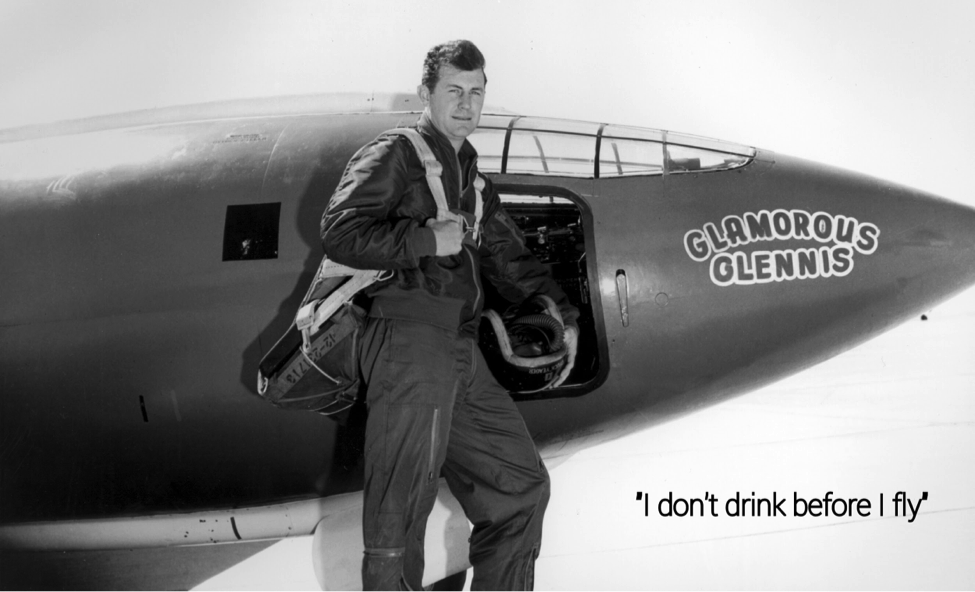 Speed demon and Brigadier General Chuck Yeager has firmly planted his foot in history by being the first human to break the sound barrier back in 1947. Today, the decorated pilot is busy breaking the spirits of his fans around the world by revealing just a bit too much about his life and personal beliefs in what seems to be an ongoing tweetstorm.
There's a lot too. In between the numerous mentions to buy his book "Yeager," he expresses a love for fishing and killing small animals. The WWII, Vietnam, and Cold War veteran makes a few unsettling references to his "drunk" friends—many of whom are pilots—and some of the misadventures he experienced alongside them. Yeager also takes the time to criticize his former employer, NASA.
Here are some of the more bizarre and completely out of left field tweets that give us an unnecessary insight into the 93-year-old American hero:
1. Yeager thinks UFO sightings by fellow pilots are due to them being wasted.
2. As a kid, he killed squirrels and ate their brains.
3. England? Fuck that.
4. Pakistan is great though.
5. He doesn't give a damn about Star Wars.
6. Yeager believes Senator John Glenn's Space Shuttle flight to the ISS was a conspiracy to distract America from President Clinton's sex scandal.
7. Mars? Nah, he's good.
8. Moon? Big waste of time.
9. Yeager definitely got laid at high altitude but he won't kiss and tell.
10. NSA whistleblower Edward Snowden is a traitor.
11. He doesn't give a shit about your nephew's asthma or his dreams of being a pilot.
12. It's a good thing Twitter wasn't around during WWII because things would have gotten messy.
Robin Seemangal focuses on NASA and advocacy for space exploration. He was born and raised in Brooklyn, where he currently resides. Find him on Instagram for more space-related content: @nova_road.