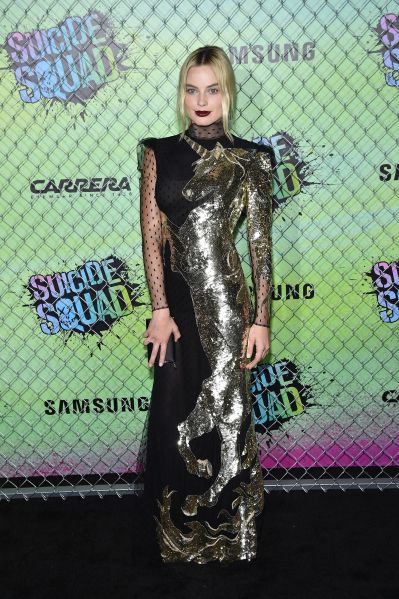 Last night, for the world premiere of Suicide Squad, Margot Robbie wore a tulle and sequin dress. But it wasn't just any tulle and sequin dress, the blonde bombshell was also wearing a unicorn.
It was a designer unicorn to be exact, created by Alexander McQueen's Sarah Burton and it was paraded down the Fall 2016 runway on a totally sheer gown. For this event, Robbie's unicorn was a modest one, appearing on a fully lined dress with a high neck, long sleeves and a floor-sweeping hemline. There were no midriffs bared here, and certainly no hints of cleavage.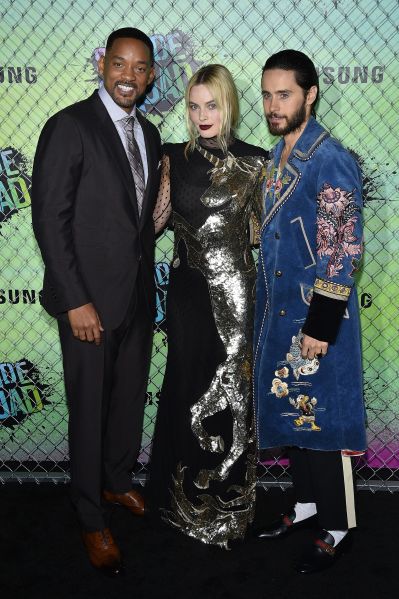 At the premiere, Jared Leto attempted to upstage Robbie, wearing a blue velvet duster coat, embroidered with roses and a few wild-looking flowers. His attempt, which was designed by Gucci, was clearly unsuccessful. And please, don't even get us started on Will Smith's suit and tie; it simply doesn't stand up to the competition.
Perhaps Robbie's dress was a nod to the fact that she is maybe (or maybe not) 26 years old, as she claims. And as Vogue insists. Her tousled updo and bold punch of dark lipstick helped insist that she's a cool 20-something and that she's definitely not 30. Maybe she chose the frock for its endless Instagram opportunities, which is nothing to be ashamed of.
Regardless, we'd like to commend her on a dress well selected.