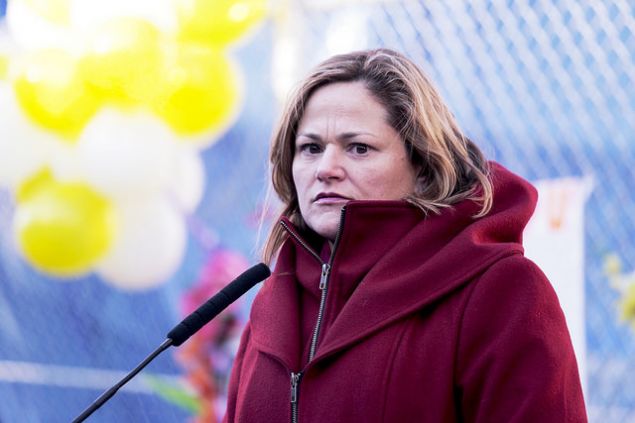 Council Speaker Melissa Mark-Viverito—who once vowed to break with the authoritarian approach of her predecessor, Christine Quinn—argued today that it would not be "responsible" to let bills with majority support to become law.
Mark-Viverito made the declaration at City Hall today, while pushing back on questions from reporters about a package of controversial police reform bills that have gotten bottled up in committee. Jointly known as the Right to Know Act, the bills would obligate cops to provide extensive identification in stops that don't result in a summons or an arrest and to inform civilians of their constitutional right to refuse a search.
The measures have  33 and 28 of the Council's 51 members as co-sponsors, respectively, but Mark-Viverito defended her decision to block either from getting a vote.
"Every single bill that has 35, 40 sponsors automatically becomes law—that's not the way it works in this legislative body," she told the Observer. "It's not just a stamp saying '35 votes—it becomes law.' That is not a responsible way of legislating or governing."
Retiring NYPD Commissioner Bill Bratton lambasted both bills as "unprecedented intrusions" into police work at the single hearing they received last year, and Mayor Bill de Blasio threatened to veto them if they passed. Sources told the Observer in January the de Blasio-aligned speaker was using the power and influence of her position to prevent either from advancing out of the Committee on Public Safety—a move reminiscent of Quinn, but contrary to the promises of openness that Mark-Viverito made while seeking the post in 2013, and to the spirit of the Council rules reform measures passed two years ago.
Instead, Mark-Viverito cut a deal with Bratton last month whereby she would continue to prevent a vote on the Right to Know Act, and the NYPD would incorporate a few elements of the bill into its training and Patrol Guide. Incoming police commissioner James O'Neill has pledged to keep those changes in place.
The speaker defended the arrangement today, and insisted she was not obstructing the bill, but testing the reforms the administration agreed to.
"I've been very clear, I think this has been discussed ad nauseum in the press, I have never said that legislation is off the table," she said. "I have clearly said we have been engaged in two years of negotiations where, after initially the police department indicated that these were anti-cop bills, has accepted, and embraced, and will be implementing very shortly a lot of the elements of the bills. I would like to see that take its course."
"I think asking for a six-months-to-one-year window, to see how things are moving along, I think is reasonable," she continued
The Observer obtained an email last month that the Right to Know Act's sponsors, Bronx Councilman Ritchie Torres and Brooklyn Councilman Antonio Reynoso, sent to their colleagues. The two councilmen denounced the speaker's deal as diluted and toothless, as it lacks the force of law, and vowed to press ahead with their legislation.
To force a floor vote against the speaker's wishes, Reynoso and Torres would need a majority of their 51 colleagues to back them in a parliamentary maneuver called a "discharge of committee." But even then, it would take weeks for the Right to Know Act to get a vote, and Mark-Viverito would have ample opportunity to try to dissuade and coerce Council members from supporting it.
The speaker repeatedly said today she had been in multiple "conversations" with the Right to Know Act's sponsors and supporters.