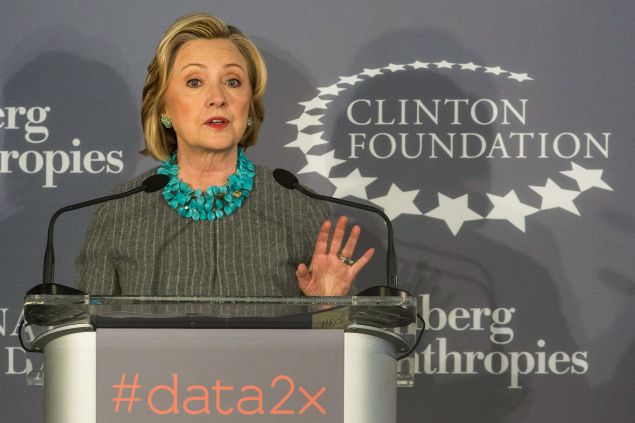 Hillary Clinton and her media allies have been working overtime to put out numerous fires that continue to pop up and spread during the final weeks of her campaign for president. Recently, the flames have gotten more difficult to smother as reports of Clinton's frail health have bled into the mainstream media, despite the unanimous and unilateral decision by the MSM to treat anyone who even raises a question as akin to a Holocaust denier. (On Sunday night, for example, Huffington Post fired contributor David Seaman and deleted his columns simply for linking to a Hillary health video that's been viewed four million times.)
Julian Assange stoked more flames when he suggested a murdered DNC worker was the Wikileaks source for the DNC hack. Most recently, the Associated Press released a blockbuster story concluding that more than half of the people Clinton met with as secretary of state gave donations to the Clinton Foundation.
Despite these ongoing scandals, Clinton's close yet questionable ties to media outlets such as Google, CNN, PBS and The New York Times have seemed to pay off. These entities have gone out of their way to censor negative stories about Clinton, particularly ones involving the Clinton Foundation. There's one common thread though these media outlets suppressing harmful Clinton stories all share: they've donated to the Clinton Foundation.
On Aug. 23 the Associated Press broke the story citing that more than half the people outside of the government that Clinton met with as she served as secretary of state gave money to the Clinton Foundation, either personally or through companies or groups. The AP report concluded that 85 out of 154 people she met with from the private sector either donated to her charity or pledged commitments.
The AP drew this conclusion by reviewing some of Clinton's schedule from when she was secretary of state. They obtained these records after a federal judge ordered the release of them stemming from a lawsuit they filed against the State Department in 2015. (The AP is reporting that the State Department won't finish releasing the rest of Clinton's schedule till after the presidential election despite their request for it by October 15.)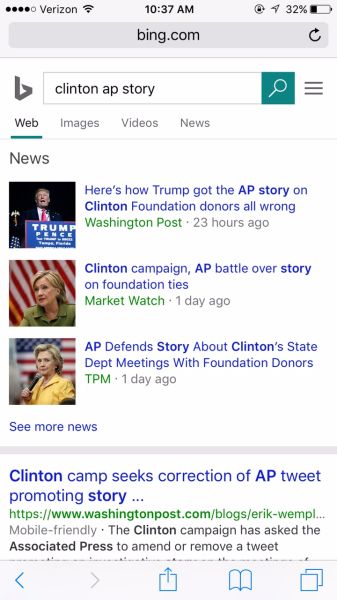 This bombshell, compounded with Clinton's use of a private server as secretary of state, is fueling allegations that she was involved in a pay-to-play operation. But the story has been suppressed by Google in its searches—just as it has done in the past with stories that paint Clinton in a negative light.
When searches related to this story were entered into the Google web browser last week, results for "Clinton AP story" were limited to stories from leftwing publications discrediting the story—including this report from Vox: "The AP's big expose on Hillary meeting with Clinton Foundation donors is a mess."
The same terms in a Bing search yielded more balanced headlines, like "Clinton campaign, AP battle over story on foundation ties" from Market Watch.
Once again, Google has gone out of its way to censor damaging reports about Clinton.
When users typed "media coverage of the Clinton Foundation" into Google it returned results such as CNN's "Associated Press Botches Hillary Clinton report and response." In Bing, one gets articles such as "Mike Pence Slams the Media and Clinton Foundation in Virginia."
The New York Times has taken its censorship a step further; the day after the AP story broke there was no mention of it in their entire paper and this has remained the case until late Monday afternoon—a week later—when Maggie Haberman finally mentioned that "[Clinton] and her campaign have denounced an Associated Press report."
On Sunday, CNN's "Reliable Sources" host, Brian Stelter, defended Clinton and attacked AP's Executive Editor Kathleen Carroll. Instead of questioning Clinton's dubious conduct as Secretary of State, Stelter questioned why the AP published the story in the first place and labeled it as "misleading."
Paul Joseph Watson, editor-at-large at Infowars.com, is responsible for bringing concerns of Clinton's health into the mainstream media. Watson consulted doctors and detailed the evidence of Clinton's health problems in a YouTube video that has gone viral amassing almost four million views. Since then, many well-renowned doctors, neurologists, and radiologists have expressed concerns for Clinton's health publicly.
Beth Israel Medical Center's Dr. Bob Lahita made a compelling argument for Clinton's health concerns and called for Clinton to be assessed by an impartial panel of physicians during an appearance on FOX (FOXA) Business. Dr. Drew said in an interview with KABC "McIntyre in the Morning" that he's "gravely concerned" about her health. Suspiciously, that episode has been removed from KABC's website and Dr. Drew's show on HLN—owned by a division of Time Warner which is the same parent company that owns CNN—was canceled eight days after he made the negative assessment about Clinton's health.
On the other hand, CNN attempted to debunk harmful reports about Clinton's health by suggesting that concerns for the Democratic presidential nominee's health are both a conspiracy and sexist. And once again, Google has gone out of its way to censor these damaging reports about Clinton. The tech company is suppressing stories about Clinton's health in its search bar.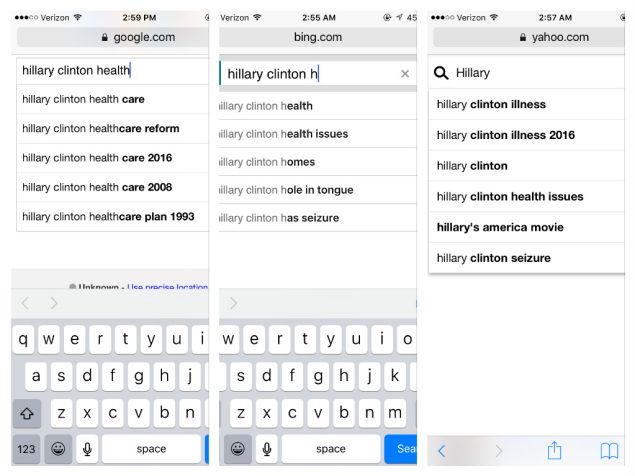 When you type in "Hillary Clinton's he", the auto-complete suggestions pull results that have nothing to do with the trending issues of Clinton's personal health, such as "Hillary Clinton's headquarters" or "Hillary Clinton health plan." When the same terms are put into Bing, several suggestions regarding the trending topic of the state of her health appear, such as "Hillary Clinton health issues" and "Hillary Clinton has seizure." In Yahoo's search engine, simply typing "Hillary" pulls up suggestions such as "Hillary Clinton illness," "Hillary Clinton health issues" and "Hillary Clinton seizure."
Julian Assange opened a can of worms when he suggested in a recent interview that murdered DNC worker Seth Rich was the Wikileaks source for the DNC hack that resulted in the resignation of three top level officials at the Democratic National Committee. This fueled Clinton body count stories on the Internet that list people tied to the Clintons who have died under freak circumstances.
Google has suppressed these stories in their search engine as reported on Fox News Channel's Fox & Friends. When you type in "Clinton body," car repair shop results pop up. The same search terms in Bing and Yahoo pull up results such as "Clinton body count" or "Clinton body bags." The report also notes that when you type in Bernie Sanders or Donald Trump's name into Google's search engine, both positive and negative stories appear.
A report came out Friday revealing that PBS's "Newshour" removed negative comments about Clinton in Judy Woodruff's interview with Green Party presidential nominee Jill Stein. A Stein supporter discovered the edits after he compared the FaceBook Live version with the broadcast and YouTube versions. The edits PBS removed from the interview included Stein's criticism of Clinton's support for the Trans-Pacific Partnership and Obamacare.
"Newshour" has done one report about the Clinton Foundation scandal in a softball piece titled "A glimpse inside operations at the Clinton Foundation." In the segment, Woodruff's co-host Hari Sreenivasan, conducted interviews with James Grimaldi of the Wall Street Journal, Columbia University's Doug White and Clinton Foundation President Donna Shalala. A Media Research Center study found that the Clinton Foundation "charity fraud" story has only received a total of four minutes and 24 seconds devoted to it from the three big networks this year.
For comparison sake, the incident in which Donald Trump allegedly pretended to be his own publicist—in 1991—garnered eight times more coverage.
To understand why The New York Times, Google, CNN and PBS would censor negative information about Clinton, particularly, stories revolving around the Clinton Foundation scandal, all you have to do is follow the money. All of these companies have donated—in some cases up seven figures—to the Clinton Foundation. Carlos Slim, Chairman & CEO of Telmex, the largest New York Times shareholder, donated between $1 and $5 million. Google donated between $500K and $1 million.
The parent company of CNN, Time Warner Inc., gave between $50k to $100k to the foundation. (Woodruff, who serves as co-host and managing editor of PBS "NewsHour", gave $250 to the foundation's Clinton Haiti Relief Fund in 2010.) It's no wonder these media entities are reluctant to report harmful stories on Clinton, specifically ones surrounding the Clinton Foundation, since in doing so they could be implicating themselves in this evolving scandal.
Her charges of a 'vast right-wing conspiracy' were false. It was not a conspiracy, and President Clinton's false statements about his affair lead to his impeachment.
A deeper look into Google's ties to Clinton, specifically while she was secretary of state, exposes more reasons why the tech giant has a vested interest in censoring the AP's bombshell story. Wikileaks exposed that Google teamed up with Clinton's State Department to overthrow Syrian President Bashar al Assad in 2012.
In leaked emails between Clinton's staff and Google executive Jared Cohen—who worked for Clinton at the State Department before joining Google—Cohen details Google's plan to get involved in the region and to boost Assad defections. The exchange proves that the tech company worked in concert with the State Department to topple Assad's government. Further proving Google's involvement with US foreign policy, Cohen helped draft the State Department's 21st Century Statecraft Initiative, which called for using Internet and social media technologies to pursue diplomatic goals.
Google's controversial relationship with Clinton has raised enough eyebrows that the Oracle Corporation is using its resources to launch the Google Transparency Project. The mission is to shed sunlight on Google's relationships with Clinton and President Barack Obama. The GTP has already produced a series of investigative reports on Google including one that reveals that there were 18 former State Department officials that joined Google as executives and five Google officials who acquired senior positions at the State Department.
Clinton has brushed off reports of her bad health as nothing more than conspiracy theories. In 1998, Clinton used a similar technique to bat down allegations that then President Bill Clinton was involved in an extramarital affair in the White House with intern Monica Lewinsky. We now know that her charges of a "vast right-wing conspiracy" were false. It was not a conspiracy, and President Clinton's false statements about his affair lead to his impeachment.
Hillary Clinton's new catch phrase in response to the AP's explosive report is that there's "a lot of smoke" but "no fire." If that's truly the case, one really has to wonder why there's an outright refusal to release the rest of her schedule from when she served as Secretary of State until after the November presidential election.