If you want to know someone's true age, just take a peek at their hands. As most people know, it's the part of the body that acts as a lie detector. For example, if someone has the botoxed face of a 30-something but the hands of a 60-something, they're definitely closer to the latter age.
However, for New Zealand designer Karen Walker, aged hands are something to celebrate, not to shun. "Hands can be every bit as expressive as faces, can speak of a life well-lived and they absolutely have their own stories to tell." That's why the designer decided to debut her latest jewelry collection on the hands of two elderly ladies.
Meet the models, Phyllis Sues, 93, and Roberta Haze, 78, both of whom are definitely young at heart. Sues is a former Ballets Russes star who celebrated her 90th birthday by going skydiving; Haze was a dancer on Broadway in the '60s and still has the spunk to prove it.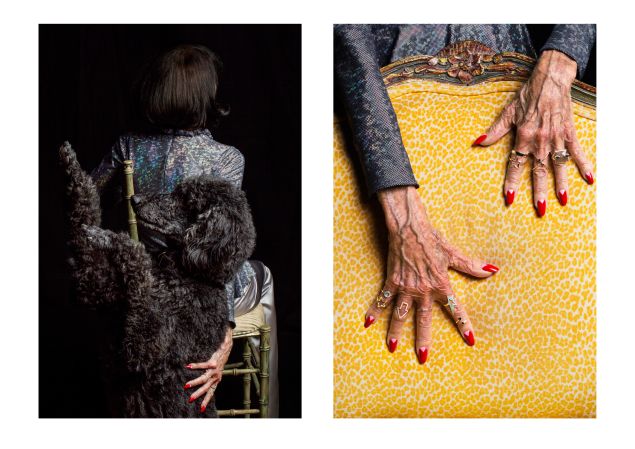 Both models were photographed by Ari Seth Cohen, founder of the blog Advanced Style, which documents the sartorial choices of stylish seniors. "One of the things that makes Ari an amazing portrait photographer is that he has real relationships with his subjects–that's one of the reasons why his images are so captivating. Ari's relationship with Phyllis and Roberta is genuine and important, built on trust and respect; that comes through in the images," Walker explained to the Observer.
The photographer also had a strong grasp on what Walker wanted to portray with these campaign images. "Our hands hold such a depth of character. I remember watching my grandmother's hands as a little boy, cooking spaghetti or flipping through the pages of her weekly mystery novels. Hands have the ability to tell a story without revealing too much," said Seth Cohen.
Sues and Haze were given creative license to style the jewelry as they liked for these pictures, so naturally, the models layered on the baubles. Walker's jewels were made to evoke a feeling of everyday luxury, with a bit of a quirky spin. The arrow ring is a signature for the brand, while the mood ring (which reads love or hate, rather than having a stone change color) is a cheeky fan favorite.
This isn't the first time that Walker has hired older models to show off her designs. In 2013, the designer first partnered with Cohen to cast her eyewear campaign with Advanced Style-approved ladies, including makeup maven Linda Rodin. She explained: "The idea behind [that] eyewear campaign wasn't about using older ladies or making a statement about age, it was about portraying optimism. The women in our campaign all have big plans and are passionate about life… As a result of the campaign we had a lot of ladies of an older age bracket coming to us and saying 'thanks for making us visible.' On the other hand, all the younger ladies were saying 'I want to be like that.'"