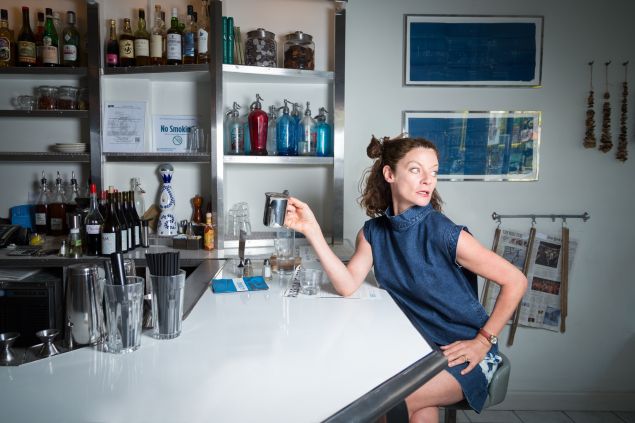 A bolt of lightning hit the Empire State Building while Michelle Gomez was being interviewed. The 49-year-old British actress, best known for as the villainess in cult shows like Doctor Who and Gotham, seemed barely fazed. She's used to creating a spark.
Case in point: Check out her Instagram Msgomez66. She's dazzling. Her pale blue eyes have a darker ring of blue around the iris, which the camera adores, and she can't help but leap off the screen. A compliment is offered: "I think it's because you have rather piercing blue eyes and that they're very—"
"Chilling," she offers.
"Yes. They jump off the screen in a certain way that is—"
"Terrifying."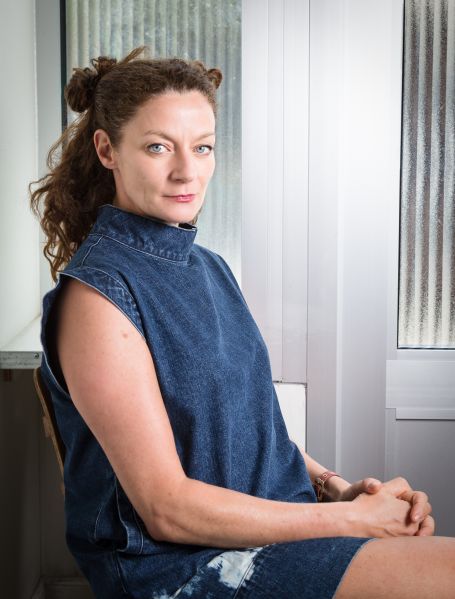 Gomez was born and raised in Glasgow and saw her first play at age 7. "I actually remember the show," Gomez recalls as she sips water at Russ & Daughters Café. "It was a production of Kiss Me Kate. The little narcissist in me, even back then, thought they were all singing to me. I knew from a very early age that if I could possibly make money out of just falling down, falling over for a living, that might be the job for me."
Her adult career began with Scotland's rogue bard, Irvine Welsh. "I did Trainspotting before it was the film, and then there was a trilogy called the Acid House Trilogies. Then there was another thing, Head State, and another play and then Wedding Vows. I wouldn't say I was his muse or anything, by any stretch of the imagination, just to be clear. I didn't quite know why that happened, but I'm glad it did, very glad."
Television roles followed her early success in films and on stage, as her genius for physical comedy was recognized. Gomez starred as Janice, the lonely wife of a polyamorous footballer, in The Book Group, a delightful and hilarious Scottish show that ran from 2002 to 2004. Her co-stars included Rory McCann, better known as the Hound on Game of Thrones. The Book Group's creator, Annie Griffin, cast Gomez after seeing her perform in an Ibsen play. Gomez was supposed to play the role straight, but Griffin saw her and told her, "It was one of the funniest things she'd ever seen."
Other shows followed, including the popular Channel 4 show Green Wing. Gomez played the increasingly unhinged HR rep Sue White, who regularly barks like a dog, wears a squirrel head and tail when asking for a promotion and shows up at a wedding wearing the same dress as the bride.
[youtube https://www.youtube.com/watch?v=op3VWN5dEd0]
Gomez has just returned from Wales—Swansea to be exact—where she was filming The Collection, a new show for Amazon U.K. The show is set in Paris post-World War II as the city rebuilds; Gomez plays a fashion editor based on style icon Diana Vreeland. The publicity shots from the show make all the characters look angry, but, as Gomez explains, it's simply hunger. "They all just need a biscuit."
Gomez spends much of her time in Wales, specifically Cardiff, because that's where she films Doctor Who. "Wales is really beautiful," Gomez says. "Ideally, I expected to move to New York and then spend my entire professional career on planes."
Like other U.K. actors, Gomez and her family (she is married to Jack Davenport, and they have a son, Harry) decided that living in New York would be ideal for their careers. She currently stars as The Lady in Gotham, as a British sounding lady who is the farther thing from proper. "If you're a British actor and you still have an active career in London or in Britain, it's a much easier commute to bounce from New York to London and then from New York to L.A. We're literally in the middle—we'll be able to bounce East and West. Plus my in-laws, my son's grandparents, live in Manhattan. We have family here. Logistically and personally, it really works for us."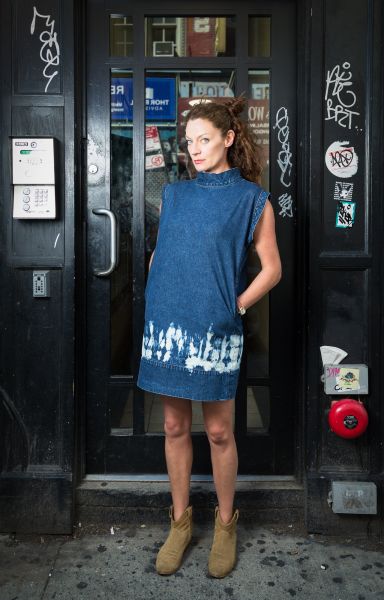 Her other role in Wales, of course, is Missy on Doctor Who. Missy is the Gomez incarnation of the Master, a long-running nemesis of the Doctor. Until Gomez took over, the role had always been played by men. Now the character belongs utterly to Gomez, outfitted in Victorian dress as she and the Doctor battle over the return of the Cybermen and team up to fight Daleks and their creator, Davros. This March, Gomez was nominated for a BAFTA Award, the first time a Doctor Who supporting actress had ever been put forward for this honor. Since the Doctor nearly always has a female companion, her nomination is extraordinary and a long time coming.
Missy might be the greatest current role for a woman in television; she is brilliant, mad, outrageously funny and capable of terrible cruelty as well as total insanity.
Missy might be the greatest current role for a woman in television; she is brilliant, mad, outrageously funny and capable of terrible cruelty as well as total insanity. But Gomez's Missy is the first time that the character is faceted beyond simple enmity with the Doctor. The two characters grew up together, and Gomez sees the relationship as "a friendship that just drifted, it just broke. We all have them. As children we get these very close, intense relationships, then you know you move to a different school, you move to a different city and you come back to find that person 10, 15, 20 years later. The very essence of your friendship is still there, but you've changed and can it stand the test of time? What does that look like today? That was all in there for me."
[youtube https://www.youtube.com/watch?v=ENsEenv8YyQ]
Missy is crazy but endlessly watchable and arguably the best character in the critically acclaimed Season 9. "If you look at my career, there's a little bit of all of it in Missy. That's because possibly she is playing some mad psychotic schizophrenic, so I get to just turn up six senses all day and never quite know where she's going to go. From silly voices, to falling down, to actually having some very touching moments and dramatic moments as well. For an actor to play Missy is going to be one of the best roles I'll ever have because I get to do everything." She then adds dryly, "In a corset."
Gomez credits Steven Moffat, outgoing Doctor Who showrunner, with creating such a dynamic creature. "I don't really have to do that much actually other than say it and also because it's such a strong visual. That costume is doing a lot of the work for me, and I really feel like it's probably one of the easiest jobs I've had, in that there's no preparation. Steven has observed this part beautifully, and I really do just get to sit and go."
Missy exploded into the science-fiction scene; go to any Comic Con from Long Island to London, and you will see dozens of female cosplayers wearing homemade versions of Missy's Victorian dress and hat. Gomez is thrilled to hear it: "That makes me so happy because you know she's had quite an impact, old Missy, because out of two series that have run with Missy in it, I have done just four episodes. I get to run and shake my booty and run back home again and have this amazing impact. It just blows my mind. I'm very, very grateful."
Missy is also now a collectible, sold alongside Daleks that metallically intone "Exterminate!" What's it like to become a doll?
'I never thought I'd be a 49-year-old action figure,' says Gomez. 'It's just like literally breaking the mold. I could do anything that the 29-year-old version of me can do. I could just do it with a bit more wisdom. It's just wonderful. I think it sends a good message out that anything can happen if you're still in the game.'
"Why, it's just fucking brilliant!" Gomez exclaims. "That caught me directly because I never thought I'd be a 49-year-old action figure. It's just like literally breaking the mold. I could do anything that the 29-year-old version of me can do. I could just do it with a bit more wisdom. It's just wonderful. I think it sends a good message out that anything can happen if you're still in the game."
Then Gomez shows a flash of her bawdier side: "Not the game of prostitution obviously. Then again, we are all basically, if you think about, it a hired gun. That does at times make us into the high-class whores at time because there are things we should not be doing, but if you pay us, we'll do them."
Just before the inevitable photo shoot, Gomez imagines her dream TARDIS journey. The TARDIS is the blue police box in Doctor Who that whisks travelers through space and time. Where would Missy go? "I'm always asked where would I go with my TARDIS: Missy sandwiched between Daniel Craig and Peter Capaldi. Make it happen! Only in America could that happen, because America still has that 'Why not?' attitude. If the Master had the TARDIS, that's where I would go."