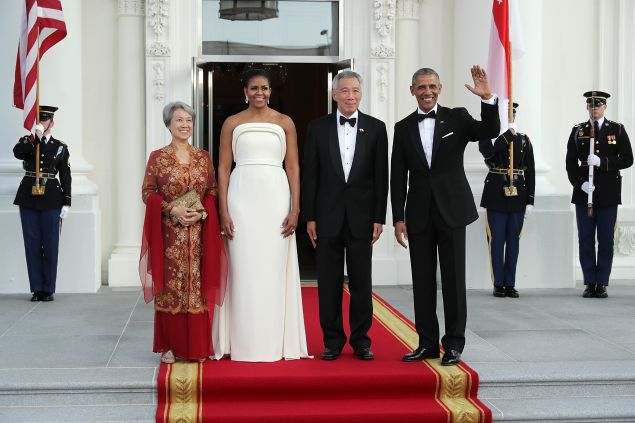 Stepping out of the White House for the Singapore state dinner on Tuesday, Michelle Obama stunned in a one-of-a-kind ivory gown by up-and-coming designer Brandon Maxwell, but there was nothing novel about her designer choice. Maxwell is just one of many young designers the First Lady chose to wear this year, championing their talent on the global stage while cementing Obama's status as a fashion icon.
Maxwell, who is also Lady Gaga's stylist, was a 2016 finalist for the LVMH Prize for young designers. The 31-year-old was in Austria on Tuesday with Swarovski, for winning a Council of Fashion Designers of America award, when he learned Obama was wearing one of his designs, a moment that will forever increase his name recognition around the globe.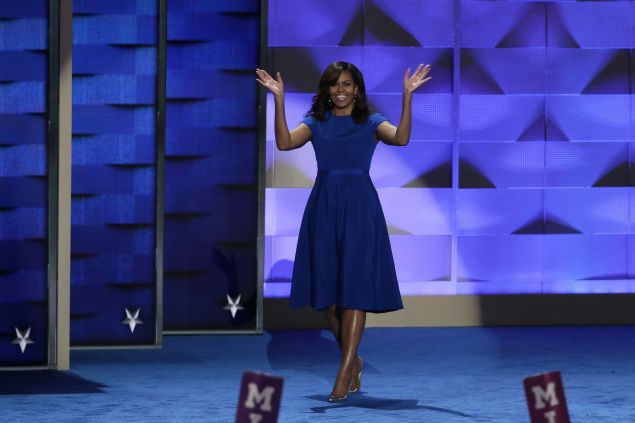 Just a week earlier, FLOTUS gave a nod of approval for another young talent. Former Project Runway winner Christian Siriano created the cobalt blue frock she wore while delivering a powerful speech at the Democratic National Convention. Siriano also designed the black, full-skirted dress worn by the First Lady at a memorial service for the five Dallas police officers who were killed last month.
And the list goes on. Michelle gave Jason Wu a major boost in 2009, when she wore his iconic one-shouldered gown to the first Inaugural Ball, and then again in 2013. Since then, the young designer has become a staple in Obama's public wardrobe. The First Lady was radiant in a custom Jason Wu gown at the state dinner for Canada's prime minister, Justin Trudeau in March. That midnight blue dress featured a whimsical floral jacquard pattern, radiating the youthful energy of the 33-year-old designer.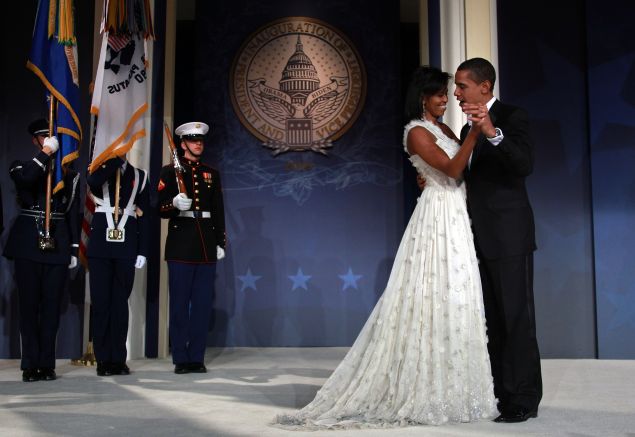 On a June trip to Morocco, Obama's paisley handkerchief dress raised the profile of designer Joseph Altuzarra. For the Building a Healthier Future Summit in May, she chose a breezy chiffon number designed by Prabal Gurung, the young designer whom FLOTUS frequently wore throughout her years at the White House.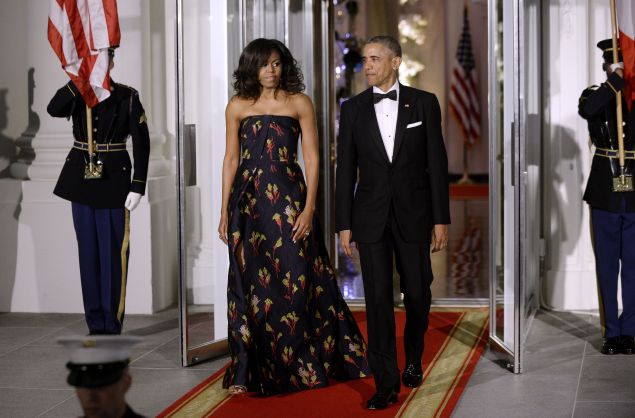 Shortly after hearing that the First Lady had wowed in his design, Maxwell posted on Instagram with the comment, "A very proud moment for me and my team," a statement sure to be repeated by the young designers lucky enough to be selected by Obama before she moves out of the White House this November.