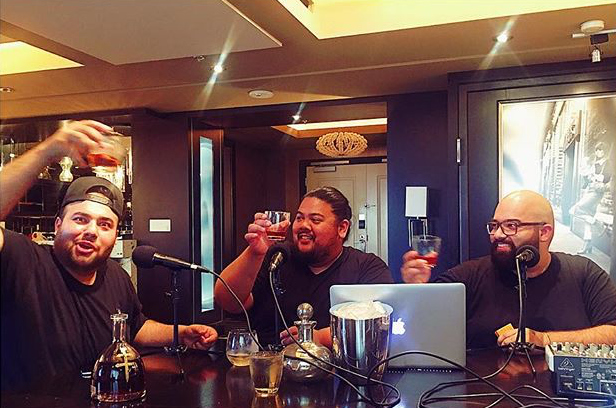 Eggslut boss Alvin Cailan and Badmaash ballers Nakul and Arjun Mahendro have launched their Super Amazing Restaurant Show podcast, and it's loose, lively and fun in the way that so many podcasts from creative people are not. (There are few things more disappointing to me than learning that a writer, filmmaker or chef I admire is horrible at podcasting, which, it seems, requires a rare and special skill.) Super Amazing Restaurant Show is bold and, at times, infuriating—which makes it worth a listen if you care about eating and drinking in Los Angeles.
Cailan and the Mahendros know that they might sound like ridiculous assholes, but having sprawling conversations that meander from the sensible to the over-the-top is the point of this podcast. The young restaurateurs want you to experience what it's like when they're out drinking and having long, booze-fueled discussions about their industry.
So let's start with some of the ridiculous things they posit in their first episode: Saying that fermentation-funk slinger Baroo serves lentil bowls is wrong, the podcast's analysis of the restaurant is reductive to the point of being hilarious, and not visiting the Hollywood strip-mall spot partially because you're worried about a 45-minute wait for your order makes you sound willfully uncurious about innovative food in your own city. (Go early—it's not a big deal.) Saying that you aren't planning to visit The Cannibal because it's all the way in Culver City is silly when, as Eater editor Matthew Kang tweeted, you can easily take the Metro from downtown.
Casual-cool is king.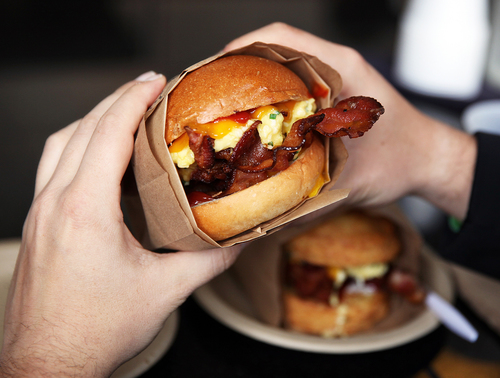 Explaining how much you care about hospitality by saying that you've made special sandwiches and given other VIP treatment to guys who show up in post-coital bliss is a little cringeworthy. But it's also on brand—Eggslut, after all, once called one of its sandwiches the "Bone Me." Former Eggslut chef de cuisine Johnny Lee, by the way, is launching a highly anticipated Hainan chicken restaurant named Side Chick. 
Despite what might seem like a DGAF attitude, Cailan's a serious guy when it comes to showcasing the food he believes deserves to be in the spotlight. He's a smart operator with fine-dining chops who must know he's won the lottery every time he sees the 20-plus-deep line of models, moguls and misfits waiting patiently for an egg sandwich at Grand Central Market or at his new outpost in The Cosmopolitan of Las Vegas.
At his Unit 120 and Amboy in Chinatown, Cailan has been using the resources, fame and street cred he's built up to incubate new-school Filipino pop-ups, provide a temporary home for Jewish guys making stoner Chinese food, mess around with burgers and Detroit-style deep-dish pizza, and throw raucous industry-heavy Thursday night parties where Lee sells out of his chicken. (Best Instagram comment I've noticed about Amboy was some guy seeing the pizza and being like, I've been looking at all these pictures on all these different feeds, and I still don't know what Amboy is.) 
He's using his tremendous power in a badass way, setting the table for the future of L.A. dining while also cooking at the biggest music festivals like Coachella and FYF (the latter of which will showcase his new Easy's burger collaboration with nightlife player Jeremy Fall). The creative collective he's assembled is like no other in L.A. They seem to be at the peak of their powers, and they're only getting started.
You know how Steve Cuozzo at The Post wrote about how fine dining is back in New York and then wrote about how the buzziest restaurants hate old people? Well, Cailan and his swaggering band of millennials don't seem to give much of a fuck about preserving fine dining or catering to old people. (When I saw Lee at a family-friendly Chinatown Summer Nights event on a random Saturday, he explained to me that there were more millennials at Unit 120's Thursday night parties, in case I was wondering.) They're also refreshingly prone to talking smack in a city with a rah-rah restaurant scene. 
The podcast is proof: Super Amazing Restaurant Show's debut episode rips apart the service at Cassia (L.A.'s consensus best new restaurant of 2015), and Cailan, who digs the food at Cassia, admits in the second episode that he's gotten a lot of crap for this.
Cailan also points out that paying for expensive Mexican food when you grew up in Pico-Rivera doesn't feel quite right. The podcast reveals that you probably shouldn't try to eat the spiciest-level chicken at Howlin' Ray's even on a dare. The Mahendros explain how they got banned from a prominent downtown bar (they don't name the establishment, but all signs point to The Varnish).
In the Valley, people don't want to be bothered with caste systems.
If anything, I hope Cailan and the Mahendros push the boundaries further and talk more about race and class. These are, after all, hefty ethnic guys in the land of skinny hipsters. They are kings of downtown, but they don't look the part. (As diverse as Los Angeles is, downtown L.A.—where Badmaash and Eggslut are—often reminds me of Murray Hill.) Is this a factor when it comes to getting proper service from scenester mixologists at certain lounges? Maybe not, but I'd be interested in hearing their thoughts.
And if you're going to discuss how Bon Appetit honored Baroo, Cassia and Ricebar in its list of 2016 best new restaurants, it's probably worth bringing up the whiteness and boringness and wrongness of the magazine's past choices in L.A. Maybe this is too inside baseball for even Cailan and the Mahendros, but remember the irrelevant (and since shuttered and relocated-to-a-hotel) Alma being named the 2013 best new restaurant in the country? (At least the magazine made chef Josef Centeno's Bäco Mercat No. 9 the year before. Centeno, who Super Amazing Restaurant Show shouts out in its second episode, has done much more for downtown than Alma ever did, and his Old Bank District restaurants are both worthy destination restaurants and perfect neighborhood spots. But everybody in L.A. already knows that.)
Or remember how the overrated and perpetually annoying Gjusta was the 2015 No. 2 best new restaurant, in a year when Bon Appetit's picks in the country's most diverse dining city were a bakery, a bistro and two Italian restaurants? I'd love for Cailan and the Mahendros to mull over that, or David Chang's stance that he won't eat at "white-person" restaurants when he's in L.A.
But if they decide they want to just keep pounding strong drinks at Bestia (shoutout indeed to ace barman Iluggy Recinos for being the guy restaurant bosses want making their cocktails) or hanging out at The Cosmopolitan and shooting the shit, this podcast will still crackle with attitude. And you'll appreciate how much Cailan and the Mahendros adore their industry and want people in it to grow and succeed. Last thought about Super Amazing Restaurant Show: My first response when the podcast said that Bestia was widely acknowledged as the best restaurant in L.A. was huh? As much as I enjoy Bestia, I didn't think anybody really thought that. Sure, the place is always lit and it might be the consistently toughest reservation in L.A., but best restaurant?
Super Amazing Restaurant Show has made me consider that maybe I'm thinking about this all wrong: Good food in the buzziest setting might indeed be the best restaurant situation for many. Bestia, if you can get a table or seat at the bar, is fucking delicious and fun and makes you feel like you're somewhere special and don't ever want to leave. No reservation? Come anyway, have a few drinks and make some new friends while you wait two hours for a table on a weeknight.
Eggslut, for one, like Kogi before it, has made waiting for your food feel like you're hanging out at a nightclub. It's where 20-somethings on the make gather and eat unhealthy grub before, after or during a long day of drinking. Casual-cool is king, so don't worry about wearing bling unless that's your thing.
Which brings me to . . . Salazar is my favorite new restaurant of 2016 so far—what I may at year's end declare is L.A.'s best new restaurant of 2016—precisely because it's casual-cool, a sit-down restaurant for those who are content to eat at food trucks much of the time but also a sit-down restaurant for celebrities (Kiernan Shipka posted an Instagram comment saying that it's her favorite new place) and families and everyone else. Esdras Ochoa's tacos and grilled meats and sides are on point, and the patio is gorgeous, but the idea that you can come as you are to the hottest place in town is just as enticing.
Related thought: The other night, at 11 p.m. on a Sunday, I went to El Tejano, the new Tex-Mex patio bar and restaurant from the Knitting Factory crew in North Hollywood. This is a place where every hour is happy hour, where $2 more always gets you a second margarita or a "Texas-sized" pour of Shiner Bock. There is queso (and art of a naked woman atop a giant box of Velveeta), and there are hard-shell tacos and a serve-yourself chips-and-salsa station. The energy was off the charts.
Sunday night at this new casual-cool spot felt like Friday night with a sexy, young—yes, millennial—crowd, lingering like there was no place to go at least until their 3 p.m. call time or spin class the next day. Like Salazar, this is a restaurant where a lot of pretty people wear shorts and tank tops while they eat and drink outside.
Maybe it's no coincidence that this place is packed and The Fiscal Agent (which I, oops, called the Coolest New Bar in L.A.) in nearby Studio City closed after less than a year. The Fiscal Agent failed, at least partially, I think, because opening as an exclusive reservations-only lounge and having a guy at the door that looks like a nightclub gatekeeper limits your audience in the Valley, where people don't want to be bothered with caste systems. The Barrel & Ashes barbecue joint below The Fiscal Agent is still thriving, of course. It's a nice casual-cool place to eat greasy food (from a guy who used to run the kitchen at the French Laundry) and crush some drinks.