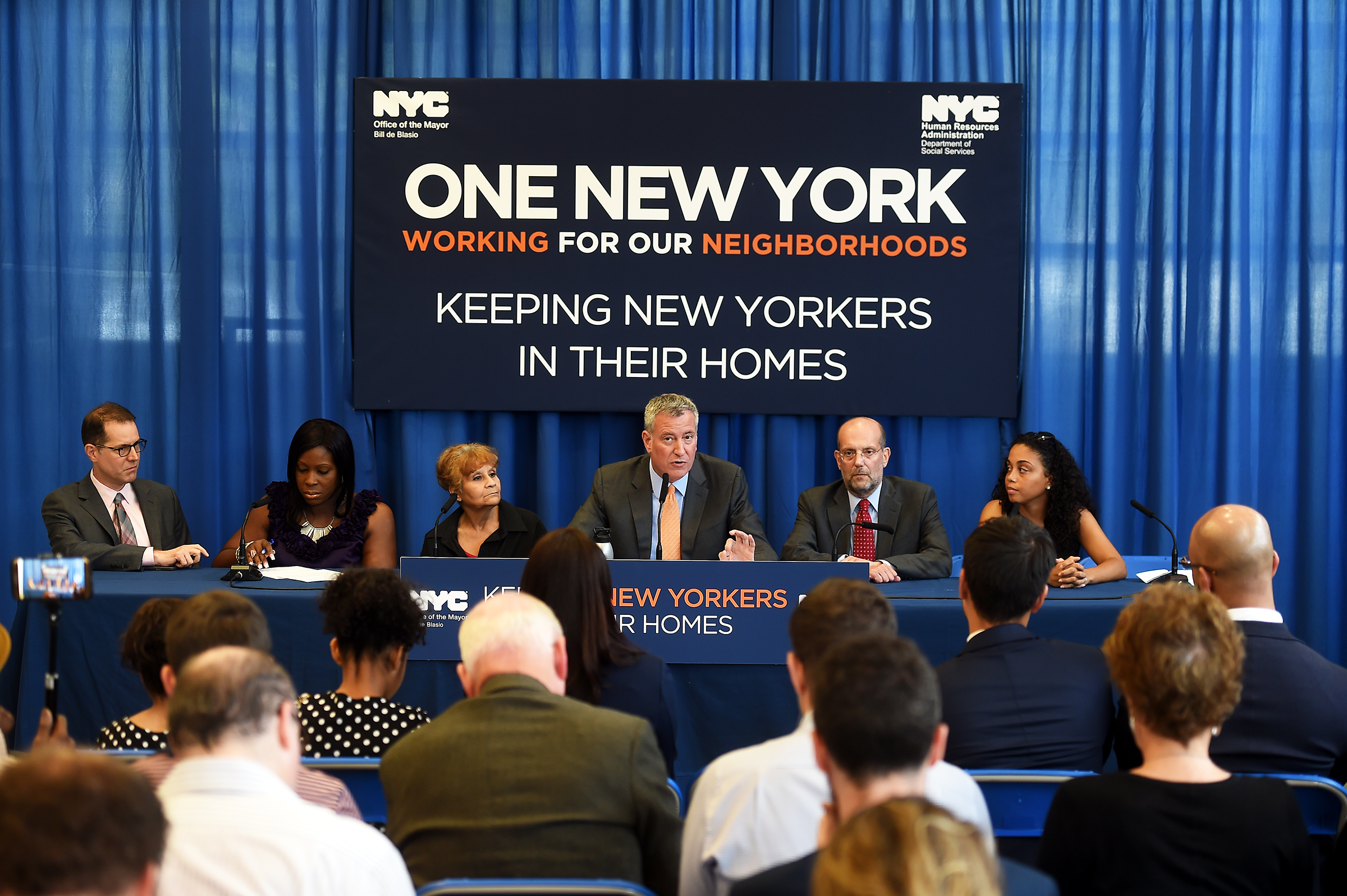 Mayor Bill de Blasio touted city investments in programs to provide lawyers to tenants facing eviction in housing court—but stopped short of endorsing the "right to counsel" that's been advocated for in the City Council.
"The investments we make in legal services is one of the smartest investments we make," de Blasio said today at High Bridge Library in the Bronx. "The best situation is to stop homelessness before it happens."
The mayor was in the Bronx to release the first annual report of his Office of Civil Justice, which was created to help connect people to free civil legal services following legislation from Council Speaker Melissa Mark-Viverito and Councilman Mark Levine. While criminal defendants are guaranteed attorneys, people facing civil actions like an eviction are not—and many battle their landlords in court without any legal representation.
According to the report, only about one percent of tenants in housing court facing eviction had lawyers in 2013. Today, 27 percent have attorneys, the report said. Evictions handled by city marshals have dropped 34 percent since 2014.
But while de Blasio and Human Resources Administration Commissioner Steven Banks said investing in civil legal services was paying off big in terms monetary (it's cheaper to pay a lawyer than to house a family in a shelter) and human (in keeping families from homelessness), he wasn't ready to extend it to everyone appearing in housing court.
Two of the Council members joining de Blasio on the dais today, Levine and Councilwoman Vanessa Gibson, have both sponsored legislation to establish a "right to counsel" for those face life-altering decisions in civil courts—something that has become an increasing concern of many legal professionals, including former Chief Judge Jonathan Lippman. The bill would provide an attorney to those who earn up to 200 percent of the poverty level.
"Clearly I believe the core concept of making sure that people have representation, if they're facing eviction specifically, is very, very important. We're going to keep pursuing that, so that's an area where I'd be open to additional investments," de Blasio told the Observer.  "Beyond that, there's a lot to appreciate about the larger notion. It's very, very costly. It would be a tough budget decision, because it would mean other things couldn't be done."
For now, de Blasio argued, the city should let its investments in legal services "play out" over the course of this fiscal year. "As we find specific opportunities to invest more in stopping evictions, that's where I would make the priority," he said.
After the press conference, Levine said the money the city was investing in legal services was a good start.
"We've made huge headway as the money we're spending has been ramped up and has been proven to be so effective, and as the needs become ever more glaring in this age of anxiety about displacement," he said in a telephone interview.
With 27 percent of tenants covered already, Levine said that number would climb even higher when all the city's new programs were online and with other help pledged for those in neighborhoods being up-zoned through the mayor's affordable housing plan. If  those measures could extend legal coverage to about 40 to 50 percent of tenants, and if the knowledge they may face lawyers dissuades unscrupulous landlords from taking tenants to court, a right to counsel "becomes a very reasonable proposition," he said.
"I do think that this is a worthy investment and one that, by the way, saves a ton of money on the back-end," Levine said, noting the city would spend about $3,000 per attorney but about $40,000 per year, per family in shelters. "It's not a huge leap of faith to see this as financially prudent."