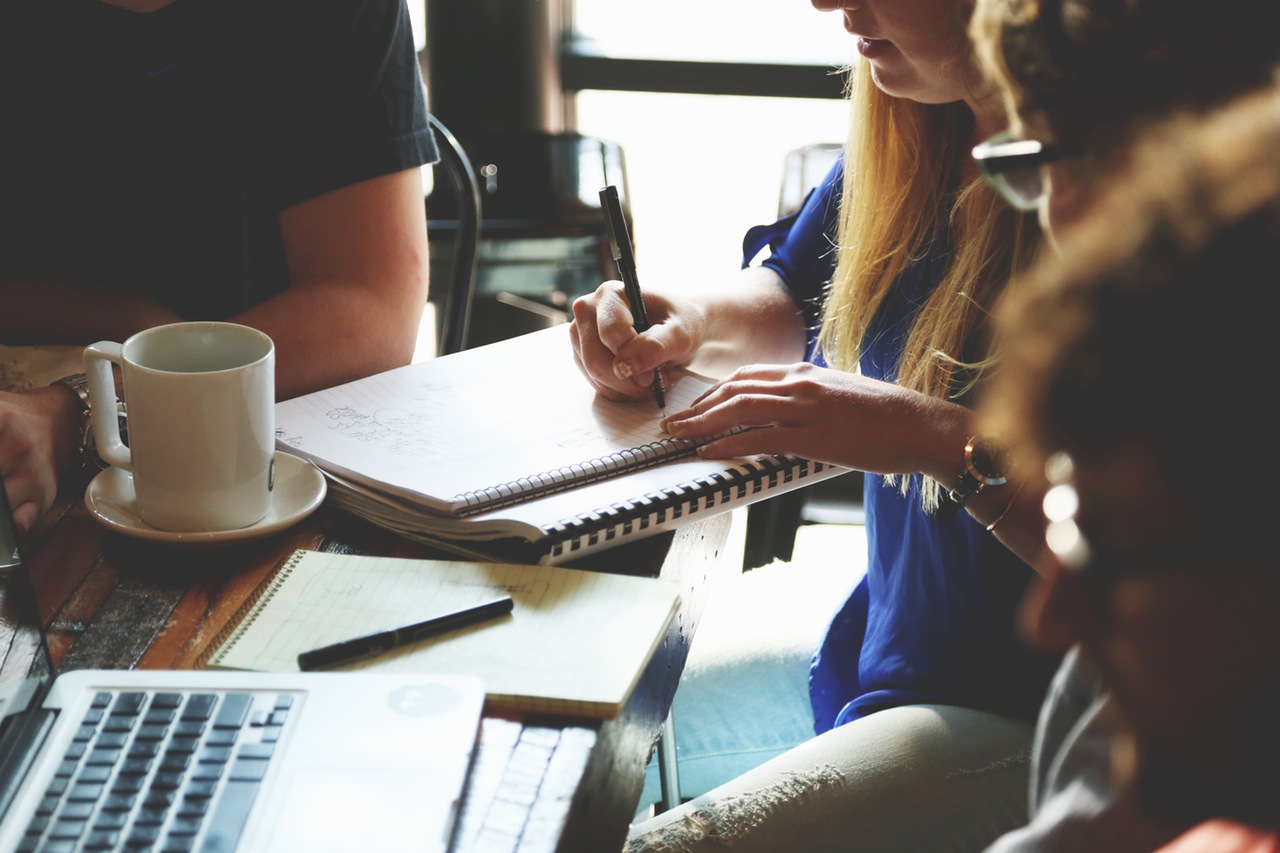 When I first starting writing, I heard people talk about conferences. They said go to this one or that one. It was a good way to "connect." But what was I, a shy guy, going to do at a conference?
I'd also heard the case against conferences. The crowds. The unnecessary expenses. The inspirational but ultimately un-actionable content you tend to get. I just wasn't sure the investment was going to be worth the cost, for me.
But then, on a whim, I forked up the cash for a conference and was blown away at the content and the experience. That was the place where I first started calling myself a writer. I was hooked.
And so it began…
Shortly after that, I found a way to volunteer my services as a writer to attend another conference. I didn't expect much from the conference but wanted to get to know the event planner better.
After four life-changing days, I began to drop some of my skepticism about conferences. And over the course of about six months, I began building a network, organically and somewhat accidentally, of writers and bloggers and people whom I would soon call "friend."
Within a year, I had formed some of the most important relationships in writing career — many of which came from conferences, meetups, and other kinds of events. In fact, it was at a conference in Chicago, eating panini sandwiches, that I met an editor who published my first two books.
In the world of writing, an important step to success is forming the right relationships. In fact, I think this is true in many different industries, but it seems to be especially true for creative ones. Who you know matters. And a great way to meet more people is to attend conferences.
You can't do this alone
This journey towards becoming a writer is not a solitary one. You will need help. You will need guides and mentors and peers to help you find your way.
This is the secret to success that few people like to admit: no successful person ever succeeds alone. Just as Hemingway went to Paris in the 1920s to be around some of the most interesting literary minds of the century, you, too, will have to find a tribe you can learn from.
But if you're not careful, you can totally waste your time and money going to the wrong conferences. You can just go from inspiration to inspiration without any practical application. So it's important that you know how to make the most of your investment, if you decide to register for a conference.
Here are a few goals you need to have when attending a conference if you don't want the experience to be a waste. These are lessons I learned from attending conferences and from hosting one myself, and I hope they help you.
Goal #1: Learn
You need to go to a conference that has the kind of speakers you respect and want to learn from.
I can't learn from someone who hasn't done what I want to do. It's a personal preference but an important one. I must be learning from people who have done the thing that I want to do. Otherwise, I feel like it's a waste.
Also, a secondary but significant goal for me at a conference is to meet one of the speakers. This is easier than it sounds, actually. It doesn't have to be some A-list presenter, but the point of an event is connection with people, and you'd be surprised at how accessible some "celebrities" are.
I first learned this when I attended World Domination Summit and asked, out of the blue, if Chris Brogan would be willing to meet me in person. He replied to my email, saying he'd love to. We played it by ear and ended up skipping a session, chatting in the lobby.
By the end of our conversation, there was a small crowd surrounding Chris, peppering him with questions. I didn't mind. Here was a blogger whom I respected and had only interacted with online, and we had just spent an hour together, chatting. We've been friends ever since. I don't remember the session that I missed, but I know I was able to watch it online later.
How to do this:
Reach out to the person ahead of time to book a meeting at the conference. Once the event starts, everyone will want to meet these people. So just email them a week in advance, asking for 15 minutes of their time.
Offer to buy them a meal or coffee. Something. Demonstrate that you're not a taker, but a giver.
Do this whenever it is convenient for them. Early in the morning, late at night whatever. When Chris emailed me back and asked if I could meet him in the lobby in five minutes, I immediately grabbed my stuff and left the auditorium.
Lesson: You can meet influential and important people at conferences if you are willing to make sacrifices.
Goal #2: Connect
Second, you need to go to conference that has the kind of attendees you want to be around.
Who, exactly, is that?
Well, it should be people like you. When I hosted the Tribe Conference last year, I was amazed at how many people said that was their first conference ever. What made them want to attend it? They didn't know there was a place where they could go and people others just like them.
I've had this same experience as an attendee at several events. There's something powerful when you end up some place and instantly feel like you belong.
For me, I don't want to go some place where I can't tolerate the people attending the event, no matter how good the content is. This is why I don't attend many business and marketing events. I just don't love being around that crowd.
Perhaps the most memorable part of an event is the conversations you'll have in the hotel lobby or outside the bathroom in between sessions. It's the late-night hangouts or random lunches with strangers that will stick with you. So you want to get some place where people "get" you.
What does this matter? Because if you go to enough conferences with jerks and swindlers and people who represent values you don't want, well, some of that just might rub off on you. You are the company you keep, so choose to hang with the kind of people who will make you better.
My first conference, I sheepishly attended a meetup for bloggers and was too nervous to introduce myself to anyone. Nonetheless, another blogger named Kyle whom I knew from Twitter came up to me and said hi. We stayed in touch and became close friends after that (we just had lunch the other day).
Later, he told me that he could tell I was nervous and that's why he approached me in the first place. This is what you want — people who get you, who will make you feel comfortable, even when you are unsure of yourself.
What I learned from Kyle is that we can all do this. So the very next conference I attended, I found someone who looked nervous and was clinging to the wall, and introduced myself. Worked like a charm.
How to do this:
Go to the event (this is important but something we shy people tend to overlook — yes, you actually have to show up).
Find someone less confident than you — because when you're shy and unsure of yourself it's hard to approach someone who is larger than life. So just find someone who is looking around the room, lost.
Say hi to this person and ask them this question: "What are you hoping to get out of this conference?"
If you need more help with this, check out this old interview I did to on how even as a shy guy I am able to meet new people at conferences.
Lesson: You can make lasting relationships at conferences if you go where people like you already are and meet people who are just as nervous as you are.
Goal #3: Apply
Third, you need to go to a conference with the intention of not just learning but of applying what you will learn. This means that the conference must have the kind of information that will make you better.
In other words, the content has to be more than just basic stuff you can Google. It needs to include exclusive teaching or access to the speaker or a brand-new application of it.
When I started attending a few conferences a year, I realized that what I wanted was not just a good experience but a transformation. To take home with me the things that I had learned and be able to apply to my own context.
So I started making a habit of putting into practice the things I learned at the conference before I even left the event. Forget notebooks filled with information you'll never look at again; this is the best way to get your money's worth out of a conference. Just do it before you leave.
I learned this from my friend Danny Iny when I saw him pull out his computer in the middle of a speaking session at a conference and send an email to his assistant.
"What are you doing?" I asked.
"I'm telling my team to start doing this right now."
He then proceeded to tell me his rule for attending conferences: find three actionable nuggets and put them into practice before the event is over. Once you've done that, you can enjoy the rest of the event, guilt-free.
I saw him do this several times throughout the conference and decided to make that same practice a habit.
How to do this:
Decide ahead of time what you want to get out of the experience.
When you hear something that resonates with you, step aside to put the thing into practice. That could mean taking a break or simply emailing yourself a to-do item.
Set a quota (e.g. "I'm going to immediately apply three things I learn at this conference") and give yourself permission to stop once you're done.
Lesson: Going to a conference won't be a life-changing experience unless you are willing to be changed by the experience itself.
Why I created my own conference
There are a lot of conferences and events out there. A lot of paid mastermind groups and summits and experiences to keep you busy for a long, long time. Honestly, it's easy to pick the wrong thing. It's easy to get swept up by where everyone else is going and what everyone else is doing.
But that shouldn't concern you. You need to go where you know you can learn from people you trust, connect with people you respect, and apply information you need.
After attending conferences for the past four years, one thing struck me as a writer. There aren't many options available for writers and creatives who want to thrive in the modern age. There aren't many places that help you understand where to begin, who to connect with, and what plan to follow after you leave the event.
In fact, I knew that the kind of conference I needed when I first started writing did not even exist. So I tried to cobble together some disparate experiences by attending a number of different events, but that became harder and harder to do year after year.
So I decided to create my own.
When people come together, life change happens. One person told me, it was "the best conference" they'd ever attended. Another told me it was the only one they'd ever attended.
But the truth is for a conference to make a difference, it has to have the right people, with the right message, delivered in the right way. Otherwise, you will waste your money.
That's what the Tribe Conference is all about. It's a place where writers, creatives, and artists can gather to share their messages and grow in their craft. It's an event that gives you the practical known-how and inspiration to take the next step in finding the audience your message deserves.
What happens at a good conference
One attendee of the Tribe Conference, David Villalva, had this to say after leaving the event:
Every presenter and attendee I spoke with changed, challenged, or charged me. I arrived at this conference thinking I needed to somehow survive it. Instead, I discovered what it meant to be part of a tribe, and left feeling like I thrived in one.
I'll be the first to admit that the reaction to our little event surprised me. But this was my goal: to create a place of belonging and transformation. And this is what I look for as an attendee of other events — to belong and to be changed.
Nearly half of last year's attendees are coming back to the Tribe Conference because they're making progress on the plans they started last year. Whether that means launching a blog or finishing a book, they're taking action. And they want learning, connecting, and applying. It's an honor to be a part of this growing community.
Last year was our "pilot" year to see if it worked, and it went even better than I could have imagined. This year is going to be even bigger and better, with expert speakers, brand-new technology and tools we will be featuring, and more fun surprises.
If you've ever dreamed of being a professional writer, then Tribe Conference is for you.
If you have struggled to figure out how to use digital technology to get your message heard, then Tribe Conference is for you.
If you dream of one day writing a book or speaking for a living or simply getting the attention your message deserves, then Tribe Conference is for you.
To check out the schedule, learn more about ticket pricing, and sign up before we sell out, go here.
Jeff Goins is a writer who lives in Nashville, Tenn., with his family. He is the author of the national best seller The Art of Work: A Proven Path to Discovering What You Were Meant to Do. Follow him on Twitter at @JeffGoins. To get more articles like this, check out his free newsletter. As a thank-you, he'll send you a free excerpt of my best-selling book, The Art of Work, plus other fun things.