Halsey, formerly New Jersey cool teen Ashley Frangipane, sold out Madison Square Garden on Saturday night—despite the fact that most people over the age of 13 have never heard of her. Instead, they know "Halsey" as a stop on the L train, on the border of Bushwick and Ridgewood. She told the rapt audience how she went to an Ed Sheeran performance at the Garden when she was 19, had a few beers, took the train to Brooklyn and was reborn as indie pop star Halsey. That night, she wrote what became her EP hit "Ghost," a song about sleeping with someone who eventually becomes a stranger. That very MSG memory had her turning around halfway to hide her tears.
Before that fateful night, she was a Tumblr fanatic with a One Direction obsession so deep she wrote a song about her hatred of Harry Styles and Taylor Swift's short-lived relationship. Now, she's in the same otherworldly dimension as those pop stars she once showered with contempt, only not a household name—unless you have your very own cool teen.
On Saturday night Halsey had four outfit changes—this was not a low-key or low-maintenance production. Each look involved leather boots, bondage lite pants and layered mesh over Balmain influenced crop tops. Among her fans, Halsey is known for mixing high and low, wearing Fendi, DKNY at the Met Gala, and Chanel in the front row. But she can also be spotted on Instagram in oversized hoodies and baseball caps. Onstage, she falls somewhere between Beyoncé in Zana Bayne, Christina Aguilera circa "Dirrty" and mid '90s, mid-push up Gwen Stefani, with a healthy dose of Kylie Jenner thrown in, lip kit included.
"Halsey conceptualized her tour looks a few weeks before the tour. I took her ideas to an amazing  designer Ashton Michael and he designed them based on Halsey's concepts. For MSG she needed to be able to make quick changes. She wore an ASOS bra top, Ashton pants, Public Desire boots and underneath a custom boy short," Halsey's stylist Jordan Grossman told the Observer.
https://www.instagram.com/p/BFFZRWTHOEd/
Halsey's first outfit involved Hot Topic reminiscent black bondage pants, high waisted bottoms, patent leather booties with a lucite heel and a crop top worthy of the trendiest teen's Tumblr page. Similar looks were spotted in the audience–teens in cut-off jean shorts and blue hair lined the packed front row. It was a trend forecaster's dreamland, called "The Badlands," after Halsey's debut album. And of course, the whole look was topped with a choker, the ultimate festival accessory.
Halsey quickly ran through her first two songs, including the Spotify favorite "Gasoline." It starts by asking, "Are you insane like me? Are you high enough without the Mary Jane like me? Do you tear yourself apart to entertain like me?" which seemed to be the theme of the evening. Touching her ear piece, it was obvious she was experiencing minor technical difficulties, but it was surprising when she stormed off of the stage, promising that the show would be "fucking perfect" for both herself and the audience—and it was.
Returning, she started from the beginning, to deafening screams from her tween fandom. As her backdrops boasted real flames and an elaborate "Hotline Bling"–influenced neon box display, she proved she's a pop star for a new generation. Almost every member of the crowd put up their cellphones with the lights on, snapped the performance and wore almost perfect replicas of her costumes, only theirs were parent-approved; most of the audience was picked up by mom and dad following the show.
Her second outfit change involved a mesh crop top hoodie and knee-high boots with fishnets, which would look like a Halloween costume on anyone else. There was nothing particularly pop about her look—in fact, the entire performance was far more rock and roll, especially when the current formula for building a pop star includes a young woman with a carefully crafted social media image plus highly edited lyrical content and performances. As the backlash against Taylor Swift continues, Halsey presents a more authentic option, unafraid to discuss mental illness and miscarriage.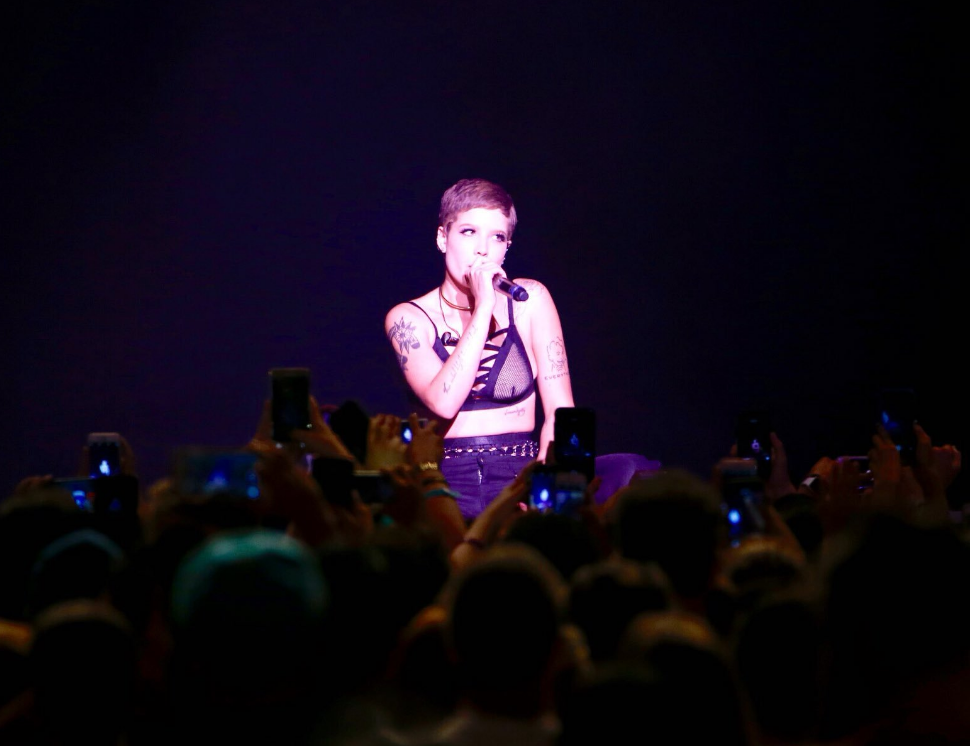 The concert ended with an all white ensemble (obviously it included a crop top) set to "Young God," which is exactly what she is to her devoted fans, up past their bedtimes, listening to songs about traveling through Bed Stuy, having one-night stands and deciding not to take her bipolar medication. Then, an all white background with the text, "You can find me in the kingdom," flashed across the stage and the crowd went insane, as her Instagram was updated with all white everything.
In a world of Disney pop stars, Halsey offers lyrics about being bipolar, bisexual and comfortable in your own skin. It's obvious that she's different from America's former sweetheart Taylor Swift, who sings about squad goals and relying on a man. And despite collaborating with Justin Bieber, she's certainly not Selena Gomez, who has never found a beat, other than as a former Mouseketeer. Halsey's cool girl style reflects her songs, edgier than Swift's crop tops and Gomez's slip dresses. She is literally an alternative to the pop stars that teens are told to emulate, ruling a kingdom of teen girls unafraid to be themselves and dress a little differently.