"

Pardon me, do you have the time?

"
Mr. Robot season two has been obsessed with masks; the disguises we put on, the veils we shed in private and that distorted grey when the two ideas meet and we lose track of ourselves. Mr. Robot and Elliot apply here, obviously, but there's also a broken-down Darlene playing at leader, a worn-thin Andrea maneuvering through multiple corporate games and here, in "Eps2.3_logic-bomb.hc", we discover that even the time-obsessed, supernaturally-punctual Whiterose must occasionally don a mask to keep her flawless face clean. When she is not heading up the most dangerous hacking collective in the world Whiterose plays the other side as Mr. Jung, China's Minister of State Security.
BD Wong already electro-shocked his way into my heart thanks to his turn as Doctor Hugo Strange in FOX's Gotham, but his time spent on Mr. Robot is quickly positioning him as one of TV's most valuable character actors. Somehow, in an episode that included a horrific mass-shooting filmed in a breathtaking single shot, the most jarring scene was simply Agent Dom DiPierro–in China as part of a "collaborative effort" to solve the 5/9 Hack–speaking to Jung in a hallway filled with dozens of ticking clocks.
There's just so much subtle sadness here, brought to the forefront wonderfully by both Wong and Grace Gummer; two people struggling with who they are, even with so much already hidden from each other. ""I was…I am disgusted by the selfish brutality of the world," DiPierro tells Jung, as an explanation for jumping into the FBI. "At the same time I'm utterly fascinated by it."
It's this same duality that fuels Jung–that fuels Whiterose–and leads to this episode's most tender interaction; Jung showing DiPierro a wardrobe filled with beautiful, expensive dresses belonging to "his sister." You can almost feel Whiterose's Jung persona bursting at the seems, straining against a skin that's not her own. Wong gets misty-eyed as he describes a world where the 5/9 hack never took place: "Some believe there are alternate realities playing out that very scenario with other lives that we're leading, other people that we've become. The contemplation…moves me very deeply."
There's a small moment, right at the end, when yet another reminder alarm goes off, interrupting Jung and DiPierro, and you can feel how sharply it interrupts Jung's thoughts. Wong plays it perfectly, like the alarm hits him physically, because Whiterose, even as Jung, feels herself pulled by the clocks, her constant reminder of mortality.
Of course, DiPierro gets her own reminder, a much louder, bloodier alarm in the form of two gunman who wipe out the majority of the FBI contingent in China. It's such a deeply disturbing scene, personal as far as any mass shooting can be personal, with the camera following a hungover DiPierro down the stairs and not leaving her until she's holed up behind a table, ears ringing from the sound of gunfire. There's so much thematically that added to the horror show–the way we see the gunmen enter out of focus and in the corner of the screen, how we hear the gunfire first from a distance, growing louder as it creeps closer–but story-wise the effect is clear. Once again, control is an illusion: As E-Corp, Elliot and the FBI all scramble to simply stay afloat, we've learned the Dark Army is playing them all, to the tune of ticking clocks and bullet shells.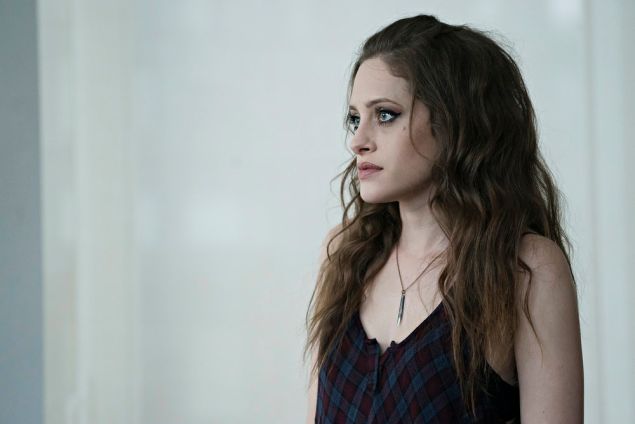 "Told you not to look"
Back in the States, Mr. Robot has constructed a narrative where basically every character is more interesting than Elliot. Even Craig Robinson's Ray, who we learn has essentially taken up the moniker of the darknet black-market operator Dread Pirate Roberts, who along with his hilariously-named henchman Lonestar ends the episode delivering a beatdown to Elliot. This one, I'm sure, is not happening exclusively in Elliot's mind.
It's not that Elliot has become boring, it's that we've already gone down this road before (this time it just happens to be made of silk). Elliot, once again hooked on the thrill of a good hack, has assumed his season one identity (basically Batman, but with hacking), despite Mr. Robot pleading with him "We have other battles to fight."
"What else is new?" Elliot responds.
I'm far more interested in Darlene and Angela, our newly formed not-so-dynamic duo, who unlike Elliot are putting in real, genuinely dangerous work to suppress the FBI's investigation into the 5/9 hack (true, Elliot might be in jail, but come on now). Both are motivated by the rapidly tightening circle around FSociety–Angela is just as culpable, thanks to the corrupt CD she planted in E-Corp that kickstarted the hack in the first place–and yet both are absolutely necessary to make that circle a looser.
Of  course, that partnership comes with a price, as they always do. Angela is once again entering into a world she doesn't understand, a world that's as close to shattering as ever. Darlene, in dragging Angela back into the fray, has unknowingly pushed Elliot that one step closer to his breaking point (dude already scooped up his own vomit, so he's basically there already). If Mr. Robot has taught us anything, it's that these characters often band together right before falling apart, these "collaborative efforts" always lead to bloodshed – Elliot and Ray, the FBI and Jung, FSociety itself. It's, like Elliot says, the first step of hacking: "Identify the target and all its flaws. There's always flaws."
In this case, the most glaring flaw in Elliot's plan is himself.
Quick Bytes: 
This season has been ON POINT when it comes to horror movie elements. This episode alone, in no particular order, you had Mr. Robot's fingers jamming on to Elliot's keyboard out of nowhere, the eeriness of the clock hallway, and Elliot's Sixth Sense-esque admission to Andrea, "My dead father is standing right behind you. My favorite, however, by far, is Joanna Wellick on the phone with, presumably, Tyrell and hearing the firetruck both outside her window and through the phone reciever. That was some real old-school, The Call Is Coming From Inside The House shit.
Speaking of Joanna: Whaaaaaaaaaat is going on with Joanna, who is apparently "protecting" Elliot for…some reason. Really, the only thing I can confirm is that Mrs. Wellick is, in fact, ice cold: "Killing a man instantly robs him of explanation…you let him die with answers. Otherwise we're nothing but ruthless murderers."