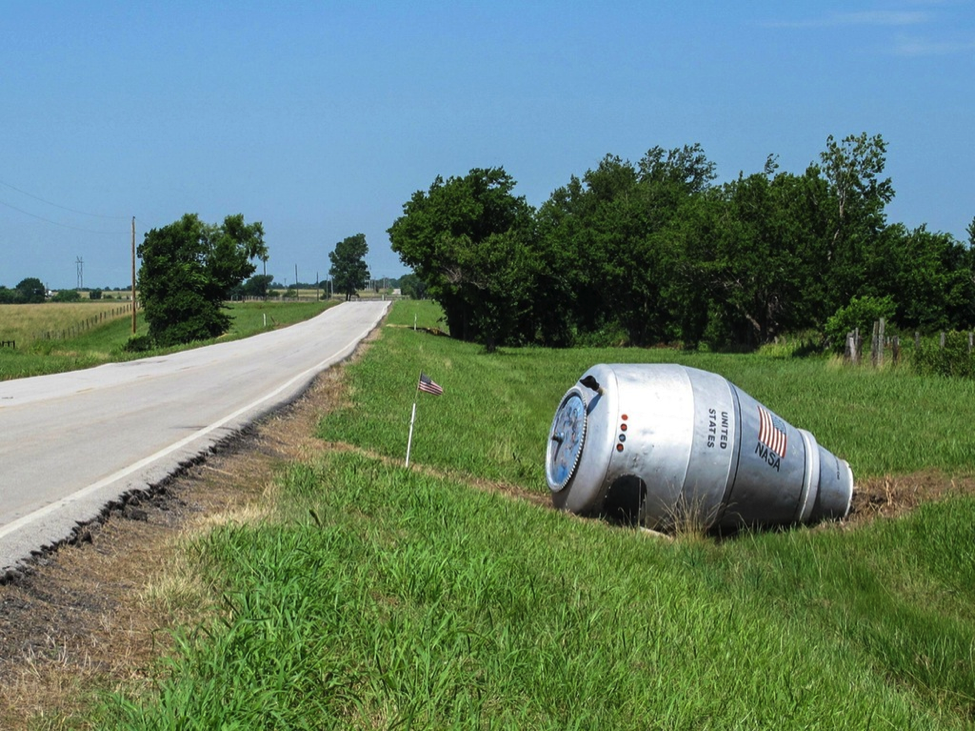 Off a quiet country road that connects the small towns of Winganon and Talala in Oklahoma, rests what seems to be a relic from NASA's early days of space travel. Well, it is a relic and it did crash there, but not after a journey to orbit.
According to Reddit user AdamE89, a cement truck crashed at the location and its mixer was simply too heavy to move.
The truck was filled with wet cement and on its way to assist in the building of a bridge over Oologah Lake in 1959 when it tipped over. By the time a tow truck made it over to the accident, the cement had hardened.They decided to tow the truck and come back for the mixer later.
They never did. And for 50 years, the bizarre local landmark was an easy target for graffiti artists and vandals. That's until a couple of space geeks decided to do something constructive with it.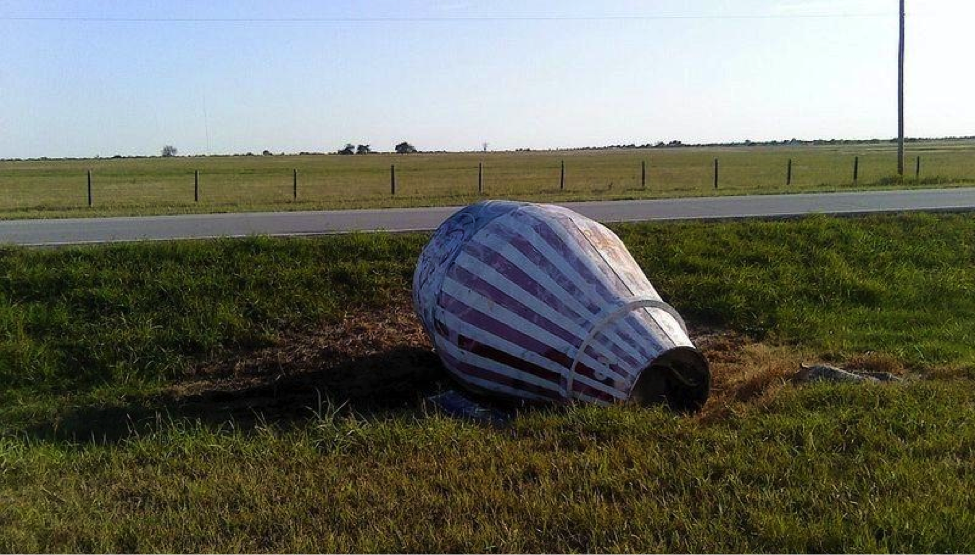 In September 2011, to celebrate their 5th wedding anniversary, Barry and Heather Thomas decided to turn the local oddity into an art project. With a little help from friends and a few cheap household items, they were able to transform the abandoned mixer into an abandoned NASA capsule—adding a little mystery and intrigue to the roadside attraction.
The couple made sure to include some fake boosters, cables, NASA's insignia, and of course, the American flag. Coincidentally, the project was completed the same day NASA's UARS satellite made an uncontrolled descent towards Earth.
Since the project was complete, the new art installation has seen little graffiti added but unfortunately, the boosters are now gone.
"The timing with UARS was completely coincidence. We'd been planning it before we knew the satellite was headed back," said Heather Thomas to local News on 6. "It was just something different to do and we hoped a new paint job would help curb the spray paint.  When it's got fresh paint the kids tend to leave it alone."
According to News On 6 reporter Rick Wells, the cement mixer was almost buried in place years before its spacey redesign but a county commissioner fought against it because he proposed to his wife there.
Today, the Winganon Space Capsule is a popular spot for photos and selfies. The attraction also has a Facebook page where they recently broke some sad news—the capsule is indeed not a Pokestop in PokemonGo.
Robin Seemangal focuses on NASA and advocacy for space exploration. He was born and raised in Brooklyn, where he currently resides. Find him on Instagram for more space-related content: @nova_road.